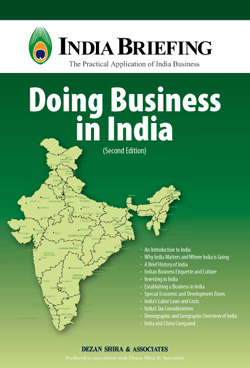 Jun. 3 – Asia Briefing has just released the second edition of its popular Doing Business in India guide. The book covers all the topics essential for an enterprise or an individual to successfully establish and run a business in the country – including a demographic overview of the country as well as information on market entry structures, tax considerations, labor laws, operational costs, history, business etiquette and culture.
India was the second most attractive FDI destination in the world in 2010, according to the World Investment Prospects Survey 2010-2012 (China was ranked number one and Brazil number three). Furthermore, the country's economy is expected to grow at 8.6 percent in 2010-2011 and the Indian government is shaping laws and regulations to make the country an utterly compelling destination for investment.
Compelling reasons to invest in India now include:
Traditional manufacturing markets in China are becoming more expensive
Increasing relaxation of FDI laws and proactive FDI policy
Demographic "dividend"
Pervasive entrepreneurship spirit
High domestic demand and a growing young domestic market
Easy industrial licensing policy
Financial sector reforms
Trade policy reforms
Infrastructure development
This book aims to provide a basic overview of all topics related to doing business in India – history, business etiquette and culture, and how to invest into the country, in addition to a detailed, state-by-state demographic and geographic overview and a comparison with China.
Content includes:
An Introduction to India
A Brief History of India
Indian Business Etiquette and Culture
Key Sectors for FDI
Investment Policy and Procedure

FDI trends
Government initiatives to promote FDI
FDI policy and regulations
Establishing legal entities: liaison office, project offices, branch offices, private limited companies
Tax considerations
Trademark and patent applications
Special economic and development zones
Labor laws and labor costs

Demographic and Geographic Overview of India
India and China Compared

China vs. India, the next 20 years
Bilateral trade
Establishing business in China vs. India
Corporate income taxes compared
"Doing Business in India (Second Edition)" is available on the Asia Briefing Bookstore priced at US$40.
This guide was also written in collaboration with Dezan Shira & Associates, a boutique professional services firm providing foreign direct investment business advisory, tax, accounting, payroll and due diligence services for multinational clients in India. For more information on doing business in India, please contact info@dezshira.com or visit www.dezshira.com.