Asia Briefing's new report touches on everything you need to know about doing business in India, and is now available as a complimentary PDF download!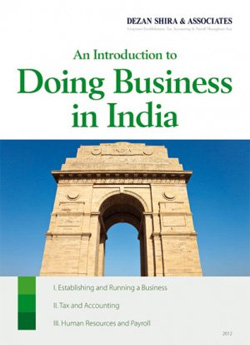 Sept. 26 – Asia Briefing, in cooperation with its parent firm Dezan Shira & Associates, has just released a new 30-page report introducing everything that a foreign investor should be familiar with when establishing and operating a business in India. This guide, titled "An Introduction to Doing Business in India," is immediately available as a complimentary PDF download on the Asia Briefing Bookstore.
Set to become the third largest economy in the world by 2025, India presents enormous opportunities for foreign investors.With a population of over 1.2 billion, more than half of which is under 25, the country has huge production and consumption potential. Since liberalization in 1991, India has continuously recorded high growth rates, averaging quarterly GDP growth of 7.45 percent between 2000 and 2011.
India's strengths speak for themselves. The country benefits from:
A labor force of 487.6 million
A large and growing middle class, creating a steady increase in domestic demand
An English-language business environment
Cost competitiveness
World-class expertise in IT software and business process outsourcing, with services accounting for more than half of India's output
For foreign investors, these strengths have proven highly attractive. In spite of a challenging business environment that ranks 132nd in the World Bank's Doing Business listings, India remains the fourth most attractive foreign direct investment destination in the world, behind the United States, China and the UK.
In this guide, we discuss:
1. Establishing and Running a Business
What are my options for investment?
How do I establish a company?
2. Tax and Accounting
What are India's major taxes?
What are some of the key compliance requirements?
3. Human Resources and Payroll
How do I hire staff/workers?
What major legal obligations does a company have for its staff/workers?
"An Introduction to Doing Business in India" is out now and immediately available as a complimentary PDF download on the Asia Briefing Bookstore.
Dezan Shira & Associates is a specialist foreign direct investment practice, providing corporate establishment, business advisory, tax advisory and compliance, accounting, payroll, due diligence and financial review services to multinationals investing in emerging Asia. Since its establishment in 1992, the firm has grown into one of Asia's most versatile full-service consultancies with operational offices across China, Hong Kong, India, Singapore and Vietnam as well as liaison offices in Italy and the United States.
For further details or to contact the firm, please email india@dezshira.com, visit www.dezshira.com, or download the company brochure.
You can stay up to date with the latest business and investment trends across India by subscribing to The India Advantage, our complimentary update service featuring news, commentary, guides, and multimedia resources.