The new issue of India Briefing magazine, titled "Payroll Processing and Compliance in India", is out now and available as a complimentary download in the Asia Briefing Publications Store.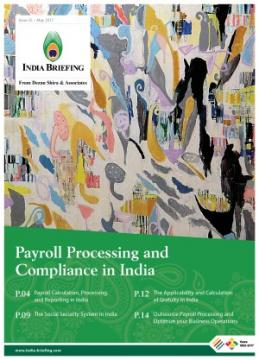 In this issue:
Payroll Calculation, Processing, and Reporting in India
The Social Security System in India
The Applicability and Calculation of Gratuity in India
Outsource Payroll Processing and Optimize your Business Operations
Businesses in India have to contend with the dual challenge of employment laws and regulations derived from multiple sources. Some of these sources are the constitution, labor statutes, judicial precedents, and collective and individual agreements.
In addition, labor matters come under the concurrent list of subjects in the Indian constitution. This means that labor regulations are in the jurisdiction of both federal and state governments, which have respectively enacted numerous laws on labor relations and employment matters.