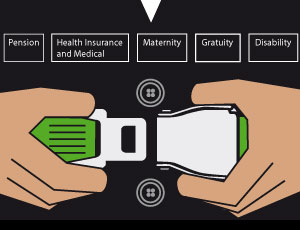 Editor's Note: The article was first published in March 2013 and has been updated on January 4, 2017 as per the latest regulations.
By Dezan Shira & Associates
India's social security system is composed of a number of schemes and programs spread throughout a variety of laws and regulations. Keep in mind, however, that the government-controlled social security system in India applies to only a small portion of the population.
Furthermore, the generally accepted concept of the social security system includes not just an insurance payment of premiums into government funds (like in China), but also lump sum employer obligations.
Generally, India's social security schemes cover the following types of social insurances:
Pension
Health Insurance and Medical
Maternity
Gratuity
Disability