A cura dell'Italian Desk di Dezan Shira & Associates
Le piccole e le medie imprese che operano in India riscontrano spesso difficoltà nel tenersi aggiornate in modo costante sulle novità legislative in materia previdenziale, fiscale e di gestione dei libri paga dei dipendenti.
Per questo motivo, l'esternalizzazione della gestione dei libri paga appare una scelta da prendere in cosiderazione, stante la complessità di questo ambito, che racchiude in sé sia la gestione delle risorse umane, sia aspetti di contabilità. Una scelta in questo senso permette all'impresa di concentrarsi sul suo core business e sulle operazioni rivolte alla realizzazione di utili.
Chi dovrebbe esternalizzare la gestione delle risorse umane e dei libri paga?
Investitori stranieri che non conoscono la normativa locale;
Piccole e medie imprese con budget limitato, che non consente di avere un dipartimento interno per la gestione delle risorse umane;
Piccole e medie imprese che vorrebbero gestire i libri paga mediante software avanzati, ma che non vogliono o non possono sostenere i relativi costi; ed infine
Imprese in rapida espansione che hanno la necessità di concentrare il loro poco tempo e le loro risorse sugli obiettivi posti dal loro core business.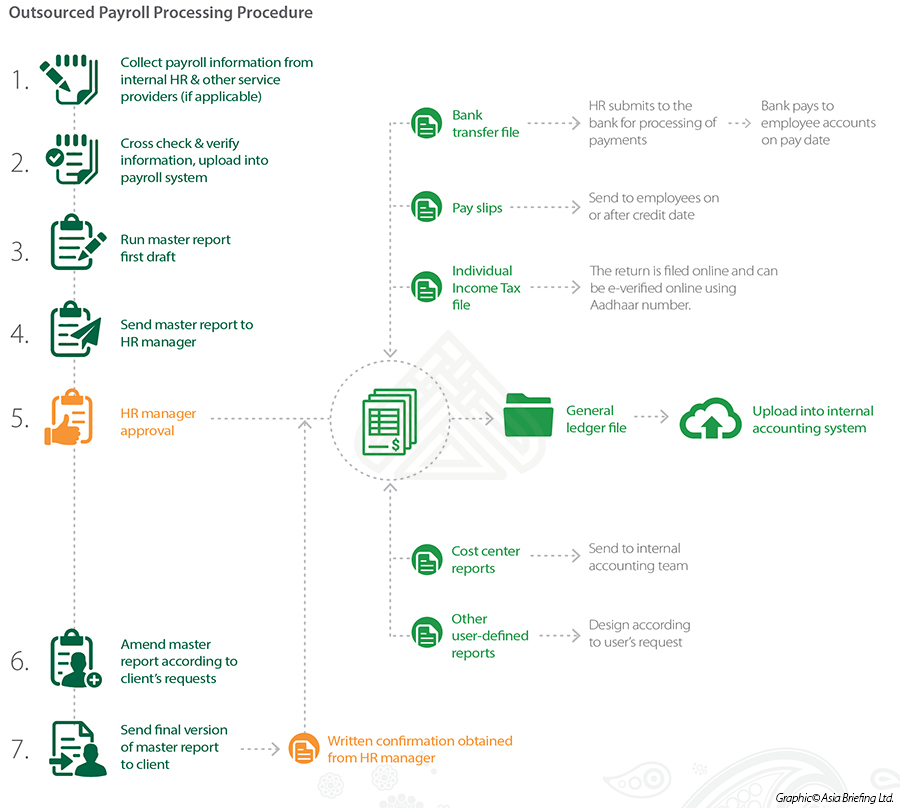 Perché conviene esternalizzare?
Conformità alla disciplina vigente: esternalizzare la gestione dei libri paga e delle risorse umane migliora la capacità dell'impresa di agire in conformità all'ordinamento giuridico nel quale essa si muove. Infatti, i professionisti della gestione delle risorse umane e dei libri paga hanno a disposizione uno staff specializzato nel monitorare gli sviluppi normativi a livello federale, statale, locale, così come le novità riguardanti il particolare settore nel quale opera l'impresa e quelle relative al variare delle aliquote di ritenuta fiscale "alla fonte". Essi sono in grado di calcolare le imposte sui salari, l'entità dei contributi previdenziali da versare, di gestire i pagamenti ai dipendenti e, infine, si possono assumere la responsabilità di eventuali sanzioni per incorrettezza dei calcoli, della documentazione presentata, oppure in caso di ritardo nell'esecuzione dei pagamenti, fin tanto che l'impresa fornisce informazioni e fondi nei tempi stabiliti.
Semplificazione del dipartimento HR: un dipartimento risorse umane interno comporta un impegno nella gestione del personale ed una serie di costi. Tuttavia, affidando a terzi la gestione delle risorse umane e dei libri paga permette di semplificare il proprio dipartimento interno, permettendogli così di concentrarsi sulle relazioni con i propri dipendenti e su questioni strategiche.
Riservatezza e trasparenza: maggiore è il numero di dipendenti che sono a conoscenza dei dettagli riguardanti le retribuzioni, maggiore è il rischio che quelle informazioni diventino di dominio pubblico all'interno dell'azienda. Esternalizzare la gestione dei libri paga assicura che tali informazioni rimangano al sicuro e che solo chi ricopre posizioni apicali in azienda le conosca. Al contempo, esternalizzare significa aumentare la trasparenza nella gestione delle retribuzioni: infatti eventuali errori possono essere comunicati direttamente al management senza le complicazioni derivanti dall'interazione tra i diversi dipartimenti aziendali.
Come scegliere il giusto fornitore di servizi
La gestione dei libri paga implica anche una costante attività di aggiornamento e di gestione dei dati sensibili. Negli ultimi anni, le società specializzate nel fornire questo tipo di servizi hanno sviluppato software che permettono una gestione in pieno accordo con le specifiche di settore richieste dalle autorità fiscali e dalle banche. Le imprese che fanno la scelta di esternalizzare la gestione dei libri paga beneficiano di questi sistemi informatici, senza però incorrere in nessun costo diretto.
Per i motivi esposti, sebbene l'esternalizzazione della gestione dei libri paga e delle risorse umane comporti delle spese per le aziende, l'effetto finale è quello di ridurre i costi e le passività, e permettere loro di dedicare al proprio core business il tempo e le risorse a disposizione.
Nota: questo articolo è stato originariamente pubblicato sul numero del magazine India Briefing intitolato "Payroll Processing and Compliance in India, dove vengono affrontati temi quali il calcolo degli stipendi e dell'indennità di fine rapporto in India, la disciplina previdenziale ed i vantaggi derivanti dall'esternalizzazione della gestione dei libri paga e delle risorse umane.

Chi Siamo
Asia Briefing Ltd. è una controllata di Dezan Shira & Associates. Dezan Shira & Associates è una società di consulenza specializzata nell'assistenza agli investimenti diretti esteri per le società che intendono stabilire, mantenere e far crescere le loro operazioni in Asia. I nostri servizi includono consulenza legale e strategica all'investimento, costituzione e registrazioni societarie, tenuta contabile con redazione di bilanci periodici ed annuali, consulenza fiscale e finanziaria, due diligence, revisione contabile, gestione tesoreria, libri paga e personale, transfer pricing, consulenza IT, sistemi gestionali, deposito marchi e servizio visti. Per maggiori informazioni vi invitiamo a contattarci al seguente indirizzo: italiandesk@dezshira.com o a visitare il nostro sito: www.dezshira.com.
Per rimanere aggiornati sugli ultimi trend degli investimenti e del business in Asia, iscrivetevi alla nostra newsletter per ricevere notizie, commenti, guide e risorse multimediali.

Dezan Shira & Associates Brochure
Dezan Shira & Associates is a pan-Asia, multi-disciplinary professional services firm, providing legal, tax and operational advisory to international corporate investors. Operational throughout China, ASEAN and India, our mission is to guide foreign companies through Asia's complex regulatory environment and assist them with all aspects of establishing, maintaining and growing their business operations in the region. This brochure provides an overview of the services and expertise Dezan Shira & Associates can provide.
---
 An Introduction to Doing Business in India 2017
An Introduction to Doing Business in India 2017 is designed to introduce the fundamentals of investing in India. As such, this comprehensive guide is ideal not only for businesses looking to enter the Indian market, but also for companies who already have a presence here and want to stay up-to-date with the most recent and relevant policy changes.
---

Payroll Processing and Compliance in India
In this issue of India Briefing Magazine, we discuss payroll processing and reporting in India, and the various regulations and tax norms that impact salary and wage computation. Further, we explain India's complex social security system and gratuity law, and how it applies to companies. Finally, we describe the importance of IT infrastructure, compliance, and confidentiality when processing payroll in India.