Die indische Regierung kündigte weitere Liberalisierung für ausländische Direktinvestition (FDI) an, in der Hoffnung mehr Arbeitsplätze zu schaffen. Die Veränderung verläuft im zweiten Durchlauf aus den Reformen in November 2015, welches eine bedeutsame Änderung für bestehenden Regelungen waren.
Durch die Reformierung wurde die automatische Genehmigung von FDI in den meisten Sektoren verfügbar gemacht und der Weg für die gänzliche Öffnung aller FDI fortgesetzt. Seit 2004 hat Indien FDI Reformierung in Verteidigung, Konstruktion, Einzelmarkenhandel, Produktion, Luftfahrt, Kommunikation, ausgewählten landwirtschaftlichen Segmenten, und dem Finanzsektor durchgeführt. Die neue Änderung für FDI erweitert die Spielräume mehr Aktivitäten automatische zu genehmigen und die Konditionen für FDI zu erleichtern.
Verteidigungssektor
Auslandsinvestition über 49 Prozent sind mit Genehmigung der Regierung zugelassen, und die Kondition zum Zugang zu hochmodernen Technologien wurde abgeschafft. Restriktionen für FDI im Verteidigungssektor werden nun auch auf die Manufakturen von Handfeuerwaffen und Munitionen angewendet.
Rundfunktransport Dienstleistung
Die Umänderungen erlauben eine 100 prozentige FDI unter der "Automatic Route" für Teleportation, "direct-to-home (DTH), Kabelnetzwerk, mobiles TV und Headend-in-the-Sky (HITS) Rundfunk Service. Dennoch, werden ausländische Investitionen in ein Unternehmen von über 49 Prozent, bei nicht autorisierte Firmen oder mit der Erlaubnis vom Ministerium, wobei Veränderung in Eigentum oder eine Übertragung von bestehenden Investoren zu einem neuen ausländischen Investor entsteht, verlangt eine Zustimmung von Foreign Investment Promotion Board (FIPB).
Pharmazeutikum
Der vorherig ausländische Direktinvestition (FDI) Regelung unter dem pharmazeutischen Sektor wurde für 100 Prozent vorhergesehen, unter der automatischen Route in greenfield Pharmazie und der ausländische Direktinvestition bis zu 100 Prozent mit der Genehmigung von der Regierung in brownfield Pharmazie. Die neue Regelung erlaubt bis zu 74 Prozent der ausländische Direktinvestition (FDI) unter der automatischen Route in brownfield Pharmazeutikum. Ausländische Direktinvestition (FDI) über 74 Prozent in brownfield Pharmazie verlangt weiterhin eine Genehmigung von der Regierung.
Zivilluftfahrt Sektor
In der Hoffnung ein vorhandener Flughafen zu modernisieren, wird die Regierung 100 Prozent FDI unter der automatischen Route in brownfield Flughafen Projekt bewilligen. Davor musste ausländische Direktinvestition über 74 Prozent für das brownfield Projekt die Genehmigungsroute der Regierung durchlaufen.
Zusätzlich erlaubte davor die ausländische Direktinvestitionsregelung FDI bis zu 49 Prozent unter der automatischen Route für Flugtransport Dienstleistung. Die Regierung will dieses Limit auf 100 Prozent erhöhen, mit der ausländischen Direktinvestition bis zu 49 Prozent unter der automatischen Route und bei über 49 Prozent durch Bewilligung der Regierung. Dennoch werden ausländische Fluglinien weiterhin erlaubt Kapital im indischen Luftverkehr Unternehmen bis zur einer Höhe von 49 Prozent ihres einbezahlten Kapitals und Gegenstand der bestehenden Konditionen zu investieren.
Private Sicherheitsdienste
FDI bis 49 Prozent ist unter dem automatischen Verfahren in diesem Sektor erlaubt und FDI bei mehr als 49 Prozent und bis zu 74 Prozent benötigt man eine zugelassene Genehmigung der Regierung.
Gründung der Niederlassung, Verbindungsbüro oder Projektbüro
Für eine Errichtung einer Zweigstelle, Verbindungsbüro oder Projektbüro in Indien, ist keine Bewilligung durch die Reserve Bank of India oder separaten Sicherheitsüberprüfung erforderlich, in Fällen, wenn das Foreign Investment Promotion Board eine Genehmigung oder Lizenz / Genehmigung des betreffenden Dienstes oder Regler bereits erteilt hat.

MEHR ZUM THEMA: India-Australia Deal to Avoid Double Social Security Contribution
Tierzucht
Die neuen Regeln entfernt das bisherige Erfordernis der "kontrollierten Bedingungen" für FDI in der Tierhaltung Aktivitäten.
Einzel Marken-Kleinhandel
Die neuen Regeln werden die lokalen Beschaffungsnormen im Allgemein bis zu drei Jahren auflockern. Für Entitäten einzelne Marke im Einzelhandel von Produkten mit hochmoderner ("state-of-art") und Spitzentechnologie wird das Sourcing-Regime für weitere fünf Jahre entspannt.
Der Große Steuervergleich für Asien 2015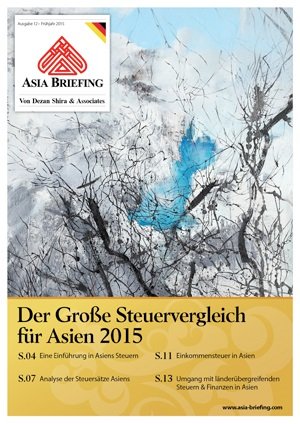 Diese Ausgabe von Asia Briefing behandelt den großen Steuervergleich 2015. Wir untersuchen die Steuersätze der zehn ASEAN Staaten sowie Indien, China, Hong Kong. Da sich das Investitionsumfeld in Asien stetig verändert, ist es von äußerster Bedeutung, immer auf dem aktuellsten Stand zu sein, um für Ihr Geschäft den passenden Standort zu finden. Diese Asia Briefing Ausgabe soll Ihnen ein Verständnis für die verschiedenen Steuersysteme in Asien geben.
Umsatzsteuer in Asien
Diese Asia Briefing Ausgabe soll Ihnen die Möglichkeit geben, einen schnellen Überblick über die aktuell wichtigsten Details der Umsatzsteuersysteme in China, Indien und Vietnam zu erhalten. In den letzten Jahren kam es hier zu weitgreifenden Anpassungen. Im folgenden Heft wollen wir Ihnen deshalb die Handhabung dieser Steuer näherbringen.