Foreign Investment in Indian Retail: Challenges and Opportunities
By Bradley Dunseith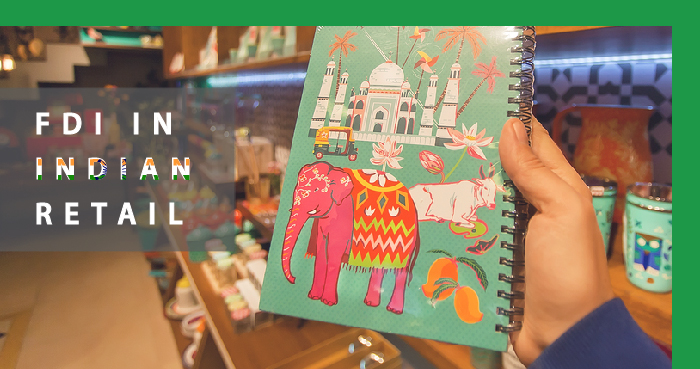 India's regulatory framework on foreign direct investment (FDI) in retail is one of the most complex in the world. But, navigating this perplexing system means gaining access to one of the world's fastest growing consumer markets.
This article outlines India's regulatory landscape for FDI in retail while offering suggestions on how foreign businesses can successfully maneuver through them.

 RELATED: Business Strategy & Operation Advisory
Types of retail
The Indian government categorizes retail into two types: single-brand and multi-brand. 
As the names suggest, single-brand retail refers to businesses that sell only a single brand of goods to consumers. Multi-brand retail refers to businesses that sell multiple brands through one outlet such as Wal-Mart.
If a foreign business owns more than one brand, that business has to apply for FDI approval for each individual brand. A foreign company cannot sell these brands in the same outlet.
Single-brand retail
The Department of Industrial Policy and Promotion (DIPP) permits 49 percent of FDI into single-brand retail under the 'automatic route' and 100 percent FDI with government approval.
To obtain government approval for 100 percent FDI, foreign retailers must comply with the following conditions:
Their brand must be internationally used and recognized;
The 'branding' of the product must occur during the manufacturing process;
The investor must be the owner of the brand; and
A minimum of 30 percent of the material used to make these products must be sourced in India within the first five years of establishing a retail outlet.
A 30 percent Indian sourcing minimum is the most difficult condition for foreign businesses to comply with. For instance, the requirement disqualifies luxury products with place-specific sourcing needs. Furthermore, vulnerable supply chains and inconsistent quality control makes it difficult for foreign retailers to depend on domestic sourcing.

 RELATED: Corporate Establishment Advisory
Multi-brand retail
Currently, India allows 51 percent FDI in multi-brand retail, 100 percent FDI into multi-brand food retail, and 100 percent FDI into e-commerce retail. All three categories require government approval with stringent conditions.
To obtain approval for the general category of multi-brand retail, foreign businesses must invest a minimum of US$100 million with 50 percent of their investment going into backend infrastructure within the first three years. Furthermore, the company can only sell products made in India – giving their domestic competitors a huge advantage.
So far, only British-based Tesco has established multi-brand retail outlets in India under these conditions. In partnership with the Tata Group's Trent Hypermarkets Ltd, Tesco has established its India outlets in Maharashtra and Karnataka, under the brand name Star Bazaar and Star Market.
To obtain approval for 100 percent FDI into multi-brand food retail, retail outlets are restricted to exclusively selling food. These food items must be either produced or processed in India.
Recently, the DIPP approved Amazon's investment request for multi-brand retail in food. Amazon will invest US$515 million in food retail over the next five years.
Multi-brand e-commerce
FDI into multi-brand e-commerce falls under the automatic route. But, e-commerce companies have to abide by the 'marketplace model' and cannot act as a retailer themselves. This means that no more than 25 percent of an e-commerce platform's sales can go to a single company. E-commerce companies cannot invest in inventory.
The ruling Bharatiya Janata Party (BJP) has been inconsistent in their attitude towards FDI in multi-brand retail. The BJP's 2014 election manifesto opposed FDI into multi-brand retail though they never tightened the existing regulations established by the previous regime. Federal ministers have hinted at easing these regulations further but the government has not made any official announcements.

RELATED: A Guide to Franchising in India
Navigating FDI regulations in retail
Successfully navigating through India's complex FDI regulations on retail means more decision-making autonomy and increased potential of profits for foreign companies. While India's sourcing norms on single-brand retail create barriers for many companies entering the Indian market, they also pose opportunities for foreign businesses to solidify their Indian presence.  
India is making slow, inconsistent progress at easing regulatory norms on retail – establishing a presence now will position foreign businesses to greatly benefit from future changes in the regulatory landscape.
India badly needs more efficient, simplified supply chains. Though the sourcing norms on single-brand retail are stringent, cultivating supply sources means greater quality-control. Foreign businesses cultivating their own sourcing will protect themselves from subsequent efficiency leakages and supply chain disruptions.
Foreign retail companies can also team with Indian partners who can later become suppliers. Foreign retail companies can set up wholly-owned outlets in India once their partnership succeeds.
Finally, the Indian government's exact criteria on sourcing norms lacks transparency. Companies which manufacture "state of the art" or "cutting edge" technologies are exempt; however, what cutting edge means remains ambiguous.
When Elon Musk tweeted that India's rigid sourcing norms were creating obstacles in making Tesla cars in India, the Indian government tweeted back. Under the @makeinindia twitter handle, the government clarified to Musk that his manufacturing would not require minimum local sourcing requirements.
Conversely, Apple has urged the Indian government to exempt them from the sourcing norm. However, in May 2016, the Finance Ministry rejected this recommendation: granting Apple permission to set up single-brand retail without any relaxation in the sourcing norm.     
When it comes to navigating India's regulatory system, public attention pays off.
About Us
India Briefing is published by Asia Briefing, a subsidiary of Dezan Shira & Associates. We produce material for foreign investors throughout Eurasia, including ASEAN, China, Indonesia, Russia, the Silk Road, & Vietnam. For editorial matters please contact us here and for a complimentary subscription to our products, please click here.
Dezan Shira & Associates provide business intelligence, due diligence, legal, tax and advisory services throughout India and the Asian region. We maintain offices in Delhi and Mumbai and throughout China, South-East Asia, India, and Russia. For assistance with India investment issues or into Asia overall, please contact us at india@dezshira.com or visit us at www.dezshira.com.
Related Reading:
Dezan Shira & Associates is a pan-Asia, multi-disciplinary professional services firm, providing legal, tax and operational advisory to international corporate investors. Operational throughout China, ASEAN and India, our mission is to guide foreign companies through Asia's complex regulatory environment and assist them with all aspects of establishing, maintaining and growing their business operations in the region. This brochure provides an overview of the services and expertise Dezan Shira & Associates can provide.
---

An Introduction to Doing Business in India 2017 is designed to introduce the fundamentals of investing in India. As such, this comprehensive guide is ideal not only for businesses looking to enter the Indian market, but also for companies who already have a presence here and want to stay up-to-date with the most recent and relevant policy changes.
---

In this issue of India Briefing Magazine, we discuss payroll processing and reporting in India, and the various regulations and tax norms that impact salary and wage computation. Further, we explain India's complex social security system and gratuity law, and how it applies to companies. Finally, we describe the importance of IT infrastructure, compliance, and confidentiality when processing payroll in India.