Indian Prime Minister Modi's World Economic Forum Speech: Highlights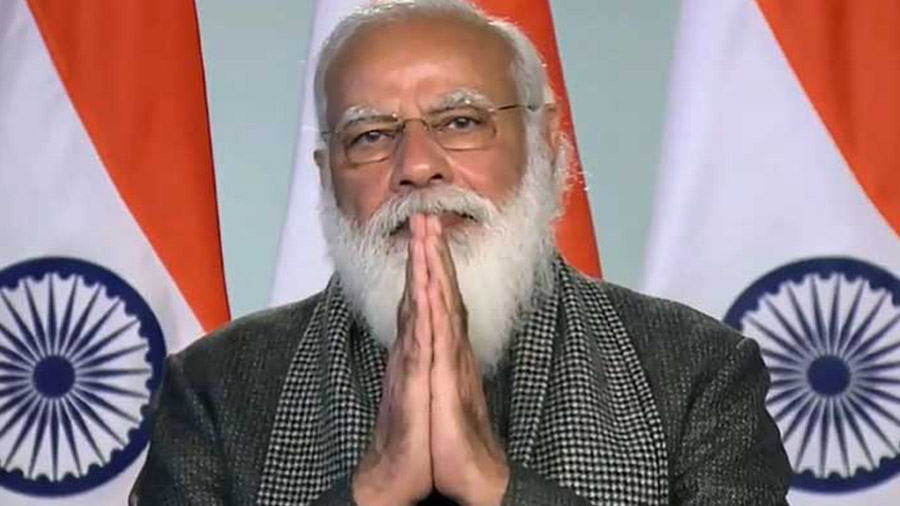 Op/Ed by Chris Devonshire-Ellis  
Outlined several Government upcoming policies
Stressed need to develop digitization and A.I. 
New reforms  
Indian Prime Minister Narendra Modi, whose image is increasingly Hipster-Guru, took on a position of global statesman in his speech yesterday at the World Economic Forum. Pointing out that India was scaling up vaccine production and would soon be exporting globally (in sharp contrast to what is currently happening in the European Union and United States), Modi stated: "These vaccines will help the countries of the world on a much larger scale, at a higher speed" and stressed that India had behaved as a globally responsible citizen during the pandemic. "In these tough times, India has been undertaking its global responsibility from the beginning. When airspace was closed in many countries, India took more than 100,000 foreign citizens back to their countries & delivered essential medicines to more than 150 countries, Modi added."  
We highlight other important aspects of his speech below.  
Promoting investment in frontier technologies  
"We are promoting the investment in frontier technologies like AI, additive manufacturing, and interdisciplinary cyber-physical systems." 
During the pandemic, Indian companies are capable of absorbing supply shocks 
"Several points have been decriminalized in Company Law. To raise competitiveness, connectivity infrastructure is being strengthened. During pandemic we saw that Indian companies are capable of tackling supply shock, they maintained medical supply in India and across the world."  
Digital competitiveness
"India has a vibrant start-up sector and 2/3rds of our economic output comes from cities. We have a commitment to Ease of living, ease of doing business, and climate-sensitive development. We are working to converge the physical and digital worlds in our cities. By 2025, India will have 25 cities with Metro services. India is also progressing fast on electric vehicle production." 
India's vast internet connectivity 
"We have issued 1.3 billion Aadhar cards, made 1.1 billion mobile connections, and have 750 million internet subscribers in India. 3,00,000 common service centers in the country are giving digital services in villages. 600,000 villages will be connected by Fibre Net in the next few years. UPI transactions have crossed 2 billion per month. This is mainly because of private apps. We want to invest in frontier technology such as AI. A strong law is also being worked on for data protection."  
Equity and innovation in MSMEs 
"Digital lending platforms can help MSMEs get access to credit. Our effort is that MSMEs should benefit from AI and ML. Through the government e-Marketplace (GeM), 450,000 MSMES have joined in government procurement online."
Energy infrastructure will support growth
"Infrastructure is one of the foremost priorities of the Indian Govt in the last 6 years, India has added 36GW to production capacity, roads and real networks are being augmented. US$1.5 trillion worth of projects will be implemented in the next 5 years. Logistics policy has also been contemplated. Reforms are an ongoing exercise, to improve competitiveness." 
By 2040, India's infrastructure needs will be around US$4.5 trillion
"By 2040, India's infrastructure needs will be around US$4.5 trillion. This target will be achieved by both the government and the industry. We are working tirelessly to provide an enabling environment. The Empowered Group of Secretaries has been formed, Sovereign Funds have been allowed 100% tax relief for infra investments. Single point contact has also been established for investment; asset monetization programs are also underway. We need to ensure that technology becomes a tool of ease of living and does not become a trap." 
Boosting manufacturing in India
"The Government has continuously taken several majors steps to boost manufacturing in India. Corporate Tax was brought down to 15% for new manufacturing units. GST rates have been reduced. Through GST & Faceless Assessment tax structure has been simplified. Labour laws have been reformed."
Atmanirbhar Bharat Abhiyan 
"Our Atmanirbhar Bharat Abhiyan (the national self-sufficient India policy) is committed towards global good and the global supply chain. India has the capacity, capability and reliability to strengthen the global supply chain."
A national logistics policy 
Answering a question on the importance of infrastructure in a growing economy, Modi said that the government will release a national logistics policy.
Summary 
Modi's speech was mainly for Indian domestic consumption, but did include several points towards continuing reform, and a more coherent national logistics and supply chain development, driven by hi-tech and digitization. This in turn suggests that India will maintain and enhance its position as a worthwhile destination for foreign investment in these sectors, and in areas also supported by them – such as Tesla's recent new factory to produce electric vehicles in Gujarat and related technologies. 
Related Reading