AirAsia Receives Air Operator's License in India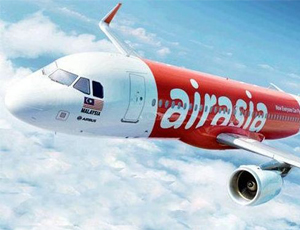 DELHI – AirAsia India, a new Indian-Malaysian low-cost carrier, obtained permission from the Directorate General of Civil Aviation (DGCA) to start commercial operations in India next week. The Air Operator's Permit (AOP) was granted this week following the Directorate's concluding inspection and "proving flight," which was conducted this Monday.
The airline, which will base its operations at the Chennai International Airport, will likely serve all major metropolitan airports in India, with the exception of Mumbai. Mr. Mittu Chandilya, the newly appointed chief executive officer of AirAsia India, said, "Our network isn't finalized yet, but we are looking at a 60:40 ratio of Tier-Two routes to metro routes with 60 being Tier-Two."
Structured as a joint venture between Malaysia-based AirAsia, who hold a 49 percent stake in AirAsia India, and Indian Tata Sons and Telestra Tradeplace, who own a combined share of 51 percent, the airline will introduce a low-cost and no-frills business model that has proved successful throughout Southeast Asia.
To build a consumer base in India, AirAsia India plans to price its tickets about 35 percent lower than the average airfare in the country. "I think we can still make money despite offering lower fares, otherwise I wouldn't be here," Mr. Chandilya added.
During its application process with the DGCA, AirAsia India encountered strong opposition from the Federation of Indian Airlines (FIA), who argued that the Malaysia-India joint venture would harm domestic airlines and was an abuse of the country's civil aviation FDI program.
The overseas airline's entrance into the Indian aviation market – the first since the country's FDI cap was raised to 49 percent – is expected to create a new fare war among domestic airlines, which may lead to future consolidation in the aviation sector, according to Amber Dubey, head aviation analyst with KPMG India.
RELATED: Reforms in India: Government Allows FDI in Aviation
Despite these concerns, the DGCA overruled the FIA's complaints and granted the airline its Air Operator's Permit this Wednesday.
Before launching its first flight, however, AirAsia India must receive final approval from the Delhi High Court, which is expected to begin deliberations next week.
Update: Following the approval of AirAsia India's Air Operator's Permit, seven domestic airlines have petitioned the Delhi High Court this Friday to cancel the joint-venture's AOP.
Asia Briefing Ltd. is a subsidiary of Dezan Shira & Associates. Dezan Shira is a specialist foreign direct investment practice, providing corporate establishment, business advisory, tax advisory and compliance, accounting, payroll, due diligence and financial review services to multinationals investing in China, Hong Kong, India, Vietnam, Singapore and the rest of ASEAN. For further information, please email india@dezshira.com or visit www.dezshira.com.
Stay up to date with the latest business and investment trends in Asia by subscribing to our complimentary update service featuring news, commentary and regulatory insight.
Related Reading

Taking Advantage of India's FDI Reforms
In this edition of India Briefing Magazine, we explore important amendments to India's foreign investment policy and outline various options for business establishment, including the creation of wholly owned subsidiaries in sectors that permit 100 percent foreign direct investment. We additionally explore several taxes that apply to wholly owned subsidiary companies, and provide an outlook for what investors can expect to see in India this year.

India's Taxes for Foreign-invested Entities
In this issue of India Briefing, we provide an overview of India's taxes on business, which includes a section on India's double taxation avoidance agreements, and then discuss individual income tax rates and deductions. Finally, we discuss India's tax reforms in 2013, including an article by Chandrahas Choudhury, New Delhi correspondent for Bloomberg View, "Can India Tax Itself to Prosperity?"
India's Aviation Sector Has Potential to Become World's Largest by 2030