Female Literacy, a Human Right and a Necessity for India's Growth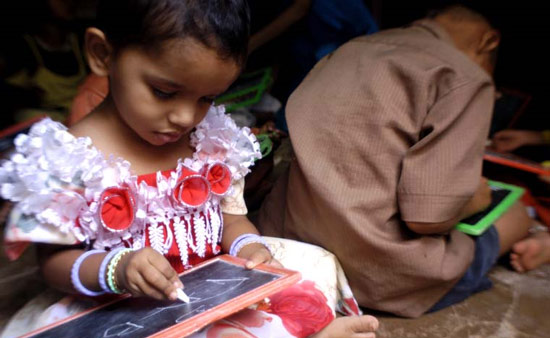 By Seema Rani Bhende
Sept. 10 – The Universal Declaration of Human Rights issued by the United Nations declares literacy a basic human right. In India, however, 50 percent of the women cannot read or write. For a country that has had phenomenal growth rates for the last several years, it also has some of the most shocking statistics when it comes to education. The number of illiterate people in India is the highest in the world.
National literacy in India is currently 64 percent and according to UNESCO, India ranks in the bottom five in female literacy next to countries such as Pakistan, Nepal, Bangladesh and Afghanistan. According to Nandan Nilekani's book "Imagining India," while India produces the second largest number of engineers in the world every year, it also has the largest number of school dropouts. So while India has a lot of work to do in education, it also has existing internal human capital and private sector resources it can leverage to reduce the disparity in education and wealth.
The first step
Indian Prime Minister Manmohan Singh recognizes that the collapse of schools and education in India is a deep crack in India's foundation and growth. On September 8, 2009, International Literacy Day, Mr. Singh launched "Saakshar Bharat" (Literacy India). This mission will invest over US$1.3 billion with a goal to educate 70 million people, 60 million of them women, by 2012. The long-term goal is to take national literacy to 80 percent by 2017 and reduce the gender gap from 21 percent to 10 percent (male literacy is currently 75 percent). This colossal program will require 10 million teachers (only matriculated graduates and above to be recruited), three million managers, seven million literacy centers and 210 million books. Under the Saakshar Bharat program, women will also be taught basic life skill training to make their lives more sustainable. Village Panchayats will play a key role in implementing the mission by involving local communities, NGOs and civil society.
There is a strong correlation between female literacy and population growth and overall health indicators. Mr. Singh believes that female literacy is "absolutely necessary to empower the Indian woman in her every day struggle in dealing with multiple deprivations on the basis of class, caste and gender." He is committed to making all women literate in next five years, with a particular focus on women in Scheduled Castes, Scheduled Tribes, minorities and other disadvantaged groups.
While current literacy rates for India are abysmal, it is important to look to the past and where the country has come from. When India gained Independence in 1947, the literacy rate was as low as 12 percent and enrollment in school was around 40 percent. In post-Independent India, education was a luxury reserved for the wealthy and considered an inherited right. This is quite different than young China where Communist ideology emphasized that a literate and educated society was essential to developing a new China where current literacy rates are over 93 percent, with UNICEF reporting the same statistic for female literacy. India's recent growth, especially in services and technology, has finally shone the light that education is imperative to economic growth and Indians realize that education and better employment go hand in hand. The confident awareness by the middle class on the importance of education has forced the government to finally create programs that address this issue.
Longer term solutions
India has one of the largest pools of talented human capital in the word but its overall growth is burdened by being home to the largest number of illiterates. One major issue for India to tackle is teacher truancy – the country has one of the highest rates globally. A 2008 World Bank survey found that 25 percent of government primary school teachers in India are absent from work. It is not surprising India has the highest rate of school dropouts – showing up to an empty classroom will not drive a passion for learning. The government needs to not only think about basic literacy programs, but also about the quality and sustainability of education. India needs to improve teacher training and recruitment and explore incentives for teacher performance recognition and merit pay.
As a solution, it would be worthwhile for the Indian government to put more pressure on the private sector to engage in corporate social responsibility (CSR) programs that invest in education and encourage well-educated employees to volunteer as tutors and teachers. For example, Cisco's CSR is deeply embedded in education and as a part of its Global Education Initiative, the company launched the Rajasthan Education Initiative in 2005 seeking to improve social and economic conditions in Rajasthan, India's largest state, by providing access to schools for all children, to fill teacher vacancies, and to increase expenditures for education. To date, Cisco has established five District Computer Education Centers, each equipped with 30 to 40 desktop computers. A total of 312 students have graduated from the Networking Academy IT Essentials course, 118 of them girls.
If the Indian government can engage in more public-private partnerships, the results could be tremendous. India's Human Resource Development Minister Kapil Sibal reaffirmed this in a statement to UNESCO. "The huge gaps in access to higher education between regions and countries need to be narrowed but this is not possible without participation of private sector investments," Sibal said. It is also important for India to consider opening up the education sector for foreign direct investment to allow new learning technologies and successful foreign teaching methods to be introduced into India more easily and at a lower cost.
India can also think of creating similar programs such as Teach for America, the highly successful and lauded U.S. program that encourages recent college graduates to teach for two years in rural and urban schools. Teach for America has been recognized by BusinessWeek magazine as one of the top ten places in the US to launch a career given the vast skills in leadership, advocacy, and critical thinking gained by its young teachers. Teach for America highlights the importance of utilizing highly engaged, driven, and motivated teachers to effectively teach the nation's at-risk youth.
In order for Saakshar Bharat to be successful in the longer term, India not only needs to embrace universal education for men and women, it also needs greatly enhanced teacher training, accountability and incentives. Likewise, it could benefit from public-private partnerships and foreign investment where the resources and human capital of the private sector can be leveraged to have significant impact.
Seema Rani Bhende is a consulting associate at Dezan Shira & Associates. She has worked in the United States, India and China across large multinational companies and consulting firms specializing in strategy, marketing and international development projects.