Gujarat's Economy: India's Growth Engine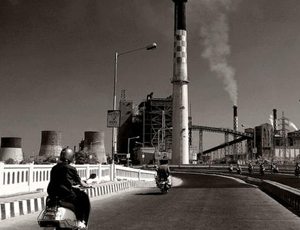 The election in Gujarat will decide India's economic future.
By Siddharth Ramalingam
Dec. 27 – Narendra Modi is not new to controversy. And neither is he fazed by aspersions on his secular credentials. He is seen as a strong, sometimes autocratic, leader who is not too worried about taking the fight to the opposition, be they from within the BJP or from outside. In the run up to the elections in Gujarat, the Congress had, in the last few days of campaigning, dragged into political discourse something Mr. Modi would have been most comfortable not battling (or so one would have thought) – accusations of his complicity in the communal riots of 2002.
As the elections in the state draw to a close, it seems like Mr. Modi's campaign is unlikely to suffer as a result of his alleged link with the riots – predictions are that he might well be voted in for another terms as Chief Minister. The secret behind Mr. Modi's impending success at the ballot is, in part at least, a reflection of his ability to deliver on promises of industrial and infrastructure development in the state. And it seems the common man has benefited from this development, since Mr. Modi came to power in 2001.
To put things in perspective, here are some numbers. Gujarat is one of India's fastest growing states, with GDP growing at a five year average of about 10 percent. The state contributes about 8 percent of the national GDP, and accounts for about 17 percent of the country's industrial output. The state also has a phenomenal decadal agricultural growth rate of about 11 percent. Gujarat's cities are growing at an astounding pace; so much so, Forbes list of the world's fastest growing cities included Ahmedabad at number 3 after Chengdu and Chongqing in 2010.
Infrastructure is good, businesses are booming, foreign investors are flocking to the state in droves, the people seem happy. And all this, they say, is because of the vision and drive of one man – Narendra Modi. It is no wonder that swathes of Indians (domestic and non-resident) and businesses want Mr. Modi to succeed in Gujarat, and possibly even run for the Prime Minister's office.
Gujarat is one a handful of states that defy what has come to be accepted as a thumb rule – access to ports, good roads and uninterrupted power cannot be taken as a given. Gujarat's infrastructure speaks for itself:
Home to the highest number of ports (42) and airports in India
The only Indian state to have a state-wide integrated gas network
Power-surplus state with uninterrupted power supply
To add to the infrastructure, the state government is proactive in wooing both small and large businesses. Large scale infrastructure undertaking that are in the offing, or already underway, give Gujarat an edge over other Indian states that are following the Gujarat model with respect to openness to businesses. Some of these projects, potentially controversial, include:
The Delhi Mumbai Industrial Corridor (DMIC) that is being touted to become a global manufacturing and trading hub
The Dholera Special Investment Region (DSIR) spread over 900 square kilometers.
The 500 square kilometer Petroleum, Chemicals and Petrochemicals Investment Region (PCPIR)
Gujarat International Finance Tec-City (GIFT), India's first Special Economic Zone for global financial services
It is no surprise that 26 percent of investments in terms of implemented projects in India (till 2011) have been made in Gujarat. It appears that industrial and infrastructure development in Gujarat has not left the agricultural sector behind, and that growth over the last two decades has indeed been inclusive. For instance, Gujarat can boast of 100 percent rural electrification. Mr. Modi was clearly right to be confident that the citizens of his state would want him back in power.
This article was originally published by the Fair Observer, December 26, 2012
Related Reading

An Introduction to Doing Business in India
In this guide, we introduce the basics of setting up and running a company in the country and some of the key issues investors should pay attention to. This issue is currently available as a complimentary download on the Asia Briefing Bookstore.