Incredible India Campaign to be Launched in Chinese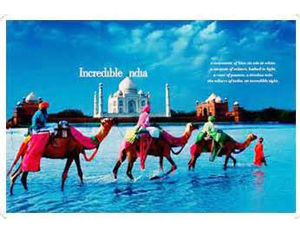 DELHI – India is preparing itself to increase trade and commercial engagement with China, especially in the services sector.
Chinese foreign minister Wang Yi concluded his two-day visit to India yesterday, during which he met Prime Minister Narendra Modi and foreign minister Sushma Swaraj and expressed an eagerness to forge stronger ties with India through investment in infrastructure as well as importing more from India.
The Indian Department of Commerce stated, "Services side cooperation should be quite substantial. The two governments and the private sector have started engaging in specifics to ease market access barriers and tap opportunities, which will be of interest to both the economies."
Recently, India announced it would make the visa process easier for Chinese visitors by shortening tourist and business visa processing to two working days.
Alongside this effort, the tourism ministry announced it would soon begin running the award-winning 'Incredible India' campaign on Chinese media while introducing  Chinese audio recordings at popular Indian monuments and providing Chinese language training to Indian tour guides to attract more Chinese tourists.
New Delhi is also working closely with Beijing to ease market access barriers for Indian services exports in sectors such as IT, tourism and health. In the long run, India hopes this will help balance its existing bilateral trade deficit and ensure better integration of the two large Asian economies. The commerce department is in talks with its Chinese counterpart for mutual recognition of medical degrees that will allow the movement of Indian doctors to China.
In IT, the Indian government is pushing for the easing of licensing norms to allow Indian companies to participate in local projects. In October, Chinese state-owned enterprises (SOEs) will visit India to hold talks with key Indian IT players and advance these efforts.
India's increased efforts and dialogue with China represent an attempt to leverage India's strengths and balance its merchandise trade deficit, which stood at US$35 billion in 2013-2014 against just US$1.08 billion in 2001-2002.
While India's services exports stand at around US$150 billion, exports to China account for just US$1 billion of that total. IT/ITeS constitutes around 62 percent of India's overall services exports, of which China consumes less than 1 per cent.
Chris Devonshire-Ellis of Dezan Shira & Associates comments, "The China-India trade corridor can become one of the most dynamic in the world and these are encouraging signs. It is very positive news that after so long, Chinese tourists are now being actively encouraged to visit India and that China has both ceased its negative rhetoric while India is in return easing up on visa requirements. Exciting days in this bilateral area lie ahead."
Asia Briefing Ltd. is a subsidiary of Dezan Shira & Associates. Dezan Shira is a specialist foreign direct investment practice, providing corporate establishment, business advisory, tax advisory and compliance, accounting, payroll, due diligence and financial review services to multinationals investing in China, Hong Kong, India, Vietnam, Singapore and the rest of ASEAN. For further information, please email asia@dezshira.com or visit www.dezshira.com.
Stay up to date with the latest business and investment trends in Asia by subscribing to our complimentary update service featuring news, commentary and regulatory insight.
Related Reading

Trading with India
In this issue of India Briefing, we focus on the dynamics driving India as a global trading hub. Within the magazine, you will find tips for buying and selling in India from overseas, as well as how to set up a trading company in the country.