India Announces 2014 Holiday Schedule
DELHI – The Ministry of Personnel, Public Grievances and Pensions has announced the official holiday schedule for 2014.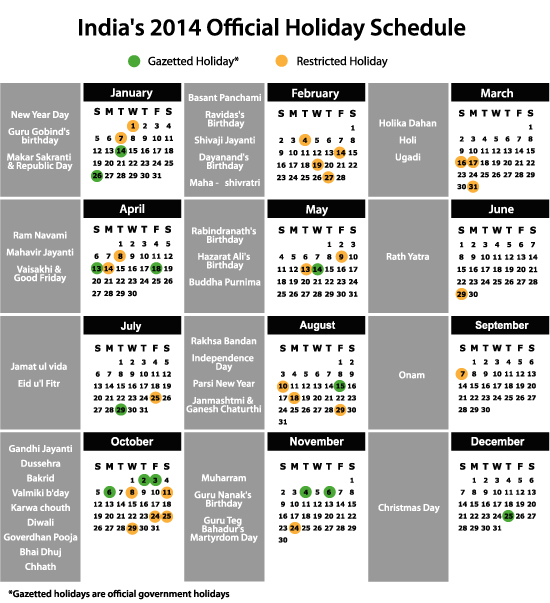 Gazetted Holidays
It has been announced that the following holidays will be observed in all the Administrative Offices of the Central Government located at Delhi/New Delhi (restricted holidays included) during the 2014 calendar year:
Id-E-Milad
Eid-E-Milad is also known as Nabi Day, which commemorates Prophet Muhammad's birthday.
Republic Day
Republic day is a national holiday commemorating the 1950 promulgation of the country's Declaration of Independence Constitution of India.
Holi (Restricted Holiday)
Holi is also called the festival of colors.
Ram Navami (Restricted Holiday)
Ram Navami is dedicated to the memory of Lord Rama. The festival commemorates the birth of Rama, who is remembered for his prosperous and righteous reign.
Mahavir Jayanti
Mahavir Jayanti is an auspicious occasion for the Jain community. Followers visit the temples and offer a ceremonial bath, known as 'abhishek', to Mahavira's idol. The temples are lavishly decorated with flags to mark the anniversary of Lord Mahavira's birth.
Good Friday
Many Christians around the world observe Good Friday on the Friday before Easter Sunday. Good Friday is one of the major days of the Christian season.
Buddha Purnima
Buddha Purnima (Buddha Jayanti) is a Buddhist festival that marks Gautama Buddha's birth. It falls on the day of the full moon in May.
Eidu'l-Fitr

Eidu'l-Fitr (Eid) is a Muslim holiday that marks the end of Ramadan, the Islamic holy month of fasting. Eid is celebrated on the first day of Shawwal.
Independence Day
India celebrates Independence Day on August 15 every year. India became an independent nation on August 15, 1947.
Janmashtami (Restricted Holiday)
Janmashtami, the birthday of Lord Krishna, is celebrated with great devotion and enthusiasm. According to the Hindu calendar, this religious festival is celebrated on the Ashtami (the 8th day of the dark fortnight) of Krishna Paksh.
Mahatma Gandhi's Birthday
Mahatma Gandhi's birthday is a national Holiday in India. This year marks the 145th birth anniversary of Mahatma Gandhi, Father of Nation.
Dussehra
Dussehra is celebrated as victory of Lord Rama over evil Ravana and also triumph of Goddess Durga over the evil Mahishasura.
Ied-ul-Zuha (Bakrid)
Ied-ul-Zuha (Bakrid) is observed by Muslims around the world. During this festival they make special efforts to pray and attend a sermon at their mosque.
Diwali
Diwali is known as the Festival of Lights.  It is common for people to light small clay lamps filled with oil to signify the triumph of good over evil within an individual. Several Indian businesses may start their financial year by opening new accounting books on the day of Diwali for good luck.
Muharram
Muharram refers to the first month of the Islamic Calendar. The complete month of Muharram is sacred according to the Muslims. They visit mosques and shrines and offer their condolences to the martyr Imam Hussain.
Guru Nanak's Birthday
Guru Nanak's Birthday is extensively celebrated as Gurpurab across India and is an auspicious festival in Sikhism and celebrated to remember the philosophy of Guru Nanak.
Christmas Day
Christmas is an annual commemoration of the birth of Jesus Christ and a widely observed cultural holiday, celebrated generally on December 25 by billions of people around the world.
Restricted Holidays
In India, each employee is allowed to avail himself/herself of any two holidays to be chosen by him/her out of the list of Restricted Holidays. The List of Restricted holidays is as follows:
New Year's Day
Guru Gobind Singh's Birthday
Makar Sankranti/Pongal
Basant Panchami
Guru Ravidas's Birthday
Shivajijayanti
Swami Dayanand Saraswati Jayanti
Maha Shivratri
Holika Dahan
Ugadi
Vaisakhi
Guru Rabindranath's Birthday
Hazarat Ali's Birthday
Rath Yatra
Jamat-ul-Vida
Raksha Bandhan
Parasi New year
Ganesh Chaturthi
Onam
Maharishi Valmiki's Birthday
KarwaChouth
Goverdhan Pooja
Bhai Duj
Chhath Puja
Guru Teg Bahadur's Martyrdom Day
You can stay up to date with the latest business and investment trends across India by subscribing to Asia Briefing's complimentary update service featuring news, commentary, guides, and multimedia resources.
Related Reading
Doing Business in India
Our 156-page business guide to India, the second fastest growing economy in the world, provides a thorough and in-depth analysis of India, its history, key demographics and overviews of the states and union territories highlighting business opportunities and infrastructure in place in each region. A comprehensive guide to investing in India is also included with information on FDI trends, business establishment procedures, economic zone information, labor and tax considerations, as well as an analysis of Indian business etiquette and culture.