India-Bangladesh International Rail Link Project
By Melissa Cyrill
On July 31, two key railway lines were inaugurated by India's Railways Minister Suresh Prabhu and his Bangladesh counterpart, Mohammed Mazibul Hoque in Agartala, Tripura state. The first was the opening of the weekly Tripura Sundari Express, traversing from New Delhi to Agartala, and the second, was the foundation stone laid for the India-Bangladesh Broad Gauge Rail link, connecting Agartala in India with Akhaura in Bangladesh. Both projects are critical to the region, opening up direct linkages with mainland India, and with it, boosting the scope for greater trade and commerce and people to people ties.
Until recently, Guwahati, the capital of Assam state in India, functioned as the single gateway to the country's entire northeastern region that consists of eight states covering an area of 101,250 square miles. The cumbersome and costly travel route in turn has contributed to the region's lagged development and economic stagnation, despite their abundance of natural resources and sharing international borders with five countries.
In the light of these developments, this article briefly sketches out the proposed India-Bangladesh railway project, its impact on improving connectivity in the region, and its long term economic prospects.
India-Bangladesh Broad Gauge Rail Link
As mentioned above, the India-Bangladesh broad gauge rail link will connect Agartala in India with Akhaura in Bangladesh, and is expected to get completed by 2017. Akhaura is an important railway junction in southeastern Bangladesh, which connects Chittagong port, the resource-rich Sylhet, and Dhaka. The proposed line is an outcome of the larger India-Bangladesh rail project, which was first mooted in 2012, following which the two countries signed an MoU in February 2013.
The length of the Agartala-Akhaura line will be 15.06 km (9.35 miles), of which 5.05 km (3.13 miles) will fall in Tripura (India) and the remaining 10.01 km (6.22 miles) will fall in Bangladesh. Altogether, there will be five stations and nine level crossings that will involve the construction of 15 bridges, including one major bridge. This line will have a speed potential of 100 kmph (62.13 mph).
India will bear the entire expenditure of the project, at an estimated US$ 144.37 million (Rs 968 crore). Towards this, US$ 22.07 million (Rs 148 crore) was earmarked in the 2015-2016 Railway budget, and the engineering and construction company IRCON was chosen as the technical advisor for the project.
Prospects of the New Railway Linkages
The new train linkages revisit the old connectivity and freight routes established under the colonial era, when most of the subcontinent was under the British Indian Empire. Today, the India-Bangladesh railway project seeks to capitalize on opportunities for expanding trade, tourism, and commerce between the two nations.
According to the Indian Railways Ministry, upon its entire completion, the composite India-Bangladesh rail link project will connect Agartala, Tripura (India) with Ashuganj and Chittagong Port (Bangladesh), at a distance of 54 km (33.55 miles) and 213 km (132.35 miles), respectively. Similarly, it will connect Agartala to Kolkata (India) via Dhaka (Bangladesh), covering a distance of just 514 km (319.38 miles). The significance of this project therefore becomes obvious as currently, the railway distance between Agartala and Kolkata is 1613 km (1002 miles). The new railway project via Bangladesh cuts this distance by over 1000 km (621 miles).
As a result, the India-Bangladesh railway project has massive implications, both for the socio-economic development of the northeastern region and for improving ties with Bangladesh. The new rail link will ease both ordinary travel and freight transport, open up multiple trade points, and advance the scope of commerce and tourism. For example, the Agartala-Akhaura link alone will provide full rail connectivity from east to west of Bangladesh, facilitating transit from Chittagong and Mongla ports to Tripura and the rest of India's northeast. This means that Indian ships could dock in Chittagong port and use the rail linkage to access India.
In terms of impact on the tourism sector, the ease of transport and regional development will directly feed into more tourist footfall and better prospects for the hospitality industry. Under the plan scheme 'Swadesh Darshan', the Ministry of Tourism provides Central Financial Assistance (CFA) to State Governments/Union Territory Administrations, for various tourism projects, which includes the 'North-East India Circuit'. Such schemes will now have a better chance of implementation.
A few other advantages may also materialize. The rail link opens up transparent routes to India, offering greater economic and job opportunities. This in turn will check the influence of anti-India insurgent groups that operate out of the northeast states and promote illegal infiltration along India's borders. Promoting development in the region, thus, becomes a win-win proposition for both India and Bangladesh as it allows the region's youth to partake of the development, instead of getting recruited into insurgent groups. Moreover, building the India-Bangladesh rail linkages also assists in India's future plans to connect with the Southeast Asian states, including Myanmar, which shares its borders with four northeast Indian states. The U.S. in particular has been keen on seeing India emerge as a counterweight to China's heavy presence in the South Asian – ASEAN regions, and India too, desires the expansion of its sphere of political and economic influence. Building regional networks by road and rail and other infrastructure projects form an integral part of India's Act East policy.

RELATED: India Regulatory Brief: Government Extends Highway Contracts to Attract Investors and More Changes to GST Bill Announced
Observations: The India-Bangladesh rail project plays an important role in the current regime's foreign policy agenda with respect to its immediate neighbors. It also introduces Bangladesh as a direct stakeholder in the region. Further, the development of the northeastern states is a key objective of the government, which seeks to reap the economic benefits of greater integration. More importantly, the new rail connectivity serves as a counter to China's aggressive foreign policy moves with respect to all of India's neighbors, an outcome that will have takers in Washington as well. Finally, the long term plan for India is to connect its northeastern region with Southeast Asia, for which the India-Bangladesh rail project serves as a starting point. The benefits of the new and improved rail linkages are thus not only economic, but also geopolitical, and will contribute to greater regional stability.

About Us
Asia Briefing Ltd. is a subsidiary of Dezan Shira & Associates. Dezan Shira is a specialist foreign direct investment practice, providing corporate establishment, business advisory, tax advisory and compliance, accounting, payroll, due diligence and financial review services to multinationals investing in China, Hong Kong, India, Vietnam, Singapore and the rest of ASEAN. For further information, please email india@dezshira.com or visit www.dezshira.com.
Stay up to date with the latest business and investment trends in Asia by subscribing to our complimentary update service featuring news, commentary and regulatory insight.


Managing Your Accounting and Bookkeeping in India
In this issue of India Briefing Magazine, we spotlight three issues that financial management teams for India should monitor. Firstly, we examine the new Indian Accounting Standards (Ind-AS) system, which is expected to be a boon for foreign companies in India. We then highlight common filing dates for most companies with operations in India, and lastly examine procedures and regulations for remitting profits from India.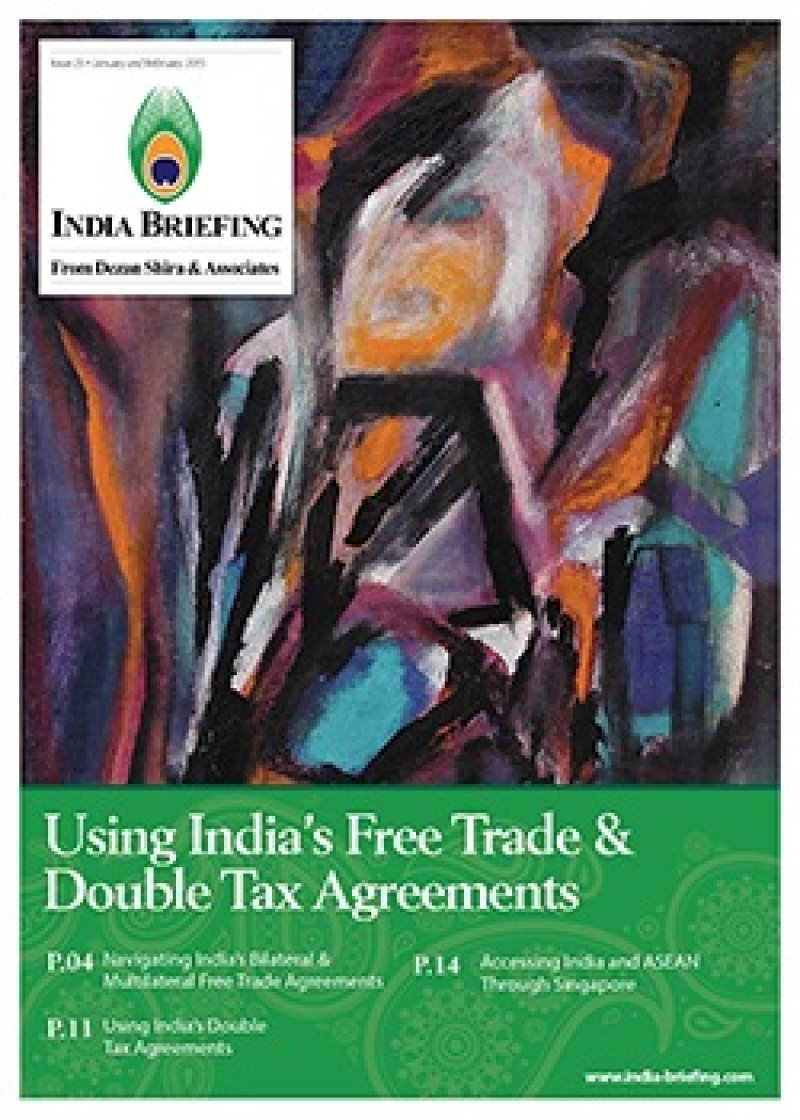 Using India's Free Trade & Double Tax Agreements
In this issue of India Briefing magazine, we take a look at the bilateral and multilateral trade agreements that India currently has in place and highlight the deals that are still in negotiation. We analyze the country's double tax agreements, and conclude by discussing how foreign businesses can establish a presence in Singapore to access both the Indian and ASEAN markets.

Passage to India: Selling to India's Consumer Market In this issue of India Briefing magazine, we outline the fundamentals of India's import policies and procedures, as well as provide an introduction to engaging in direct and indirect export, acquiring an Indian company, selling to the government and establishing a local presence in the form of a liaison office, branch office, or wholly owned subsidiary. We conclude by taking a closer look at the strategic potential of joint ventures and the advantages they can provide companies at all stages of market entry and expansion.