India and Pakistan Move to Liberalize Trade Ties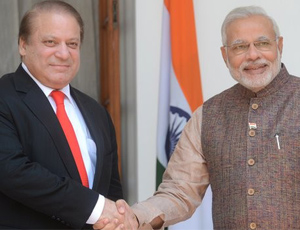 DELHI – India's Minister for Commerce and Industry Nirmala Sitharaman will discuss a new roadmap for trade liberalization with Pakistani Federal Minister for Commerce Khurram Dastgir Khan next month.
Easing visa restrictions, eliminating non-tariff barriers to trade, promoting mobile connectivity and opening additional banking channels between the two countries are expected to be among several key issues the two ministers discuss on the sidelines of the South Asian Association for Regional Cooperation (SAARC) Ministerial Council in Bhutan on July 24.
"I will meet the Indian state minister for commerce for resumption of bilateral trade talks," Khan was quoted as saying last week. "We missed an early deadline of December 31, 2012 to remove all hurdles in trade relations. Now the two governments will try to agree on [a] fresh roadmap."
Talk of a roadmap for the normalization of trade relations follows an unprecedented meeting between Indian PM Narendra Modi and his Pakistani counterpart Nawaz Sharif at Modi's swearing-in ceremony last month.
Sharif's visit to New Delhi in May was the first by a Pakistani leader since accusations of Pakistani involvement in the 2008 Mumbai terror attacks dealt a near-fatal blow to the two countries' relationship and froze progress on the resolution of outstanding political and economic issues.
After advocating for a hardline approach to India-Pakistan relations during his election campaign, Modi's invitation to Sharif and other regional leaders to attend his official swearing-in ceremony last month came as a surprise to many.
In what would have ordinarily been regarded as controversial, and the subject of considerable debate in India, Modi's invitation was instead overshadowed by the right-wing BJP's landslide victory in parliamentary elections.
RELATED: India Seeks Increased Economic Engagement with Asian Neighbors 
Historically, the BJP – despite its right-wing political orientation – has sought to improve India's relationship with Pakistan upon taking office. In 1999, during Nawaz Sharif's first stint as Pakistani Prime Minister, BJP-affiliated Prime Minister Atah Behari Vajpayee met frequently with his Pakistani counterpart and established a warm relationship with Sharif that climaxed in PM Vajpayee travelling on the first bus between India and Pakistan in nearly half a century.
The planned meeting on July 24 will mark the first high level trade talks since the BJP came to power in May.
In 2012, Pakistan expanded the list of items that could be traded with India from 1,918 to 5,800. Today, only 1,209 items remain on Pakistan's negative list. The two countries' sensitive lists remain relatively constant, however, with Pakistan listing 936 items and India 614.
Despite sharing a large land border, many direct trading routes between India and Pakistan have been officially curtailed in recent years and the bulk of India-Pakistan trade is currently routed through Dubai, according to the World Bank.
In addition to discussing a number of issues surrounding trade facilitation, India and Pakistan are expected to accelerate Pakistan's granting of most-favored nation (MFN) status to India—an announcement that has reportedly been under discussion for several months.
During a trade visit to New Delhi, however, Khan described the MFN issue as a "red herring [which] distracts from what is the real issue which is non-discriminatory access as well as a level playing field for both countries."
As Modi continues to surprise observers by reaching out to India's neighbors and rivals to forge closer trade ties, many foreign investors are hopeful that a willingness to focus on potential areas for cooperation and trade – while setting aside political and territorial disagreements – may set a new tone in India-Pakistan relations and sow the seeds for the forging of a mutually beneficial long-term economic relationship.
Asia Briefing Ltd. is a subsidiary of Dezan Shira & Associates. Dezan Shira is a specialist foreign direct investment practice, providing corporate establishment, business advisory, tax advisory and compliance, accounting, payroll, due diligence and financial review services to multinationals investing in China, Hong Kong, India, Vietnam, Singapore and the rest of ASEAN. For further information, please email india@dezshira.com or visit www.dezshira.com.
Stay up to date with the latest business and investment trends in Asia by subscribing to our complimentary update service featuring news, commentary and regulatory insight.
Related Reading
Modi: Charting a New Foreign Policy Course
Will Modi Normalize India's Trade Relationship with Pakistan?