India Regulatory Brief: Stricter Emission Norms by 2020, Proposed Fee Hike for Pharmaceutical Products

India to Implement Stricter Emission Norms By 2020
After months of speculation, the Indian government announced that it will be advancing the implementation of BS-VI fuel emission norms by four years to 2020. The government's decision to skip the intermediary level of BS-V vehicular fuel norms will finally bring Indian fuel emission standards at par with the U.S., Japan and the EU, which follow Euro Stage VI emission norms.
The change in the government's outlook came a day after the Supreme Court recommended the urgent implementation of clean auto-fuel norms due to concerns over the deteriorating air quality in the country, especially in the capital, New Delhi. Currently, Indian automobiles run on multiple emissions standards – BS-IV auto fuels are supplied in only about 50 cities. The rest of the country runs on BS-III fuels; motorcycles and scooters – which outnumber cars 6 to 1 (as per sales data) – mostly run on BS-III emission standards.
Moving straight to BS-VI norms will have major repercussions for the rest of the automobile sector as cars, sports utility vehicles, trucks and buses will become more expensive. Vehicle manufacturers, auto-parts makers and oil refiners are expected to make immediate investments and technological changes that could cost between US $10.5 billion (Rs 70,000 crore) and US $13.5 billion (Rs 90,000).
Government Proposes Fee Hike for Pharmaceutical Products
The government has proposed a hike in the regulatory fees for testing, manufacturing and selling medicines in India. The hike will be applicable to both domestic and multinational pharmaceutical companies already operating in the country, and will include product and site registration. The Ministry of Health & Family has recommended that the site registration fee for importing drugs be increased from US $1,500 to US $10,000, and that the registration fee for imported pharmaceutical products be hiked from US $1,000 to US $5,000. Registration fees for any new product that is locally manufactured by domestic pharmaceutical companies has also been hiked from US $749 (Rs 50,000) to US $3746 (Rs 2,50,000). Further proposals include hiking the fees for conducting clinical trials, securing and renewal of license for stocking, export and distribution of medicines. The proposed fee hikes will not affect consumers as drug prices are heavily regulated.
The recommendations for fee hikes have been strongly opposed by pharmaceutical companies, but have been justified by the government as steps to increase the efficiency of regulatory checks. This is more so as pharmaceutical revenues in India have increased year on year. If approved, the new fee structures will be inserted into the Drugs and Cosmetics Rules, 1945.
Government Recommends Dispute Resolution Bodies for Public-Private-Partnerships
A panel led by Vijay Kelkar, former finance secretary, has recommended the creation of two bodies. These are the Infrastructure PPP Project Review Committee (IPRC) and the Infrastructure PPP Adjudication Tribunal (IPAT), which would seek to resolve disputes in public-private-partnerships, cutting down on costs and time overruns.
The IPRC will assume the role of evaluating and sending recommendations when a backlog is detected in any PPP project. IPAT will resolve disputes between various stakeholders in a PPP project and will be chaired by a judicial member (preferably a former judge of the Supreme Court or a High Court chief justice). For instance, in the event of a dispute between a private party and the government under a PPP project or upon a demand for review of the economic viability of the project by a stakeholder, the aggrieved party can file a case with the IPAT and, after careful consideration, the IPAT can ask the IPRC to review the case.

About Us
Asia Briefing Ltd. is a subsidiary of Dezan Shira & Associates. Dezan Shira is a specialist foreign direct investment practice, providing corporate establishment, business advisory, tax advisory and compliance, accounting, payroll, due diligence and financial review services to multinationals investing in China, Hong Kong, India, Vietnam, Singapore and the rest of ASEAN. For further information, please email india@dezshira.com or visit www.dezshira.com.
Stay up to date with the latest business and investment trends in Asia by subscribing to our complimentary update service featuring news, commentary and regulatory insight.


Managing Your Accounting and Bookkeeping in India
In this issue of India Briefing Magazine, we spotlight three issues that financial management teams for India should monitor. Firstly, we examine the new Indian Accounting Standards (Ind-AS) system, which is expected to be a boon for foreign companies in India. We then highlight common filing dates for most companies with operations in India, and lastly examine procedures and regulations for remitting profits from India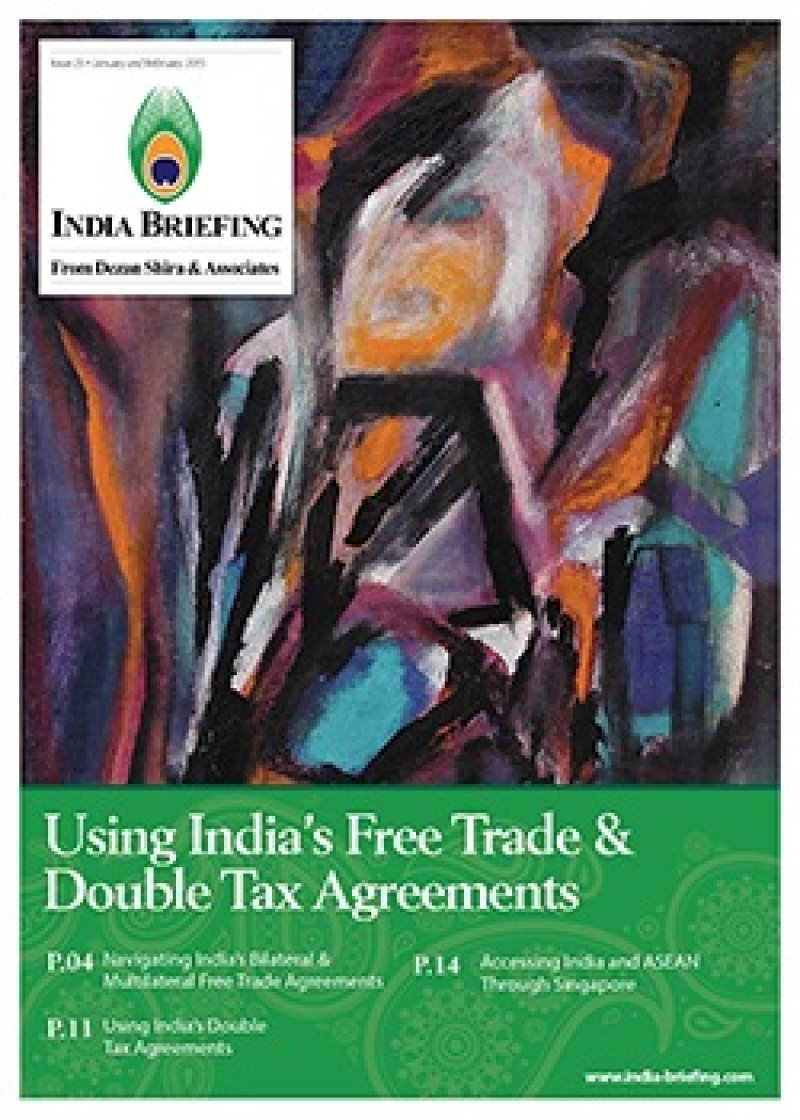 Using India's Free Trade & Double Tax Agreements
In this issue of India Briefing magazine, we take a look at the bilateral and multilateral trade agreements that India currently has in place and highlight the deals that are still in negotiation. We analyze the country's double tax agreements, and conclude by discussing how foreign businesses can establish a presence in Singapore to access both the Indian and ASEAN markets.

Passage to India: Selling to India's Consumer Market In this issue of India Briefing magazine, we outline the fundamentals of India's import policies and procedures, as well as provide an introduction to engaging in direct and indirect export, acquiring an Indian company, selling to the government and establishing a local presence in the form of a liaison office, branch office, or wholly owned subsidiary. We conclude by taking a closer look at the strategic potential of joint ventures and the advantages they can provide companies at all stages of market entry and expansion.