India Releases New National Intellectual Property Rights Policy
By Tracie Frost
India recently released a new national intellectual property rights policy which seeks to enhance Prime Minister Narendra Modi's Make in India scheme by boosting innovation.  The policy, which comes at an important time for U.S.-India relations, has been widely criticized in the Indian press.
India currently ranks 37 out of 38 countries in the United States Chamber of Commerce (USCC) Global Intellectual Property Chamber Index.  Based on 30 indicators spread across six categories – patents, copyrights, trademarks, trade secrets, enforcement, and international treaties – the index gives India an abysmal score of 7.05 out of 30 possible points.  The greatest concern for the USCC is an Indian rule prohibiting patents for incremental changes and India's use of compulsory licensing provisions as a means of effectuating technology transfer. Also noted as areas of concern were a series of court rulings regarding copyright infringements, deficiency of regulations for data protection, and poor enforcement of civil and criminal remedies.
Compulsory licensing has long been a sore spot between the U.S. and India.  This tool, legal in certain circumstances under the WTO, can be invoked to allow a company to produce a patented product without the consent of the patent owner. The Indian Patents Act allows compulsory licenses for drugs if they are considered unaffordable and if the Indian government grants permission for drug makers to manufacture them. The new policy specifically states that "India will continue to utilize the legislative space and flexibilities available in international treaties and the TRIPS Agreement" to gain access to licenses for drugs as it deems necessary.  This is a troubling development.  Studies referenced by the United States Trade Representative suggest that up to 20 percent of drugs sold in the Indian market are counterfeit and could represent a serious threat not only to patent-holders, but also to public health and safety.
Another area of disagreement, the rule under the Indian Patents Act, which sets the standard under Indian law for "innovation", essentially prohibits patents for incremental improvement or innovation. Pharmaceutical companies frequently apply for patents covering incremental changes in drugs, but India's law does not recognize incremental changes as patentable. Critics argue that denying patents for improvements to existing technologies, which must rise to the same rigorous standard of "novel, useful and non-obvious", undermines the incentives that encourage innovation.  Yet, India's new intellectual property policy keeps this rule intact.
That the new national intellectual property rights (IPR) policy does not resolve either of these concerns with India's existing intellectual property policy is a disappointment.  However, the policy does address several other areas of importance:
IPR Awareness: the policy seeks to create public awareness about the economic, social, and cultural benefits of intellectual property rights.
Generation of IPRs: the policy lays a framework to stimulate the generation of IPRs.
Legal and Legislative Framework: the policy points to the importance of strong and effective IPR laws to balance the interests of rights owners with larger public interest.
Administration and Management: the policy provides a plan to modernize and strengthen IPR administration.
Enforcement and Adjudication: the policy strengthens the enforcement and adjudicatory mechanisms for combating IPR infringements.
Treaties: the policy examines India's agreement to some multilateral treaties, perhaps including the Trans-Pacific Partnership agreement.
Each of these objectives is set out in detail in the new policy plan. In addition, the policy makes the Department of Industrial Policy and Promotion, the coordinating department to guide and oversee implementation and future development of IPRs in India.
The United States has remained cautiously optimistic regarding India's evolving intellectual property landscape.  When the U.S. Trade Representative (USTR) issued its annual Special 301 Report, it recognized several positive developments in IPR.  India issued a draft for public comment for the new national policy and subsequently held hearings with interested stakeholders, which the U.S. saw as a significant step forward in transparency.  Additionally, India has maintained strong channels of communication on IPR with the U.S. since Modi's first Trade Policy Forum with the U.S. And India's increasingly public recognition of the importance of IPR – highlighted in the new policy – is encouraging.  The USTR has emphasized that India's courts have a reputation for providing fair and deliberate treatment of both foreign and domestic litigants.
However, the USTR recognizes continued reasons for concern in the Indian IPR environment – in addition to the problems with the new policy as outlined above.  India maintains the highest tariffs on medicines and medical devices among the WTO members identified in the USTR report. These tariffs, combined with regulations that lack transparency or that exempt domestically-developed or -manufactured medicines, inhibit market access.  Another concern for USTR is that India's pro­posed Patent Rule Amendments could introduce new incentives to pressure patent applicants to localize manufacturing in India and require the submission of sensitive business information to India's Patent Office. Finally, the report emphasizes the lack of an effective system for notifying interested parties of marketing approvals for generic pharmaceuticals and high levels of piracy and unpredictability in the market. USTR concludes that all of these issues "undermine a vibrant and competitive sector for Indian and U.S. companies".
Observations
While India has made some overtures to improving the intellectual property environment for foreign firms, many issues remain to be addressed.  The response to the New National Intellectual Property Rights Policy in the Indian press indicates that resolving those issues could be a long, difficult road.

About Us
Asia Briefing Ltd. is a subsidiary of Dezan Shira & Associates. Dezan Shira is a specialist foreign direct investment practice, providing corporate establishment, business advisory, tax advisory and compliance, accounting, payroll, due diligence and financial review services to multinationals investing in China, Hong Kong, India, Vietnam, Singapore and the rest of ASEAN. For further information, please email india@dezshira.com or visit www.dezshira.com.
Stay up to date with the latest business and investment trends in Asia by subscribing to our complimentary update service featuring news, commentary and regulatory insight.


Managing Your Accounting and Bookkeeping in India
In this issue of India Briefing Magazine, we spotlight three issues that financial management teams for India should monitor. Firstly, we examine the new Indian Accounting Standards (Ind-AS) system, which is expected to be a boon for foreign companies in India. We then highlight common filing dates for most companies with operations in India, and lastly examine procedures and regulations for remitting profits from India.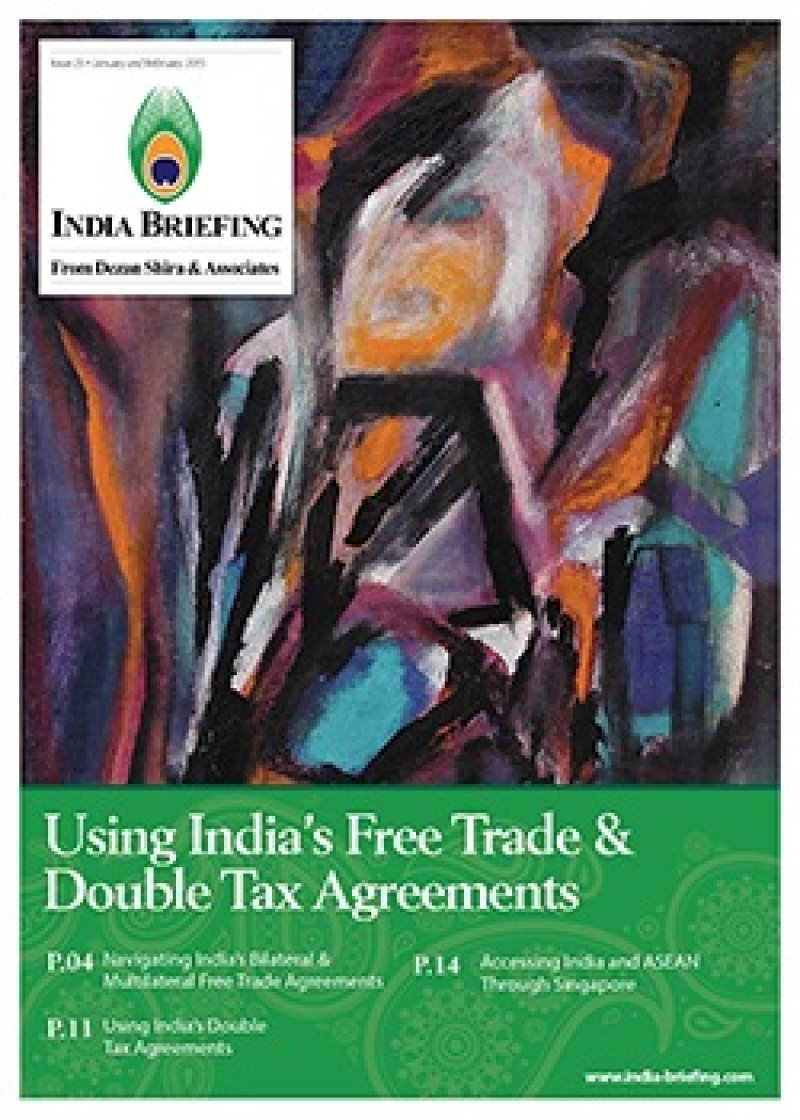 Using India's Free Trade & Double Tax Agreements
In this issue of India Briefing magazine, we take a look at the bilateral and multilateral trade agreements that India currently has in place and highlight the deals that are still in negotiation. We analyze the country's double tax agreements, and conclude by discussing how foreign businesses can establish a presence in Singapore to access both the Indian and ASEAN markets.

Passage to India: Selling to India's Consumer Market In this issue of India Briefing magazine, we outline the fundamentals of India's import policies and procedures, as well as provide an introduction to engaging in direct and indirect export, acquiring an Indian company, selling to the government and establishing a local presence in the form of a liaison office, branch office, or wholly owned subsidiary. We conclude by taking a closer look at the strategic potential of joint ventures and the advantages they can provide companies at all stages of market entry and expansion.