The Indian Super League: Destined for Economic Success, or Doomed to Fail?
Op-Ed Commentary: Samuel Wrest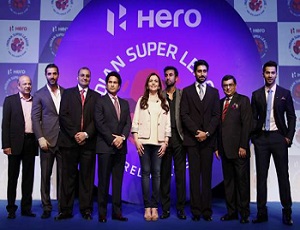 Next weekend, India will launch the inaugural season of its Indian Super League (ISL). Three years in the making, the ISL will become the country's second professional football league after the much-maligned I-League, but has high hopes of succeeding in several key areas where the I-League has largely failed.
Principal amongst the ISL's ambitions is to loosen the stranglehold that cricket currently has over India's sports industry and, importantly, become a prosperous business model, a financial success, and a potential major incentive for foreign investment in India.
In other countries, the football industry has certainly shown that it has the scope to achieve these goals.  In England, for example, the revenues of the football industry now far outweigh those of cricket. In 2012/13, England's Premier League had a total revenue of €2,946 million compared to the approximate overall €140 million turnover of the cricket industry. The financial opportunities of football in England are underscored by some of its football clubs, such as Swansea City; a club that generated £58 million for the Welsh economy following its first season in the Premier League. The majority of England's first-tier football clubs are owned by foreign investors, exemplifying the appeal that the industry now has as a business.
The question posed to the ISL is whether it can emulate the success of a competition like the Premier League. With a population of over 1.2 billion people, India arguably has the world's most under-penetrated football market, and further possesses a number of other qualities that suggest the ISL could indeed be a success. Its demographic dividend, increasingly affluent middle-class and growing appetite for TV broadcasts of foreign football games all point towards the viability of the ISL as a business model.
RELATED: Asia's Sports Industry: Singapore's Next Major Growth Market?
There also certainly seems to be a great deal of optimism within the ISL itself. The league has already attracted a number of well-known football names – albeit ones who are perhaps in the twilight of their careers – such as former Chelsea and France player Nicolas Anelka, former Arsenal and Sweden player Freddie Ljungberg, and former Juventas and Italy player Alessandro Del Piero. The funds required to bring in such high-profile players are unavoidably massive, and the ISL has already received substantial investment from wealthy domestic businesses and retired Indian cricket stars.
India's media, meanwhile, has enthusiastically been building up the start of the ISL season, and are affording the competition far more coverage than they did its I-League counterpart. International media is also covering the league, largely because of some of the names and money involved in it. Former England international Peter Reid, who will be managing Mumbai City in the upcoming season, told The Times of India that he hopes the ISL will help rid India of its football 'poor boy image', whilst Kushal Das, the general secretary of the All India Football Federation, told the BBC that football in India is a "giant that has finally woken up".
The optimism and excitement that surround the kick-off of the ISL are, however, inevitably tinged with reasons for caution. When looking at the ISL, one cannot help but be reminded of the Chinese Super League (CSL), which shares more than just a similarity in name with its Indian equivalent. Like the ISL, the CSL was earmarked for substantial investment because of the vast untapped potential the Chinese football market was believed to hold, and this investment was in turn also largely used to attract well-known foreign names.  However, the success of the CSL was marred by wide-scale corruption, which negatively influenced the reputation of the league, deterred further investment, and caused some of its high-profile stars to leave. It seems ironic that one of those very stars, Nicolas Anelka, will be plying his trade in the ISL next week.
The example of the recent World Cup in Brazil serves as another cautionary tale for the ambitions of the ISL. In an effort to make the country's still-developing infrastructure suitable for football's premier tournament, the Brazilian government displaced some 170,000 people and used the vacated land for roads, airports, and the renovation of stadiums. Such were the heavy demands that hosting a big football competition resulted in.
Like China, India also has a reputation for corruption within various industries, which may suggest that the fate which befell the CSL could also occur in the ISL. And like Brazil, India's infrastructure is a long way from being able to host big footballing events, and any effort to expedite that process will likely end with similar, if not worse, results for India's burgeoning population.
However, there have been signs from both the ISL and India itself that this new sporting venture could be triumphant. Firstly, the way in which the league is structured seems to be far more piecemeal than that of China's CSL, with only eight teams competing in its first season and only between October and December.  Kushal Das stated that issues of "profit and loss" do not form part of the ISL's initial agenda; rather, the emphasis will be on development of the sport. Secondly, under the new BJP government, India is pressing ahead with major infrastructural reform and investment, better preparing it for the future possibility of an international competition, which itself will likely not occur for some time. And lastly, Prime Minister Narendra Modi has been resolute in his fight against corruption in India, and any hint of it within the ISL is likely to be promptly dealt with and stamped out.
RELATED: Can India's Newly Drafted Road Safety Laws Help Boosts its Economy?
There is therefore a sense that the Indian Super League could be a breakthrough for India's football industry. If executed correctly, the league could simultaneously attract investment, boost the economy, popularize the sport in the country, and help promote India's international profile. Like the general secretary of the All India Football Federation said, it may indeed be that a footballing "giant" is finally awakening, and the impact that could have on India could be very positive.
Asia Briefing Ltd. is a subsidiary of Dezan Shira & Associates. Dezan Shira is a specialist foreign direct investment practice, providing corporate establishment, business advisory, tax advisory and compliance, accounting, payroll, due diligence and financial review services to multinationals investing in China, Hong Kong, India, Vietnam, Singapore and the rest of ASEAN. For further information, please email india@dezshira.com or visit www.dezshira.com.
Stay up to date with the latest business and investment trends in Asia by subscribing to our complimentary update service featuring news, commentary and regulatory insight.
Related Reading

Taking Advantage of India's FDI Reforms
In this edition of India Briefing Magazine, we explore important amendments to India's foreign investment policy and outline various options for business establishment, including the creation of wholly owned subsidiaries in sectors that permit 100 percent foreign direct investment. We additionally explore several taxes that apply to wholly owned subsidiary companies, and provide an outlook for what investors can expect to see in India this year.

Passage to India: Selling to India's Consumer Market
In this issue of India Briefing Magazine, we outline the fundamentals of India's import policies and procedures, as well as provide an introduction to the essentials of engaging in direct and indirect export, acquiring an Indian company, selling to the government and establishing a local presence in the form of a liaison office, branch office, or wholly owned subsidiary. We conclude by taking a closer look at the strategic potential of joint ventures and the advantages they can provide companies at all stages of market entry and expansion.

Trading with India
In this issue of India Briefing, we focus on the dynamics driving India as a global trading hub. Within the magazine, you will find tips for buying and selling in India from overseas, as well as how to set up a trading company in the country.