India's 15th Lok Sabha: Five Years in Review
DELHI – After India's 15th Lok Sabha (lower house of Parliament) concluded its five year term last Friday, we take a look back at some of the highlights and accomplishments of what some in the media have labelled the "worst Lok Sabha in India's democratic history." Despite frequent disruptions and moderate productivity, however, the 15th Lok Sabha did pass a number of notable bills including the Lokpal Bill and an updated version of the Companies Act.
The Raw Numbers
Statistically speaking, the 15th Lok Sabha was the least productive Lok Sabha in Indian history to serve a full five year term.
Passing only 177 of the 326 bills under consideration during its five year tenure (only 55 percent of proposed legislation), the 15th Lok Sabha was significantly less productive than either the 13th or 14th Lok Sabhas, which passed 297 and 248 bills, respectively. This will leave 60 bills pending for consideration by the next Lok Sabha, while the 15th only inherited 37 bills from the 14th Lok Sabha.
According to PRS Legislative Research, the 15th Lok Sabha's nominal level of productivity was primarily attributable to frequent disruptions that severely limited its ability to engage in productive work on a regular basis.
"During the 15th Lok Sabha, frequent disruptions of Parliamentary proceedings have resulted in the Lok Sabha working for 61 percent and the Rajya Sabha (upper house) for 66 percent of its scheduled time. This has been the worst performance in the lower house in more than fifty years. In comparison, the 13th and 14th Lok Sabhas worked for 91 percent and 87 percent, respectively," a PRS Legislative Research report claimed.
"The first five sessions of the 15th Lok Sabha worked for an average of 81 percent despite some disruptions. Disruptions in Parliament escalated since the Winter Session 2010 with the demand for a Joint Parliamentary Committee to examine the 2G Spectrum scam. Since then, the Lok Sabha has worked for an average of 52 percent and Rajya Sabha for 55 percent," the report continued.
In its final session, the 15th Lok Sabha worked for less than 25 percent of its scheduled time with frequent disruptions including the use of pepper spray by an MP to disrupt debate on the creation of a new state of Telangana in southern India earlier this month. Question Hour, the first hour of every parliamentary sitting devoted to the posing of questions between MPs, was disrupted roughly 61 percent of the time with only 10 percent of total questions answered, and none answered orally during three of the 15th Lok Sabha's sessions.
Of the 116 bills that were passed by the 15th Lok Sabha, a significant percentage were passed without significant debate. Roughly 36 percent of the total bills passed were debated for less than 30 minutes while of these, 20 were passed with less than five minutes of debate. A number of important bills including the 2014 Interim Budget and 2013 Finance Bill were passed without any discussion whatsoever.
The Highlights
Despite low levels of productivity, a number of legislative highlights from the 15th Lok Sabha of direct relevance to foreign investors and the wider business community in India are important to note, including:
Permitting foreign investment in multi-brand retail up to 51 percent and amending the Foreign Exchange Management Act (FEMA), paving the way for changes to India's FDI caps in 2013
Permitting FDI in the pension sector at 26 percent
Passing the Lokpal Bill creating an independent anti-corruption agency
Passing the Whistleblower Protection Bill
During the 15th Lok Sabha's final session on Friday, Prime Minister Manmohan Singh expressed hope that "out of this strife and tensionful atmosphere, birth of a new atmosphere of hope will emerge."
As the BJP and INC, India's two major political parties, prepare to contend with each other in general elections later this year, several minority parties and newcomers to the political scene such as the AAP (Common Man Party) are expected to pose a formidable challenge to the status quo after the 15th Lok Sabha's performance.
Dezan Shira & Associates is a specialist foreign direct investment practice, providing corporate establishment, business advisory, tax advisory and compliance, accounting, payroll, due diligence and financial review services to multinationals investing in emerging Asia. Since its establishment in 1992, the firm has grown into one of Asia's most versatile full-service consultancies with operational offices across China, Hong Kong, India, Singapore and Vietnam as well as liaison offices in Italy and the United States.
You can stay up to date with the latest business and investment trends across India by subscribing to Asia Briefing's complimentary update service featuring news, commentary, guides, and multimedia resources.
Related Reading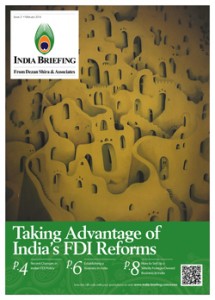 Taking Advantage of India's FDI Reforms 
In this issue of  India Briefing Magazine, we explore important amendments to India's foreign investment policy and outline various options for business establishment, including the creation of wholly owned subsidiaries in sectors that permit 100 percent foreign direct investment. We additionally explore several taxes that apply to wholly owned subsidiary companies, and provide an outlook for what investors can expect to see in India this year.
BJP Stuns in Election Outcome, Congress Party in Disarray
India Struggles Forward with Prevention of Corruption
Retail Reform Policy Approved by Indian Parliament's Lower House