Using India's Free Trade & Double Tax Agreements – New Issue of India Briefing Magazine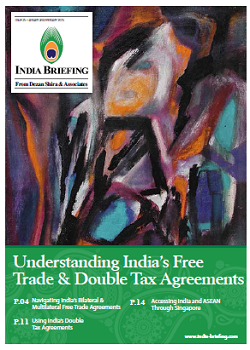 The newest issue of India Briefing magazine, titled "Using India's Free Trade & Double Tax Agreements", is out now and available as a complimentary download in the Asia Briefing Bookstore.
Contents
Navigating India's Bilateral & Multilateral Free Trade Agreements
Using India's Double Tax Agreements
Accessing India and ASEAN Through Singapore
With a reform minded, majority government in place for the first time in 25 years, resurgent trade flows, and improved bilateral relations, India is now perfectly positioned to start making waves in international investment. For too long now in the shadow of China, India's young and affordable workforce are part of the underlying fundamentals that should project the nation forward over the next decade.
A large part of the new government's reforms are aimed squarely at the tax regime, with a set target of reducing the profitability burden and spreading tax revenues over a wider base. Importantly, India has been busy negotiating a wide range of international free trade and double tax agreements.
While the way in which India structures these agreements can initially appear confusing, a more business-friendly desire from government will help the benefits trickle down into the Indian tax and customs administrations. Nevertheless, these agreements need to be understood, contents analyzed for applicability, and actions taken to ensure fiscal improvements to foreign investment business models.
In this issue of India Briefing magazine, we take a look at the bilateral and multilateral trade agreements that India currently has in place and highlight the deals that are still in negotiation. We analyze the country's double tax agreements, and conclude by discussing how foreign businesses can establish a presence in Singapore to access both the Indian and ASEAN markets.

About Us
Asia Briefing Ltd. is a subsidiary of Dezan Shira & Associates. Dezan Shira is a specialist foreign direct investment practice, providing corporate establishment, business advisory, tax advisory and compliance, accounting, payroll, due diligence and financial review services to multinationals investing in China, Hong Kong, India, Vietnam, Singapore and the rest of ASEAN. For further information, please email india@dezshira.com or visit www.dezshira.com.
Stay up to date with the latest business and investment trends in Asia by subscribing to our complimentary update service featuring news, commentary and regulatory insight.


Establishing Your Sourcing Platform in India
In this issue of India Briefing, we highlight the advantages India possesses as a sourcing option and explore the choices available to foreign companies seeking to create a sourcing presence here. In addition, we examine the relevant procurement, procedural and tax duty concerns involved in sourcing from India, and conclude by investigating the importance of supplier due diligence – a process that, if not conducted correctly, can often prove the undoing of a sourcing venture.

Taking Advantage of India's FDI Reforms
In this edition of India Briefing Magazine, we explore important amendments to India's foreign investment policy and outline various options for business establishment, including the creation of wholly owned subsidiaries in sectors that permit 100 percent foreign direct investment. We additionally explore several taxes that apply to wholly owned subsidiary companies, and provide an outlook for what investors can expect to see in India this year.

Passage to India: Selling to India's Consumer Market
In this issue of India Briefing Magazine, we outline the fundamentals of India's import policies and procedures, as well as provide an introduction to the essentials of engaging in direct and indirect export, acquiring an Indian company, selling to the government and establishing a local presence in the form of a liaison office, branch office, or wholly owned subsidiary. We conclude by taking a closer look at the strategic potential of joint ventures.