Modi Champions "Smart Cities" as Path Towards Economic Growth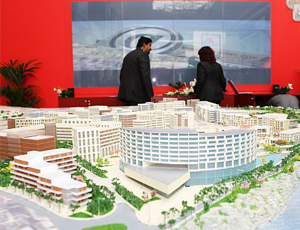 DELHI – Indian Prime Minister Narendra Modi is seeking to revolutionize India's urban landscape with the construction of 100 "smart cities" – cities with high-tech, interlinking communications capabilities – across the country.
"Cities in the past were built on riverbanks. They are now built along highways. But in the future, they will be built based on availability of optical fiber networks and next-generation infrastructure," said Modi in a speech last month, according to The Economic Times.
Since he took office in May, Modi has emphasized the development of infrastructure in his plans for India. In addition to stimulating the Indian economy by creating demand for cement, steel, power and labor, Modi believes the creation of infrastructure, and more specifically new cities, is a solution to India's rapidly urbanizing population dilemma.
"If we have to generate employment and change for the better, we plan to build 100 smart cities," said the prime minister.
Modi's plan calls for a US$1.2 billion investment in smart cities over the next year, with additional funding coming from private investors and abroad.
Several smart city projects are already underway, including in the state of Gujarat, where Modi's dream project, the Gujarat International Finance and Tec-city, known as GIFT City, is in the beginning stages of development.
What Makes a City Smart?
What exactly is a 'smart city'? A technical definition does not currently exist, but according to global growth consulting firm Frost & Sullivan, "Smart cities are an evolved state of urbanization where application of technology integrates diverse individual entities such as buildings, utilities, authorities, infrastructure and industries."
In short, a smart city is one that uses information technology to solve urban problems.
RELATED: India Addresses Infrastructure Worries
Older cities can be retrofitted with smart city technologies too. For example, India's capital, New Delhi, intends to outfit its roads with a new 'smart' signaling system that will measure traffic pressure on a stretch and change signals along it accordingly. One of these is being installed at Dwarka Mor crossing, and traffic police will study its effectiveness during peak hours.
Debatably, true smart cities are built from scratch; because new cities have every detail planned from the outset, urban officials are able to address problems such as overcrowding or pollution before the first residents even arrive.
"We can already anticipate the problems that these cities face and attack them at the source," says Rahul Sharma, an executive at IBM, which sees smart city technology as an emerging major market. "India has a fantastic opportunity where we can work outside of the shackles of existing technology."
India isn't the only nation building toward a brighter future with smart cities. New cities are popping up in South Korea, the United Arab Emirates and China, which announced earlier this year US$8 billion in funds to invest in smart city research and projects.
Foreign Investment
Modi hasn't specified when and where he intends to build all 100 smart cities; that number includes both new cities to be developed, and existing cities that will be integrated with smart technology.
A number of new cities are planned or already in development, however, primarily in the span between Delhi and Mumbai, India's political and business capitals. Planners envision a high-tech industrial zone connected by a major freight line, stretching across six states.
RELATED: Foreign Investment Opportunities in the Delhi-Mumbai Industrial Corridor
Many of these cities will include special investment regions or special economic zones, which relax regulations and taxes, generally making it easier for foreign companies to invest. This will aid Modi's efforts to build 100 cities because much of the funding for these projects is expected to come from private developers and from abroad.
So far, investment from Japan will account for a quarter of the US$100 billion Delhi-Mumbai Industrial Corridor project, with the Japanese government having been given a 26 percent stake in the effort. Singapore has offered to build one smart city as well. Additionally, during his visit earlier this month, British Chancellor George Osborne extended a £1 billion pound (US$1.7 billion) credit line to help British companies invest in Indian infrastructure.
Proponents insist now is the time to build.
"India is urbanizing very fast and we need to expand the capacity of our cities," said Bimal Patel, an urban planning professor and the president of CEPT (Centre for Environmental Planning and Technology) University in Gujarat.
According to a 2010 McKinsey & Company study, India's urban population, which was estimated to be 340 million in 2008, is projected to grow to 590 million by 2030. By those numbers, it is calculated that the country will have to build the equivalent of Mumbai in commercial and residential space every year to keep up.
Asia Briefing Ltd. is a subsidiary of Dezan Shira & Associates. Dezan Shira is a specialist foreign direct investment practice, providing corporate establishment, business advisory, tax advisory and compliance, accounting, payroll, due diligence and financial review services to multinationals investing in China, Hong Kong, India, Vietnam, Singapore and the rest of ASEAN. For further information, please email india@dezshira.com or visit www.dezshira.com.
Stay up to date with the latest business and investment trends in Asia by subscribing to our complimentary update service featuring news, commentary and regulatory insight.
Related Reading

Establishing a Business in India
In this magazine, we discuss establishment structures in India, including liaison offices, project offices, branch offices, and wholly owned subsidiaries. We overview each structure in terms of the situations in which it is appropriate, its permissible activities and limitations, as well as its setup and winding up processes, complete with flow charts.

Doing Business in India
Our 156-page business guide to India, the second fastest growing economy in the world, provides a thorough and in-depth analysis of India, its history, key demographics and overviews of the states and union territories highlighting business opportunities and infrastructure in place in each region. A comprehensive guide to investing in India is also included with information on FDI trends, business establishment procedures, economic zone information, labor and tax considerations, as well as an analysis of Indian business etiquette and culture.