Encouraging Signs for Indian Economy as Modi Completes First Quarter in Office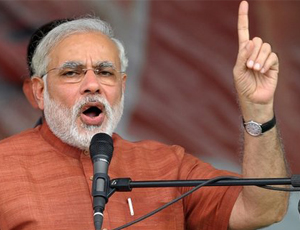 DELHI – This week saw Narendra Modi reach his 100th day as prime minister, and early signs indicate that India's new leader is steering the country's economy in the right direction.
Statistics released this week show a gradual rejuvenation in the Indian economy. Compared to figures from Q2 last year, GDP has grown by 5.7% in the quarter since Modi assumed office – its highest growth rate in nearly two years.
As well as the increase in GDP growth, there has also been an expansion in several key sectors. Principal among these is the 7 percent hike that has been seen in capital investment, and the 3.5 percent increase in manufacturing output. Moreover, the Indian rupee is beginning to look increasingly strong, in deep contrast to its weakening state of last year.
These figures go some way to justify the mass excitement that surrounded Narendra Modi's appointment as India's prime minister. Having led his party, the BJP, to the country's first majority elected government in almost thirty years, there have been a great deal of expectations for Modi to deliver on some of the promises that were central to his election campaign. These included a boost to foreign direct investment (FDI) into the country and an improvement in its GDP.
RELATED: Modi Steps Up Efforts to Reduce Poverty, Stimulate Rural Development
Not long ago, it appeared that Modi might not immediately deliver on some of these pledges. Last month, the BJP vetoed a World Trade Organisation (WTO) treaty that would have helped to streamline customs, reportedly out of fear that the deal would negatively impact less affluent parties and India's own food security.  The BJP was also in dispute with the E.U. over an agreement to increase the percentage of FDI permitted for insurance companies, namely because of existing restrictions placed on the movement of Indian nationals seeking work in Europe.
However, the release of the Q2 statistics shows that India's economy is indeed on the rise, which has in turn instilled more confidence in potential investors. Speaking to the Times of India, Takehiko Nakao, president of the Asian Development Bank, noted that although India has a reputation for being slow to approve business deals, perception among foreign investors is beginning to change. 
RELATED: Japan Infrastructure Deal to Unlock Further Opportunities in India
Agreements with Japan struck earlier this week have shown that India is becoming an increasingly attractive destination for investment. Added to this, Modi's keynote address at the Tokyo Stock Exchange, during which he openly invited Japanese investors to manufacture in India, shows that the country is very much open to foreign investment. Although it is still far too early to fully gauge the impact that Modi's election will have on FDI and economic growth, the signs so far have been positive.
Asia Briefing Ltd. is a subsidiary of Dezan Shira & Associates. Dezan Shira is a specialist foreign direct investment practice, providing corporate establishment, business advisory, tax advisory and compliance, accounting, payroll, due diligence and financial review services to multinationals investing in China, Hong Kong, India, Vietnam, Singapore and the rest of ASEAN. For further information, please email india@dezshira.com or visit www.dezshira.com.
Stay up to date with the latest business and investment trends in Asia by subscribing to our complimentary update service featuring news, commentary and regulatory insight.
Related Reading

Taking Advantage of India's FDI Reforms
In this edition of India Briefing Magazine, we explore important amendments to India's foreign investment policy and outline various options for business establishment, including the creation of wholly owned subsidiaries in sectors that permit 100 percent foreign direct investment. We additionally explore several taxes that apply to wholly owned subsidiary companies, and provide an outlook for what investors can expect to see in India this year.

Passage to India: Selling to India's Consumer Market
In this issue of India Briefing Magazine, we outline the fundamentals of India's import policies and procedures, as well as provide an introduction to the essentials of engaging in direct and indirect export, acquiring an Indian company, selling to the government and establishing a local presence in the form of a liaison office, branch office, or wholly owned subsidiary. We conclude by taking a closer look at the strategic potential of joint ventures and the advantages they can provide companies at all stages of market entry and expansion.

Trading with India
In this issue of India Briefing, we focus on the dynamics driving India as a global trading hub. Within the magazine, you will find tips for buying and selling in India from overseas, as well as how to set up a trading company in the country.