India's Free Trade Agreements Under Negotiation – Progess and Developments
Free trade agreements (FTAs) are normally made between two countries, or a larger nation and a regional trading bloc. Many governments, including India, have either signed FTAs or are in the process of negotiating new bilateral free trade and investment contracts.
There are typically two types of FTAs: bilateral and multilateral. With positive signs recently emerging over India's long-awaited FTA with the European Union, in this article we analyze the free trade agreements that India is currently negotiating. 
Europe
EU negotiations over an FTA with India were initially launched in 2007 and reached a critical phase in 2012, with focal issues including improved market access for goods and services, a chapter on government procurement, and retrospective taxation.
However, India's FTA with the EU has encountered a number of difficulties. Previously, the EU "disengaged" itself from broad-based Bilateral Trade and Investment Agreement (BTIA) talks for over six months when India's previous UPA government was unable to meet negotiators' demands. These included eliminating or drastically reducing duties on vehicles, vehicle components, wine and spirits. Similar problems continued with the new BJP government. 
Following recent parliamentary approval for the raising of its foreign direct investment cap (FDI) on insurance from 26 percent to 49 percent, the BJP has indicated it is now in a better position to push through the India-EU FTA. 
India is hoping to secure national status from the EU, which will enable market access for the Indian IT industry. At present, cutomers based in the European market contitute 30 percent of India's US$100 billion IT and business process outsourcing industry. India also seeks improved market access for agricultural, pharmaceutical and textile products. Pushing for 'Mode 4' of the proposed pact, India wants the EU to allow more of its professionals to work in its member states.
Though individual European countries have expressed interest in re-opening FTA negotiations, the EU is yet to make a formal proposal. It is believed that the EU will urge for a reduction in customs duty on wines and spirits from 150 percent to zero over a five-year period. Alternatively, India may propose a differential structure which will place higher duties on low-cost wines, as well as a lower tariffs on whiskey if it is bottled in India.
The EU will also press to reduce custom duty on cars to nil over an agreed period. Currently, this ranges from 80 percent for smaller vehicles to 130 percent for luxury vehicles. Though the EU and India may struggle to reach an agreement on this, it is possible that India will consent to reduce duties on high-tech auto components. This will lower import costs for Indian consumers while protecting its domestic industry.
Historically, the EU has been resistant to an incremental approach in its BTIA with India.  With Indian officials also announcing they will only allocate a single year to conclude talks once they have re-opened, major concessions on both sides will need to be reached if the agreement is to go through before 2017.  ​
Israel
India's FTA with Israel has been under negotiation since 2008. According to Israel's Ambassador to India, Alon Ushpiz, negotiations are likely to conclude sometime this year, and significant steps will soon be taken to iron out the legal framework for the deal. The agreement is expected to be used to further expand and diversify trade between the two countries, with India particularly keen to gain access to Israel's energy and agricultural technologies, which will help in its struggle to combat power shortages and agricultural inefficiencies.
Since opening diplomatic relations, bilateral trade between India and Israel has grown from US$200 million in 1992 to US$4.4 billion in 2013. Military equipment is one of the most important sectors of trade between the two countries, making up approximately two-thirds of total trade. As the world's biggest buyer of arms, India has gradually been increasing the amount of military equipment it imports from Israel and is now its most important customer, accounting for over half of Israel's weapons exports.
The Americas
Both Canada and Peru are taking steps to move ahead with FTA negotiations with India. Shortly after Narendra Modi's swearing-in ceremony, Canadian Foreign Minister John Baird called Modi to discuss finalizing ongoing FTA negotiations. "Both sides evinced interest in taking the Comprehensive Economic Partnership Negotiations Agreement (CEPA) forward," an official statement said last year.
Launched in November 2010, CEPA negotiations will seek to boost bilateral trade and investment between India and Canada by opening up both countries' services sectors, facilitating investment proposals and eliminating duties on several key products. Bilateral trade between the two countries reached US$4.83 billion in 2013, with key products including organic chemicals, precious stones, metals, apparel, vegetables, machinery, iron and steel.
Peru is also eager to boost its own bilateral trade with India from US$1.5 billion in 2013 to US$2 billion by approving an FTA sometime in the next two to three years. After conducting a joint study on bilateral relations last year, Peru's Ambassador to India, Javier Paulinich, said that completion of the FTA is now an area of focus.
New Zealand
Currently New Zealand's 15th largest bilateral trading partner, India imports around US$600 million in goods and services from New Zealand annually and total trade between the two countries stood at almost US$1 billion in 2013. These totals represent a significant increase from only around US$300 million in New Zealand exports to India just six years ago.
The India-New Zealand FTA has been under negotiation since January 2010. Since Narendra Modi's incumbency, New Zealand officials have been engaged in "some preliminary conversations with the new Indian government" regarding the continuation of FTA negotiations, according to New Zealand Trade Minister Tim Groser.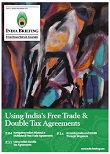 Parts of this article are taken from the February issue of India Briefing Magazine, titled "Using India's Free Trade & Double Tax Agreements". In this issue of India Briefing magazine, we take a look at the bilateral and multilateral trade agreements that India currently has in place and highlight the deals that are still in negotiation. We analyze the country's double tax agreements, and conclude by discussing how foreign businesses can establish a presence in Singapore to access both the Indian and ASEAN markets. "Using India's Free Trade & Double Tax Agreements" is out now and available as a complimentary download in the Asia Briefing Bookstore.


 Taking Advantage of India's FDI Reforms
In this edition of India Briefing Magazine, we explore important amendments to India's foreign investment policy and outline various options for business establishment, including the creation of wholly owned subsidiaries in sectors that permit 100 percent foreign direct investment. We additionally explore several taxes that apply to wholly owned subsidiary companies, and provide an outlook for what investors can expect to see in India this year.

Passage to India: Selling to India's Consumer Market
In this issue of India Briefing Magazine, we outline the fundamentals of India's import policies and procedures, as well as provide an introduction to the essentials of engaging in direct and indirect export, acquiring an Indian company, selling to the government and establishing a local presence in the form of a liaison office, branch office, or wholly owned subsidiary. We conclude by taking a closer look at the strategic potential of joint ventures and the advantages they can provide companies at all stages of market entry and expansion.

Trading with India
In this issue of India Briefing, we focus on the dynamics driving India as a global trading hub. Within the magazine, you will find tips for buying and selling in India from overseas, as well as how to set up a trading company in the country.