Railway Budget 2016-17 – Aspirational to a Fault
By Dezan Shira & Associates
Editor: Melissa Cyrill
The Minister of Railways, Suresh Prabhu, presented the government's annual railway budget on February 25. Preceding the announcement of the annual Union Budget, the railway budget holds importance as it is India's largest employer; last year it transported 8.4 million passengers.
'Reorganize, Restructure, and Rejuvenate Indian Railways' serves as the ambitious theme of the 2016-2017 railway budget, which will be achieved through 3 three pillars of strategy – New Revenues, New Norms, and New Structures.
Emphasis has been placed on capacity creation and completion of ongoing projects. Passenger fares will not be hiked, contrary to earlier expectations. This begets a central challenge for the Indian railways – how to raise productivity and increase profit earnings – while continuing to deliver on project implementation.
Overall, capital expenditure has received a big fillip in this budget – with an increased outlay of about US $17.74 billion (Rs 1.21 lakh crore).  To neutralize revenue shortfall, reductions are planned in diesel and electricity consumption to reach an Operating Ratio of 92 percent, which is still a deterioration from 90 percent in the previous year. The operating ratio indicates the amount of money spent to earn every hundred rupees.
Implementation of projects and initiatives are to be financed through loans from the state-owned insurance group Life Insurance Corporation of India – US $3.37 billion (Rs 23,000 crore) – Indian Railway Finance Corporation – US$ 3.18 billion (Rs 21,700 crore) – internal sources – US$ 1.86 billion (Rs 12,700 crore) – joint ventures with states, and Public-Private-Partnerships (PPPs). The revenue generation target for this year has been pegged at US $27.1 billion (Rs. 184,820 crore).
The table below highlights the key tasks and initiatives outlined in the Union Railway Budget for 2016-2017.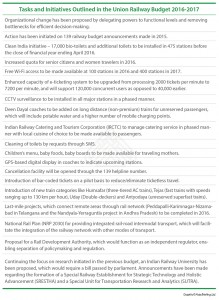 Vision 2020
The Railway Minister also laid out his vision for 2020, which forms the framework for the railway's budget initiatives. By 2020, Mr Prabhu hopes the ministry will have secured the "long-felt desires of the common man".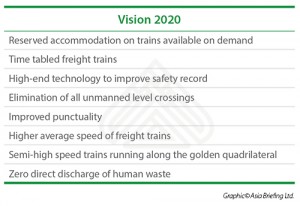 Towards the aforementioned objectives, seven 'Mission Activities' have been outlined in this budget. These collectively seek to enhance investment, revenue generation, structural improvement, station redevelopment, and service delivery.
Accountability has been emphasized in this budget and the 'missions' proposed will have annual outcome based performance targets. Each 'mission' will be headed by a Mission Director who will report directly to the Chairman of the Railway Board. They will be supported by officers from each Zone/Production Unit/ Research Design and Standards Organization/Centralized Training Institutes.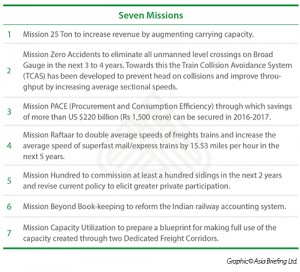 Observations
By all accounts, the new railway budget includes a vast array of bold and long overdue initiatives. Executing these proposals (that include carry overs from the previous budget) will extensively test the strength of Mr Prabhu's reform image.
Yet for all the multitude of measures in the budget to get completed, adequate resources will be needed for success. This is doubtful as the seventh pay commission alone will impact railway expenditure for five years by US $3.67 billion (Rs 25,000 crore) according to some estimates. Consequently, a higher operating ratio will be reached than the figure of 92 percent put forth by the railway minister. This means lower operating margins or lesser internal surplus for the railways. Additionally, the slow development of the Dedicated Freight Corridors (DFC) has compounded the declining share of the Indian railways in cargo transport – an important revenue generator.
With the Union Budget 2016-2017 sticking to a tight fiscal deficit target (3.9 – 3.5 percent of GDP), accommodating greater Public-Private-Partnerships (PPPs) will be vital to the re-orientation of the railways as a profit-making modern transportation sector.
Lastly, the political circumstances of the budget cannot be ignored as assembly elections are due in key states like Uttar Pradesh and Maharashtra. This will impact the implementation of projects.

About Us
Asia Briefing Ltd. is a subsidiary of Dezan Shira & Associates. Dezan Shira is a specialist foreign direct investment practice, providing corporate establishment, business advisory, tax advisory and compliance, accounting, payroll, due diligence and financial review services to multinationals investing in China, Hong Kong, India, Vietnam, Singapore and the rest of ASEAN. For further information, please email india@dezshira.com or visit www.dezshira.com.
Stay up to date with the latest business and investment trends in Asia by subscribing to our complimentary update service featuring news, commentary and regulatory insight.


Managing Your Accounting and Bookkeeping in India
In this issue of India Briefing Magazine, we spotlight three issues that financial management teams for India should monitor. Firstly, we examine the new Indian Accounting Standards (Ind-AS) system, which is expected to be a boon for foreign companies in India. We then highlight common filing dates for most companies with operations in India, and lastly examine procedures and regulations for remitting profits from India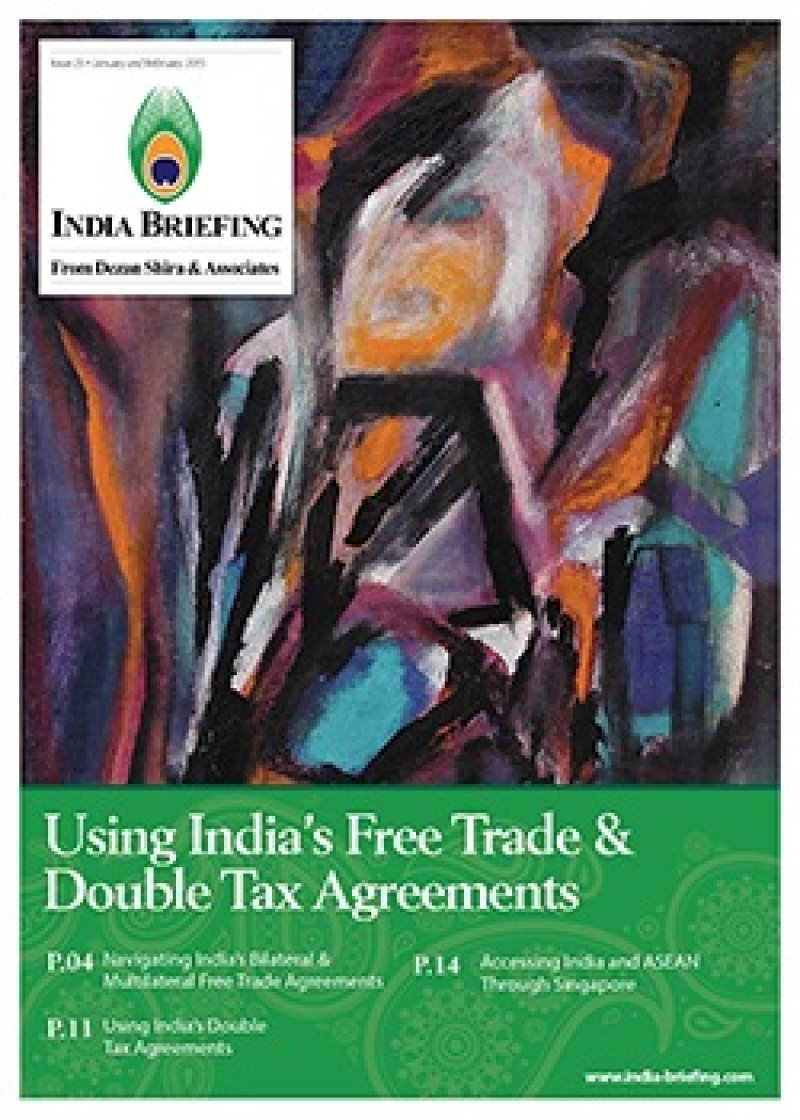 Using India's Free Trade & Double Tax Agreements
In this issue of India Briefing magazine, we take a look at the bilateral and multilateral trade agreements that India currently has in place and highlight the deals that are still in negotiation. We analyze the country's double tax agreements, and conclude by discussing how foreign businesses can establish a presence in Singapore to access both the Indian and ASEAN markets.

Passage to India: Selling to India's Consumer Market In this issue of India Briefing magazine, we outline the fundamentals of India's import policies and procedures, as well as provide an introduction to engaging in direct and indirect export, acquiring an Indian company, selling to the government and establishing a local presence in the form of a liaison office, branch office, or wholly owned subsidiary. We conclude by taking a closer look at the strategic potential of joint ventures and the advantages they can provide companies at all stages of market entry and expansion.