Taking Advantage of India's Improving Business Environment – New Issue of India Briefing Magazine Out Now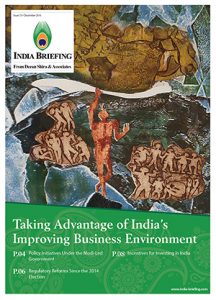 The new issue of India Briefing magazine, titled "
Taking Advantage of India's Improving Business Environment
", is out now and available as a complimentary download in the
Asia Briefing Publications Store
 through the month of December.
Contents
Policy Initiatives Under the Modi-Led Government
Regulatory Reforms Since the 2014 Election
Incentives for Investing in India
India is currently one of the few bright spots among the world's emerging economies. A high GDP growth rate, forecast at 7.6 percent in 2017, reflects the Indian government's commitment to economic and institutional reform, infrastructural development, and improving the country's business competitiveness. Over the last two years, a positive narrative is emerging out of India, one that speaks of strong economic fundamentals, growing living standards, a clear federal vision, and a much more internationally engaged government. These have in turn led to a jump in FDI inflows, making India one of Asia's most competitive investment destinations.
Among the reasons for this resurgent economic optimism are various new federal initiatives and legislative developments that target the revival of previously lagging sectors, institutionalize regulatory efficiency, and work towards banking and tax reforms. While India's 'doing business' rankings themselves may show slight improvement, the country's overall business environment has markedly improved. Today, states in India are encouraged to compete for foreign investment, and are publicly ranked by the government based on their performance on fixed parameters.
In this issue of India Briefing Magazine, we look at the important regulatory reforms, policy initiatives, and increased incentives for investing in the Indian market that have emerged since Prime Minister Narendra Modi took office in 2014. Foreign companies should take note of the pro-business agenda of the current government and stay updated with the new reforms and sectoral policies that might ease their entry, investment, and expansion of business operations in India.
With its growing team of specialists, Dezan Shira & Associates India can provide its clients with legal, tax, and operational advisory services. We hope that this issue of India Briefing will inform readers about India's improving business environment and the increasing scope of advantages it offers to foreign investors.
About Us
Asia Briefing Ltd. is a subsidiary of Dezan Shira & Associates. Dezan Shira is a specialist foreign direct investment practice, providing corporate establishment, business advisory, tax advisory and compliance, accounting, payroll, due diligence and financial review services to multinationals investing in China, Hong Kong, India, Vietnam, Singapore and the rest of ASEAN. For further information, please email india@dezshira.com or visit www.dezshira.com.
Stay up to date with the latest business and investment trends in Asia by subscribing to our complimentary update service featuring news, commentary and regulatory insight.


 An Introduction to Doing Business in India 2016
Doing Business in India 2016 is designed to introduce the fundamentals of investing in India. As such, this comprehensive guide is ideal not only for businesses looking to enter the Indian market, but also for companies who already have a presence here and want to stay up-to-date with the most recent and relevant policy changes.
Pre-Investment Due Diligence in India

 
In this issue of India Briefing Magazine, we examine issues related to pre-investment due diligence in India. We highlight the different regulatory, tax, and socio-economic issues that a company should be aware of before entering the Indian market. We also detail some of the topics related to entry structures while investing in the Indian market, as well as cultural and HR due diligence, which may differ from state to state.

Strategies for Repatriating Funds from India
In this issue of India Briefing Magazine, we look at issues related to repatriating funds from India. We highlight the unique regulations for sending funds back from India, examine the various strategies companies can make use of while repatriating, and look at remittance procedures for different types of Indian entities. Finally, we give some tips on how expats can remit their Indian money to their home countries.