Double Taxation Agreements and Your India Investment Strategy
By Chris Devonshire-Ellis, Gunjan Sinha and Tarun Gulati, Dezan Shira & Associates
Jul. 15 – Double taxation has been dubbed "one of the most visible obstacles to cross border investment," leaving room for a significant amount of money to be saved under the almost 3,000 double taxation avoidance agreements (DTAs or DTAAs) signed between nations across the globe. To combat such obstacles, DTAs aim to prevent the same income from being taxed by two or more states, while also eliminating tax evasion and encouraging cross-border trade efficiency.
DTAs are mostly of a bilateral nature and, while DTA-signing countries are not all members of the Organization for Economic Cooperation and Development (OECD), DTAs are generally based on model conventions developed by the OECD or (less commonly) the United Nations. And while about 75 percent of the actual words of any given DTA are identical with the words of any other DTA, the applicability and specific provisions of each treaty can vary substantially.
From an investor's perspective, confusion about international taxation can arise when investors are subject to two different and potentially conflicting tax systems. For example, Hong Kong and Singapore adopt a "territorial source" principle of taxation, which means that only profits sourced locally are taxable. Meanwhile, other countries such as India and the United States are on the worldwide tax system, and resident enterprises can be required to pay tax on income sourced both inside and outside of the country. DTAs not only provide certainty to investors regarding their potential tax liabilities, but also act as a tool to create tax-efficient international investments.
DTAs apply to individuals and companies of the countries or jurisdictions who are parties to the agreement, with the aim to prevent double taxation by allowing the tax paid in one of the two countries to be offset against the taxes payable in the other country, and/or by providing exemptions or reduced tax rates for specific income types such as royalties, interest, and dividends.
Withholding Tax and Profit Repatriation
DTAs also affect the repatriation of profits and earnings, as the location of profit taking and distribution can be manipulated favorably under the correct circumstances. This means that profits may be permitted to be taken in a lower cost jurisdiction than would normally be the case and distributed from there back to the overseas headquarters. This makes complete sense when developing a business in Asia, as capital injections and investments can then be made from the lower tax jurisdiction.
The distribution of dividends back to the home domicile can also be arranged in a beneficial and less tax burdensome manner than would otherwise be possible. Many preferred holding company jurisdictions maintain DTAs that limit or eliminate the level of withholding taxes payable on dividends coming from subsidiary countries and going to parent companies. For example, Singapore has a DTA in place with India that lowers dividend distribution (withholding) taxes from the general rate of 15 percent in India for foreign companies to 10 percent (provided certain capital holding requirements are met).
What this means for foreign businesses is that they have the option to create a corporate structure such that profits from an India subsidiary may be remitted to a Singaporean holding company at a 10 percent withholding tax rate on dividends, before then being passed on to the overseas parent company with no additional tax obligations. In contrast, if the India subsidiary were to remit directly to the parent company in a country that does not hold a DTA with India, it may be taxed at a withholding tax rate of 15 percent. Such reductions can represent significant tax savings over a period of time, being realized instead as additional profits.
Permanent Establishments and Holding Companies
DTAs also exist to define areas where companies may not be considered to be generating taxable income in one or the other country. Within these, a key area is the concept of permanent establishment (PE) status.
There are three general types of PEs that are recognized throughout the world: fixed place PEs, agency PEs, and service PEs. These are typically defined as follows: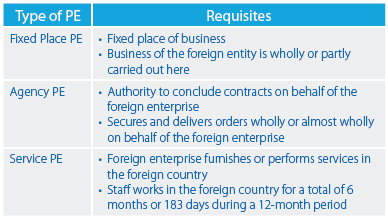 Triggering PE status is an issue of great importance as it defines the taxable status of particular legal structures and trade. A typical DTA, for example, contains clauses related to the PE concept and this can favorably impact on the total investment needed to enter the target market. It can also impact upon the type of legal vehicle actually required to be incorporated and, in some cases, does away with the need for one altogether.
The concept of PE is primarily used to determine a specific state's right to impose tax on the business activities of foreign companies operating in that country. Where a resident of a country carries on business in another country with which the resident's country has a DTA, the profits derived will not be subject to tax in the other country unless the business is carried on through a PE. Once an enterprise triggers PE status in a country, that enterprise will be subject to the host country's relevant business taxes, and any qualifying staff will be subject to individual income tax in the country as well. As such, it is critical for foreign businesses operating within Asia in any capacity to stay on top of their PE applicability and the relevant tax rates in the region.
With further regards to PE qualifications, the OECD Model Income Tax Treaty defines a PE as a "fixed place of business through which the business of an enterprise is wholly or partly carried on." However, while most DTAs do use the OECD definition, countries are allowed to define what constitutes a PE independently.
This can have highly beneficial results. For example, a well-structured incorporation can carry out effective services for its parent company – in some cases to the extent of billing local companies on their behalf – without triggering tax exposure in the secondary country. It depends upon how the PE issue is addressed within the specific DTA. Singapore, as mentioned above, has favorable DTAs with many other countries, including with India, which when properly structured at the local incorporation level do away with any profits tax liability altogether, even while maintaining an office in the country. Such tax structuring and usage of DTAs is becoming more common, and precise evaluation of how a PE is determined under the terms of each treaty becomes important to understand.
Selecting a favorable holding company channel for investing in India is a challenge, as it requires taking into account the tax treaty network along with Indian domestic tax law. India levies a dividend distribution tax (DDT) of approximately 17 percent on the Indian company that distributes the dividends. DDT is an additional tax payable by the dividend-paying company which is over-and-above the income tax, with the benefit of the same being unable to be reduced while paying income taxes in India.
India's network of tax treaties play a critical role in tax efficient structuring of cross-border transactions into India. Tax treaties generally follow the policy of having an emphasis on source-country taxation of interest, dividends and capital gains from the alienation of shares. Deviations and specific provisions in some of the tax treaties offer a number of opportunities for tax planning.
Mauritius has been a popular jurisdiction for establishing a holding company to route FDI into India. Other popular holding company jurisdictions include Cyprus and Singapore. While these countries offer a favorable tax regime, the main advantage of such holding structures is the beneficial tax treaties which India has entered into with these countries. As part of these treaties, India has foregone its taxing right on capital gains arising to a resident of these countries on alienation of shares of an Indian company, and thus exits may be structured in a tax neutral way. The use of such holding companies also provides opportunities to repatriate profits tax efficiently from India through share buybacks.
Most of India's tax treaties do not contain anti-treaty shopping provisions. However, the Singapore tax treaty includes a Limitation-of-Benefit provision to prevent abuse of the capital gains tax benefit. The government has often stated its intention to renegotiate the beneficial tax treaties with Mauritius and Cyprus along these lines, yet no action has been taken to this date. However, the government has taken the initiative to codify the general anti-avoidance rule.
Conclusion
In addition to the abovementioned taxation implications, DTAs lay out the ground rules for many other bilateral tax agreements. The nature of these differ significantly depending upon each individual treaty, however each should be studied in detail to ascertain both the required legal structure and the scope of trade. International businesses intending to trade with India and/or establish a physical presence would be wise to examine the applicable treaties and seek professional advice over the legal and financial implications prior to contemplating the legal structure itself.
Dezan Shira & Associates is an international practice throughout Asia with offices in Delhi and Mumbai. The firm advises on foreign investments into India, including legal and tax structuring matters, and on the applicable of double tax treaties the country has with other nations and how these can impact the overall structural and tax position. For further details or to contact the firm, please email india@dezshira.com, visit www.dezshira.com, or download the company brochure.
You can stay up to date with the latest business and investment trends across India by subscribing to Asia Briefing's complimentary update service featuring news, commentary, guides, and multimedia resources.
Portions of this article came from the July 2013 issue of Asia Briefing Magazine, titled "An Introduction to Tax Treaties Throughout Asia," which is available as a complimentary PDF download on the Asia Briefing Bookstore until the end of August. In this issue of Asia Briefing Magazine, we take a look at the various types of trade and tax treaties that exist between Asian nations. These include bilateral investment treaties (BITs) and also the meatier double tax treaties (DTAs) and free trade agreements (FTAs) that directly affect businesses operating in Asia.
Related Reading
Expanding Your China Business to India and Vietnam
This issue of Asia Briefing Magazine discusses why China is no longer the only solution for export driven businesses, and how the evolution of trade in Asia is determining that locations such as Vietnam and India represent competitive alternatives. With that in mind, we examine the common purposes as well as the pros and cons of the various market entry vehicles available for foreign investors interested in Vietnam and India.

An Introduction to Development Zones Across Asia
In this issue of Asia Briefing Magazine, we break down the various types of development zones available in China, India and Vietnam specifically, as well as their key characteristics and leading advantages.

India's Taxes for Foreign-invested Entities
In this issue, we provide an overview of India's taxes on business, which includes a section on India's double taxation avoidance agreements, and then discuss individual income tax rates and deductions. Finally, we discuss India's tax reforms in 2013, including an article by Chandrahas Choudhury, New Delhi correspondent for Bloomberg View, "Can India Tax Itself to Prosperity?"
ASEAN Briefing
Our new ASEAN Briefing site contains details of double tax agreements, free trade agreements, and bilateral investment treaties between ASEAN, its members, and other countries around the world. ASEAN Briefing is a library source for researching tax and trade treaties, and is an essential guide for cross border tax planning. The site also includes news and treaty updates on ASEAN, China, India, the United States and Europe.
Dividend Distribution Tax In India