Audit in India – New Issue of India Briefing Magazine Out Now
The new issue of India Briefing magazine titled "Audit in India" is out now and available as a complimentary download in the Asia Briefing Publication Store.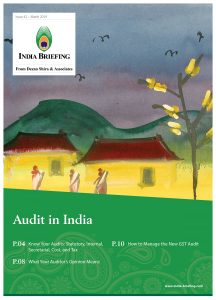 In this issue: 
Know Your Audits: Statutory, Internal, Secretarial, Cost, and Tax
What Your Auditor's Opinion Means
How to Manage the New GST Audit
Understanding audit and audit types are crucial for maintaining the financial position of any business. An audit conducted internally or by a third party, helps in evaluating the credibility of the company, improves business efficiency, and ensures compliance with the domestic government regulations.
India's audit regulations require businesses to comply with various types of audits, governed under different laws. The most common audits are statutory audits, internal audits, and cost audits under the Companies Act, 2013, and tax audits under Section 44AB of the Income-Tax Act, 1961.
Since the commencement of the Goods and Services Tax (GST) law in 2017, businesses and entrepreneurs in India are required to conduct GST audit each year. As 2017-18 was the first year of the GST audit, the government extended the deadline for filing GST returns and related audit reports to June 30, 2019. This gives companies more time to understand various aspects of filing annual returns and complete their GST audit smoothly.
In this issue of India Briefing, we provide readers with an overview of India's audit types and processes, including general requirements and materials to be prepared. Further, we explain the different types of audit reports, which can be invaluable in helping companies manage their business better and address problems by identifying irregularities and errors. Lastly, we cover key aspects of conducting GST audit, including the types of GST audits, general procedures, and documents requirements.
Dezan Shira & Associates has a growing team of accounting and legal professionals in India with years of experience helping foreign enterprises ensure compliance. For questions or information on Annual Statutory Audit, GST Audit Assistance, Bookkeeping, Financial Reporting, or other compliance issues, please contact our offices in India.