INC, BJP and AAP Release Election Manifestos
DELHI – The incumbent Indian National Congress Party (INC), opposition Bharatiya Janata Party (BJP) and debutant Aam Aadmi Party (AAP)  have launched their election manifestos, detailing how each party intends to approach FDI, job creation and social welfare if elected to the 16th Lok Sabha (lower house of parliament) this year.
While the INC's election manifesto seeks to balance new social programs with economic development, the BJP's concentrates primarily on FDI reforms, job creation and revitalizing India's economy. India's newest political party, the Common Man Party (AAP), promises a wide array of anti-corruption initiatives in its manifesto and outlines its strategy to stimulate economic growth.
Polling for the 16th Lok Sabha commenced yesterday, April 7, and is set to be the single-largest democratic event in world history, involving more than 800 million eligible voters.
The National Congress Party: Seeking a balance
The overarching theme of the incumbent INC's election manifesto is a balance between social and economic initiatives that seek to appeal to both the party's center-left base and more business-minded middle class voters.
After the INC's popularity ebbed in light of several high-profile corruption scandals and the gradual weakening of India's economy, many analysts are projecting the party will fare poorly in this year's parliamentary elections regardless of the lofty promises outlined in its 2014 manifesto.
RELATED: Can India's 'Dance of Democracy' Deliver a Business Friendly Result?
The INC's manifesto details several new welfare and rights-based initiatives, including a pension scheme for the elderly and disabled,  new laws guaranteeing a right to healthcare and food, women's rights, the protection of minorities and expanded schemes for funding skill development, education and farming.
Seeking to differentiate the INC's center-left affiliation from the BJP's Hindu nationalist platform, the document notably critiques what the INC perceives to be "exclusionary doctrines" inherent in "the BJP's narrow and communal nationalism [that] denies equality and equal rights."
It additionally questions the BJP's lofty promises for economic growth.
"The average rate of economic growth during the self-declared India Shining period of the BJP was just 5.8 percent per year, as compared to 8.5 percent during the five year tenure of the Congress-led UPA government…Average growth in the first four years of the Congress-led UPA government was 9 percent per year for the first time in our history. We will strive to maintain this momentum with a relentless emphasis on growth that accelerates the generation of productive jobs for our youth. The Indian National Congress is also firmly committed to maintaining high growth with low inflation, particularly in relation to prices of essential agricultural and industrial commodities."
Saying the manifesto "spelt out a vision for inclusive growth," PM Manmohan Singh lauded the INC's platform last week as one that would facilitate equitable economic growth.
"Growth has many dimensions and I'm glad that the manifesto spells out our strategy for accelerated growth," PM Singh said.
Congress leader Sonia Gandhi explained that the manifesto had been prepared after "taking suggestions from people across the country."
"[Elections are] not about good economic and social programs – for the Congress it is a fight to keep the secular and constitutional fabric of India intact," she declared. To reflect this approach, the INC has adopted the slogan "Your Voice, Our Pledge" for this year's elections.
RELATED: India's 15th Lok Sabha: Five Years in Review
Seeking to emphasize the idea that the INC manifesto outlines a clear and transparent roadmap for governance, the early release of the INC's election manifesto may grant the party a slight edge over the BJP and AAP.
While the INC released its manifesto more than a week and a half before elections commenced, the AAP released its manifesto only 3 days before elections, and the BJP on the first day of polling – leading to speculations of disagreement among the leadership of both parties.
The BJP: An Economic Focus
Seeking to appeal to an electorate frustrated with the INC's economic policies, the BJP's election manifesto focuses primarily on job creation, lowering inflation and stimulating development.
Placing a high priority on job creation, the manifesto proposes the enhancement of educational scholarships and skill development programs alongside economic reforms aimed at fostering more opportunities for entrepreneurship, investment and infrastructure development.
To curb inflation, it also proposes the establishment of special courts to stop hoarding and a Price Stabilization Fund.
A core component of the manifesto is institutional reform and the enhancement of efforts to eliminate corruption. This entails the convergence of state and federal institutional processes, especially those related to investment and economic development, through the promotion of e-governance and the elimination of obsolete laws, regulations and administrative structures. Citing "set up effective Lokpal institution" in its manifesto – an anti-corruption measure– the BJP manifesto additionally makes a subtle play for potential AAP voters.
RELATED: India's Shifting Political Tide
Significantly vaguer than either the INC or AAP's manifestos, the BJP's election manifesto does not directly address FDI caps or name specific measures the party would take to attract increased foreign investment and stimulate economic growth. Rather, the party may be relying upon Prime Ministerial candidate Narendra Modi's strong pro-business reputation to attract middle and upper-class voters.
"The party has bestowed me with certain responsibility. I want to make three promises personally – I will never be found wanting on hard work, I will not do anything for myself and I will not do anything with bad intent," Modi said during the launch of the BJP's manifesto.
Also known for his involvement in the 2002 Gujarat violence and reputation as an ardent Hindu nationalist, Modi's close involvement in the drafting and formulation of the BJP's manifesto may be unsettling to some moderates. It remains to be seen whether the delayed release of the BJP's manifesto on the first day of polling in addition to its vague wording will have a negative impact upon its electoral performance.
Aam Aadmi: The Common Man Wildcard
The highly anticipated AAP manifesto stays true to the party's anti-graft focus while revealing its widely speculated approach to economic and social issues.
At its core, the AAP manifesto proposes the strengthening of the Jan Lockpal bill and a number of policy initiatives that would aim to end corruption in governmental institutions.  These include ensuring humane and accountable policing, strengthening safeguards that ensure free and fair elections and enabling access to swift and equitable justice.
The AAP's economic vision describes a development model based upon a dynamic, equitable and ecologically sustainable economy.
RELATED: The Common Man Party Debuts in Delhi
Despite concerns that the AAP would come out as anti-business, the party's manifesto appears anything but.
"AAP believes that government should not be in the business of running business. Active participation of private sector is required for enterprises to thrive and create jobs. The government should encourage honest enterprise through lower compliance costs and a corruption-free environment, the provision of efficient and reliable infrastructure and services, and incentivizing productive innovation. The AAP's policies will aim to foster healthy competition in the market economy and curb monopolistic and anti-competitive market practices," the manifesto reads.
"We are not against industries or business, but we are against crony capitalism. We believe that unless industries don't flourish we won't be able to generate jobs," Arvind Kejriwal said of the manifesto during its launch last Friday.
For investors, this reassurance, coupled with the AAP's strong anti-graft stance, may be the perfect combination to stimulate the country's economy through attracting increased levels of foreign investment.
Polling for the 16th Lok Sabha will conclude May 12, and a new Parliament will be constituted by May 31. The country's two major parties, the Indian National Congress Party (INC) and Bharatiya Janata Party (BJP), will be opposed this year by 11 smaller regional parties that have formed a Third Front to counter the INC's United Progressive Alliance (UPA) and the BJP's National Democratic Alliance (NDA).
Dezan Shira & Associates is a specialist foreign direct investment practice, providing corporate establishment, business advisory, tax advisory and compliance, accounting, payroll, due diligence and financial review services to multinationals investing in emerging Asia. Since its establishment in 1992, the firm has grown into one of Asia's most versatile full-service consultancies with operational offices across China, Hong Kong, India, Singapore and Vietnam in addition to alliances in Indonesia, Malaysia, Philippines and Thailand as well as as well as liaison offices in Italy and the United States.
You can stay up to date with the latest business and investment trends across India by subscribing to Asia Briefing's complimentary update service featuring news, commentary, guides, and multimedia resources.
Related Reading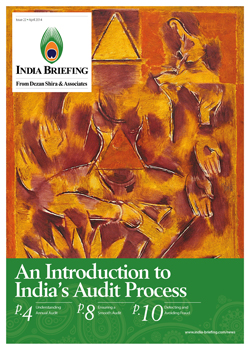 An Introduction to India's Audit Process
In this edition of India Briefing Magazine, we provide readers with an overview of India's annual audit process and offer important tips for the smooth navigation of the country's audit regulations and accounting standards.
Can India's 'Dance of Democracy' Deliver a Business Friendly Result?
India Sets General Election Date as Political Tide Shifts