Indian Exporters Seek China Market Access in Following Sectors after US Trade Tensions
Trade hostilities between the US and China have been rapidly escalating – with the potential to reshape global geopolitics and trade patterns for years to come.
In fact, the US has locked horns with the world's largest economies – China, EU, Canada, and India – over what it continues to perceive as unfavorable existing trade policies and tariffs.
With China, the US aims to reduce the country's large trade surplus, which stood at almost US$350 billion (Rs 23.9 trillion) last year.
India faces a similar problem with China as their bilateral trade is heavily in China's favor. The trade deficit between India and China stood at US$63 billion (Rs 4.3 trillion) last year.
Still, China is India's largest trading partner – bilateral trade reached a historic US$84.4 billion (Rs 5.8 trillion) in 2017-18 and Indian exports showed a 40 percent increase.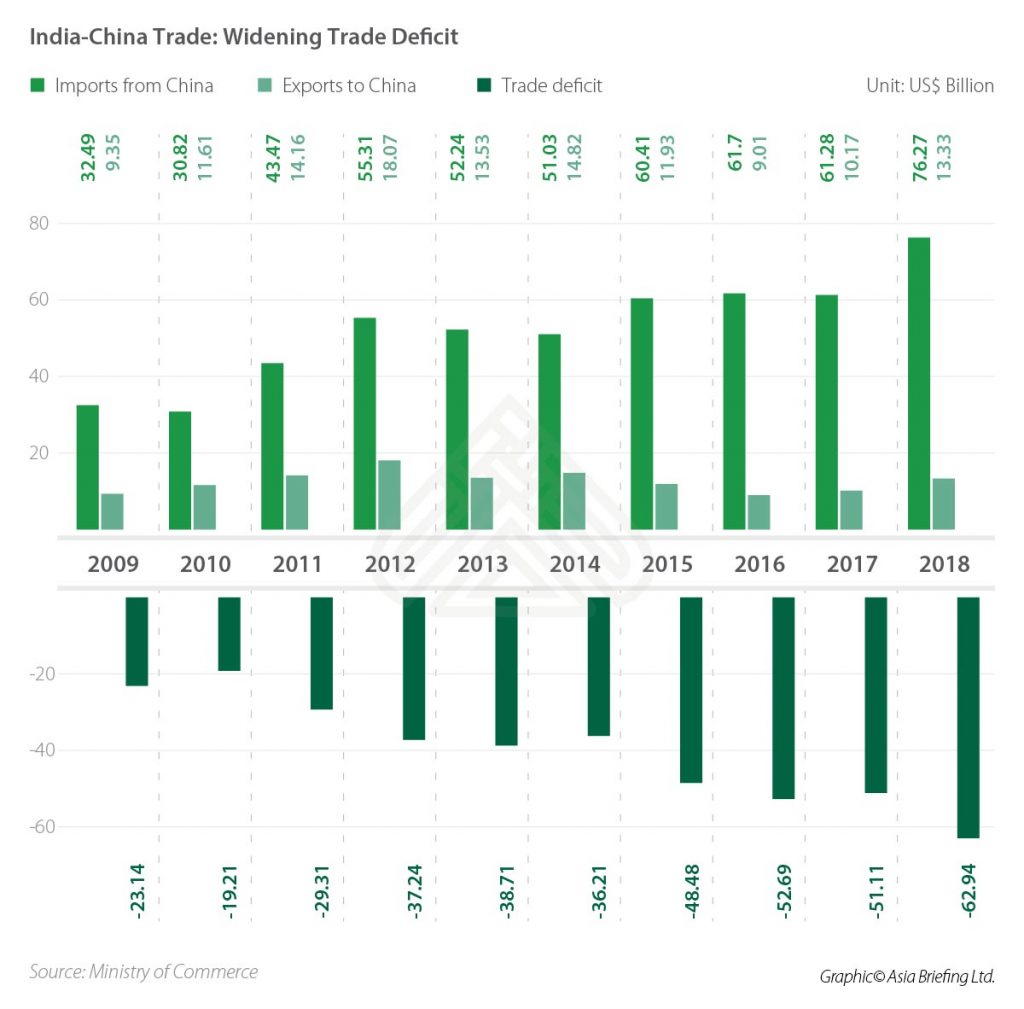 Yet, it is perhaps more important to ask – will the ongoing trade hostilities with the US finally enable Indian producers to successfully compete for access to the Chinese market?
If so, which sectors would gain the most from the new market openings?
Part of the answer may lie in the Asia Pacific Trade Agreement (APTA) between Bangladesh, China, India, Laos, South Korea, and Sri Lanka.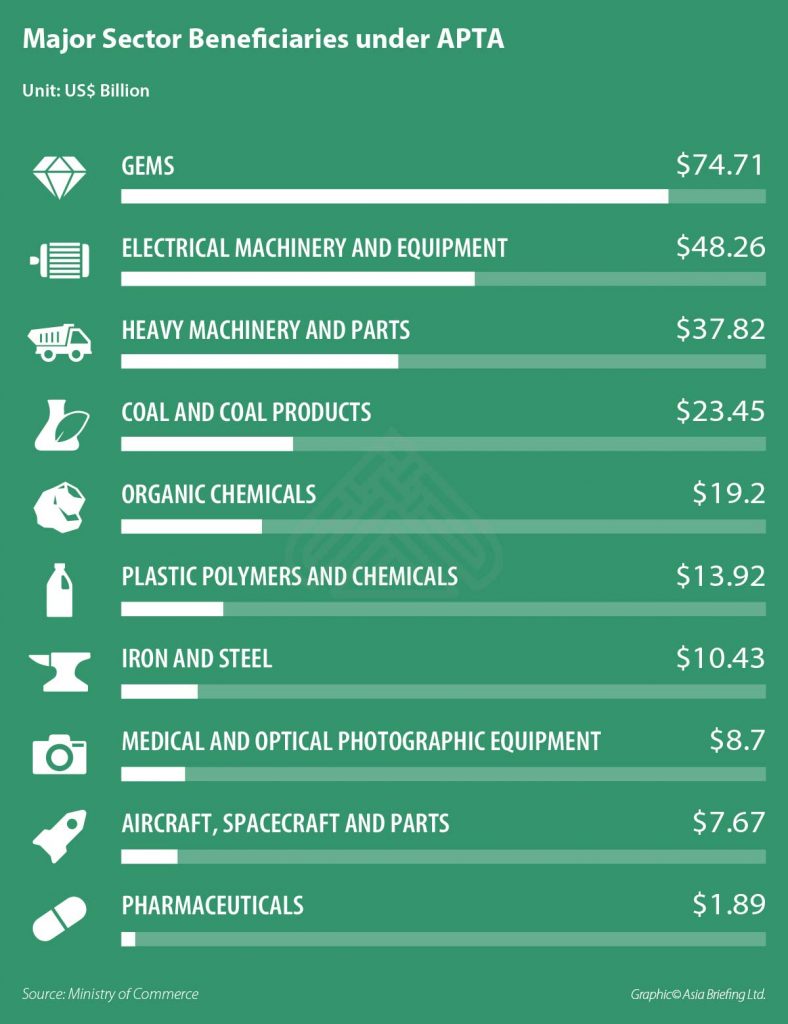 For the first time since India signed onto the APTA pact in 1975, preferential tariffs under the agreement have come into force.
More than a few sectors that were previously dominated by US imports – are now open to Indian competitors – in the Chinese market.
India can position itself aggressively in sectors such as pharmaceuticals, software technology services, and agricultural products – to fill in the trade gap left by the US in the Chinese market.
Indian pharmaceuticals eye China opening
India is a leading exporter of generic drugs; the sector added US$17.3 billion (Rs 1.2 trillion) to India's GDP in 2017.
The EU and US are China's main import partners. However, only one percent of their total exports go to China even though China is the world's second largest market for pharmaceuticals.
India has been pressuring the Chinese government to open its pharmaceutical and organic chemical sectors to Indian producers.
In lieu of this, the Chinese government exempted 28 Indian drugs from import tariffs in May 2018 – with promises of more reductions in future.
The difficulty for Indian pharmaceutical exports arises from the complicated regulatory approvals process in China.
China is presently considering the option of faster regulatory approvals to EU-approved Indian pharmacy suppliers – to improve this relationship.
Opportunities for Indian software exports
The Trump administration's second list of goods subject to tariff hikes meant to hit back at the 'Make in China 2025' program. The list raised tariffs on advanced technological imports from China.
China will now need to look elsewhere for software-related partnerships and joint ventures – India's information technology (IT) industry is well positioned to take on that challenge.
The Indian government, on its part, needs to amplify its support to IT companies and ensure that proper intellectual property rights (IPR) protections are secured – a murky area when it comes to dealing with Chinese businesses.
Exporting Indian agro-based products
The US is India's main competitor for the global agro-products market. They have also continually opposed India's initiatives to develop and reform rules governing the global farm goods market.
Most recently, the US accused India of breaching its World Trade Organization (WTO) commitments by running support programs for rice and wheat cultivation – a case India might lose at the WTO leading to a removal of export subsidies to rice and wheat cultivators.
Raised tariffs from China on US agriculture-based imports put India in a prime position to substitute these in the Chinese market.
Trade opportunities for Indian cotton, yarn exports
On China's retaliatory list of tariff imposition is a 25 percent duty on US imports of cotton. The US is China's main cotton supplier, and China's cotton reserves currently stand at 25 percent.
India is the world's largest cotton producer, with exports to China accounting for US$1.34 billion (Rs 91.8 billion) in 2017. This is expected to see a significant increase.
The largest cotton export from India to China is recorded at US$4 billion (Rs 275 billion) in 2011, though it has since seen a significant decline.
Similarly, cotton yarn also saw a sharp fall in export to China over the last few years. This is attributed to Chinese duties that stood at 3.5 percent for India, while being zero for Vietnam.
Owing to raised tariffs for the US, and reduced tariffs for India under APTA, Indian cotton suppliers are back in the running to increase exports.
Export opportunities for Indian sugar
Sugar exports are also in contention for increased market access in China.
India produces a surplus stock of almost eight million tons of sugar. Indian producers are keen to gain export access to a large market like China.
Talks between Chinese sugar companies and the top management of the Indian Sugar Mills Association (ISMA) are ongoing.
China is considering increasing sugar imports from India by almost 1.3 million tons, creating a significant advantage for Indian sugar producers in the Chinese market.
Indian exports of soybean, groundnut, and oil cakes
China has also imposed a 25 percent tariff on US produced soybean, while removing all tariffs on imports through APTA countries.
China's annual soybean import of around 100 million tons is mostly for domestic consumption and, in part, for the manufacture of soybean oil and meal for export.
Although this product does not have an exportable surplus in India yet, Indian industry players anticipate exports of US$100 million (Rs 6.85 billion) worth of soybean meal and US$50 million (Rs 3.4 billion) worth of groundnut to China. (Suppliers of both the leguminous plants are interconnected.)
India is also expecting a bumper crop of soybean this year. A delegation of the Soybean Processors Association (SOPA) of India is expected to visit China next month. They want to assuage Chinese quarantine concerns and ensure market availability for Indian soybean exporters.  
Currently, there are no soybean oil and soybean flour exports and negligible oilcake exports from India to China. Stiff competition from Brazil and Vietnam will likely also diminish Indian soybean's competitiveness in the Chinese market.
Indian producers appeal for oil meal exports
Perhaps a better success story in India's agriculture export sector is oil meals, which saw a 48 percent increase in overall exports – standing at US$690 million (Rs 47 billion) in 2017-18.
Yet, India has been unable to export to China.
The Chinese government imposed a ban on oil meal imports from India citing quarantine protocol issues in 2012 – more likely due to India's ban on Chinese dairy products following the melamine milk contamination scandal in 2008.
Indian producers have not been able to overturn this ban so far.
The body in charge of oil meal produce in India, the Solvent Extractors Association (SEA), is seeking clarification from the Chinese government regarding the conditions required for a phytosanitory certificate – a necessary protocol for plant produce exports to China.
India competing for rice exports
In 2016, 14 Indian registered rice exports received approval from China to export rice; however, their shipments were stopped due to alleged pest quarantine issues.
In July 2018, another five exporters were approved; four more exporters have been asked to improve their storage standards and been allowed to reapply for approval.
This comes as a relief to Indian rice exporters since China only allowed the import of basmati (a type of rice grain) rice earlier; it has now approved non-basmati rice for exports.
Two teams of China's General Administration of Customs inspected 14 rice-processing plants in India between July 9 and 17, 2018.
China is the largest producer and importer of rice globally, while India is the highest exporter. A partnership between the two countries will be beneficial for both, and help reduce the ballooning trade deficit between them.
However, the US rice delegation visited China in April, 2018 and is putting pressure on China to open its market access to US-based rice exporters as well.
China's rice imports, worth US$1.8 billion (Rs 123 billion) in 2017, see negligible contributions from India and the US; the two countries cumulatively account for US$20,000 (Rs 1.4 million) worth of rice exports to China.
India may be in competition with US exports if the latter's decade long effort to open the Chinese market to US rice producers is approved – experts believe that due to the high demand for rice in China, this may happen despite the trade war.
Challenges for Indian exporters looking at China
While escalating US-China trade hostilities boost export opportunities for India, there are considerable challenges if Indian traders are to effectively exploit them.
Indian food products are not highly regarded in the Chinese market, and changing this perception should be at the forefront of India's strategy to pursue wider market access.
Easing non-tariff barriers, such as extended timelines for manufacturer plant inspections as well as stringent and opaque quarantine protocols are other sore spots for the Indian agricultural exporter that need government intervention and policy change.
China's policy focus is shifting to make exports from neighboring countries easier.
With the logistical and competitive advantage of exporting goods faster to China from India as well as the lowered tariffs – it is up to Indian producers, barring geopolitical irritants, to procure long-term market access to China.