e-Commerce in Asia – New Publication from Dezan Shira & Associates
e-Commerce in Asia, the latest publication from Dezan Shira & Associates, is out now and available for complimentary download through the Asia Briefing Publication Store.
In this report:
Step-by-Step Guide to Establishing an e-Commerce Presence in Asia
China, Vietnam, and India e-Commerce Market Summaries
Investing in China, Vietnam, and India's e-Commerce Markets
As the digital revolution transforms shopping habits worldwide, emerging markets in Asia stand out as enormous opportunities for foreign investment. Rising internet penetration, a growing consumer base, and rapidly developing logistics infrastructure contribute to burgeoning e-commerce activity in all three of China, Vietnam, and India.
China's e-commerce market is already the world's largest, with established online shopping giants catering to the varied needs of increasingly discerning consumers who value the quality and trustworthiness of foreign products. The e-commerce industry in Vietnam is comparatively green, though improving infrastructure and connectivity present opportunities not just for sellers but also ambitious companies seeking to capitalize on the fractured nature of the country's online retail industry. India is somewhere in between, boasting rapidly growing internet penetration and a massive potential consumption class as investors benefit from the recent relaxation of previously unclear and restrictive government regulations.
While e-commerce is a dynamic sector across Asia, entering the industry can pose considerable challenges. The rise of e-commerce is a relatively recent phenomenon in emerging markets, and the legal and regulatory environment is constantly shifting. Further, logistical issues such as unreliable delivery practices, unstable internet connectivity, and difficult rural access frequently complicate e-commerce operations throughout emerging Asia.
E-commerce in China, Vietnam, and India is complex, and accessing these markets necessitates innumerable considerations. Weighing the benefits and drawbacks of various entry models and how they help or hinder access to target demographics and future growth is essential when engaging with emerging Asia's lively e-commerce sector. Although it is a complicated field to penetrate, successfully entering the industry can give companies access to vast new markets as they establish a foothold in the vibrant region.

About Us
Asia Briefing Ltd. is a subsidiary of Dezan Shira & Associates. Dezan Shira is a specialist foreign direct investment practice, providing corporate establishment, business advisory, tax advisory and compliance, accounting, payroll, due diligence and financial review services to multinationals investing in China, Hong Kong, India, Vietnam, Singapore and the rest of ASEAN. For further information, please email china@dezshira.com or visit www.dezshira.com.
Stay up to date with the latest business and investment trends in Asia by subscribing to our complimentary update service featuring news, commentary and regulatory insight.
 ‍


Managing Your Accounting and Bookkeeping in India
In this issue of India Briefing Magazine, we spotlight three issues that financial management teams for India should monitor. Firstly, we examine the new Indian Accounting Standards (Ind-AS) system, which is expected to be a boon for foreign companies in India. We then highlight common filing dates for most companies with operations in India, and lastly examine procedures and regulations for remitting profits from India.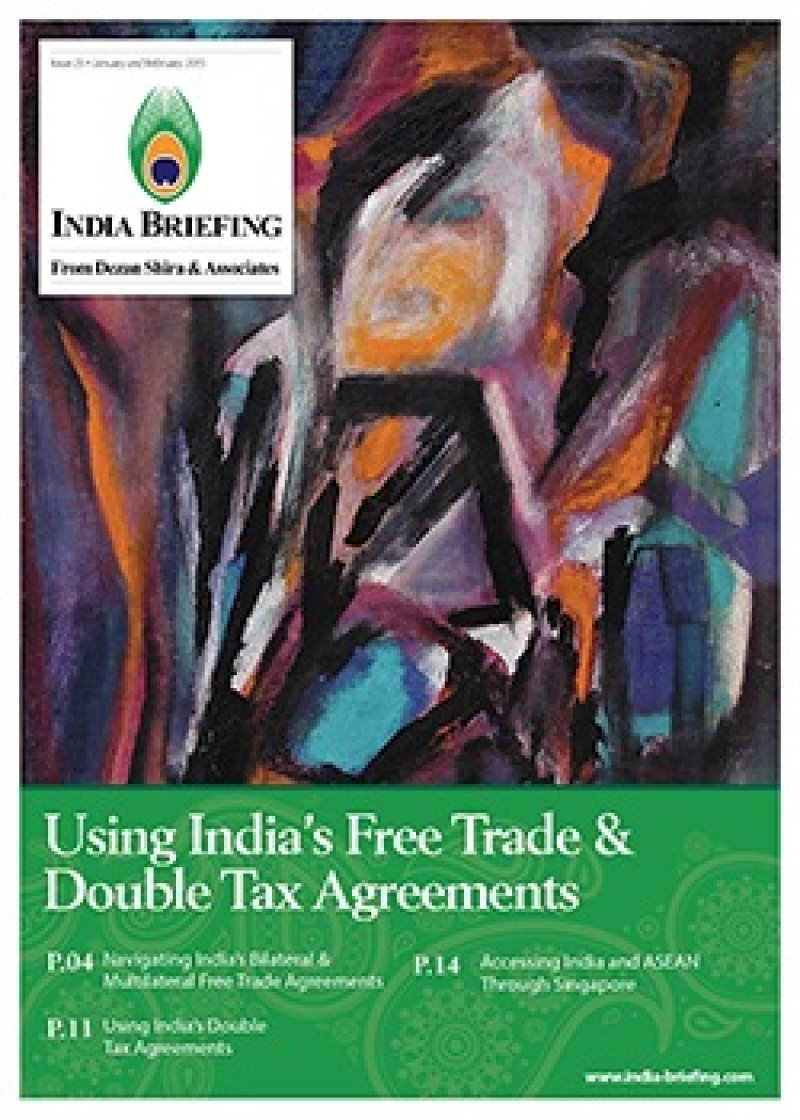 Using India's Free Trade & Double Tax Agreements
In this issue of India Briefing magazine, we take a look at the bilateral and multilateral trade agreements that India currently has in place and highlight the deals that are still in negotiation. We analyze the country's double tax agreements, and conclude by discussing how foreign businesses can establish a presence in Singapore to access both the Indian and ASEAN markets.

Passage to India: Selling to India's Consumer Market In this issue of India Briefing magazine, we outline the fundamentals of India's import policies and procedures, as well as provide an introduction to engaging in direct and indirect export, acquiring an Indian company, selling to the government and establishing a local presence in the form of a liaison office, branch office, or wholly owned subsidiary. We conclude by taking a closer look at the strategic potential of joint ventures and the advantages they can provide companies at all stages of market entry and expansion.