New Hurdle for Foreign Reinsurers in India
By Tracie Frost
Last year we reported favorably on reinsurance rules codified in the Insurance Laws Amendment Act 2015. At the time, the amendments to foreign direct investment (FDI) caps for reinsurance were considered to be one of the most significant provisions of the new law. While the Insurance Laws Amendment Act 2015 capped FDI for life and most non-life insurance companies at 49 percent, it allowed foreign re-insurers to open branch offices in India. In other words, under the law, foreign re-insurers could legally do insurance business in India without a joint Indian partner for the first time. However, when the Insurance Regulatory and Development Authority of India (IRDAI) notified regulations under the new law, the reinsurance industry was surprised by the result.
The Insurance Regulatory and Development Authority of India first notified regulations under the new law in April 2015. Those regulations provided guidance on minimum capital requirements, profit repatriation, ownership structure, etc.  Unfortunately, they also gave preference to state-owned GIC Re, India's only domestic reinsurer, and the holder of 52 percent of the Indian reinsurance market share.  In effect, the regulations would have required that domestic insurance companies give GIC Re the right of first refusal on new reinsurance business. In response to backlash from foreign insurers, IRDAI rewrote the rules putting GIC Re on a level playing field in May 2015. Those rules were vetoed by the joint secretary of the finance ministry in October 2015, and IRDAI again drafted rules giving GIC preference for Indian reinsurance business which were notified in early 2016.
The new regulations (re-drafted for the third time) negate the benefits of allowing foreign reinsurers to open branches in India.  The rules give Indian reinsurers first preference ahead of foreign reinsurers. Further, IRDAI regulations clarify that a foreign reinsurer branch cannot cede more than 50 per cent of its total reinsurance placements made outside India with its parent company.  The regulations also envision domestic pools for reinsurance surpluses.
As written, the Regulation 28(9) stipulates that every Indian insurer must obtain "best terms" for their reinsurance needs in the following order of preference:
(a) To the Indian re-insurer having a minimum credit rating as given in the regulations.  (GIC Re is the only Indian reinsurer.)
(b) To other Indian re-insurers or to those granted a certificate of registration under the regulations.
(c) To the branch offices of foreign reinsurers set up in Special Economic Zones, only after having offered to Indian reinsurers listed in (a) and (b) above.
(d) The balance, if any, may thereafter be offered to Indian Insurers and overseas reinsurers.
Despite the unfavorable terms of the current regulations, a number of foreign insurance companies operating in India through joint ventures submitted applications for the license to set up branch operations in India. Swiss Re, Hannover, Munich Re, and SCOR Global have already received their first round of approvals. According to reports, these companies had expected to have their final approvals to open branch offices by April 2016. Most recently, the IRDAI indicated that it would meet in late June/early July to discuss final approval.  Despite this, to date, no decision has been made on final approval.
What the IRDAI has done, however, is defer the date of enforcement of the regulations giving preference to Indian reinsurers. In a circular, the IRDAI stated that "since no foreign reinsurer has been granted registration for commencement branch operation in India, so far, the Regulation 28(9) cannot be followed for the treaty placements. Therefore, it has been decided to defer the date of enforcement of Regulation 28(9) until further orders from the Authority."
Observations
It is unclear why the IRDAI has decided to defer the date of enforcement for the new regulations or why it appears to be delaying final approval for branch offices for foreign reinsurers.  What is clear is that the new rules do not rise to the vision of the Insurance Bill in providing an open reinsurance market and risk diversification. Several insurance associations and public insurance companies have submitted comments requesting that the IRDAI revise the regulations and put all reinsurers on a level playing field. As currently written, the regulations would have the negative effect of concentrating risk, reducing competition, and discouraging foreign reinsurers from participating in the Indian reinsurance market.

About Us
Asia Briefing Ltd. is a subsidiary of Dezan Shira & Associates. Dezan Shira is a specialist foreign direct investment practice, providing corporate establishment, business advisory, tax advisory and compliance, accounting, payroll, due diligence and financial review services to multinationals investing in China, Hong Kong, India, Vietnam, Singapore and the rest of ASEAN. For further information, please email india@dezshira.com or visit www.dezshira.com.
Stay up to date with the latest business and investment trends in Asia by subscribing to our complimentary update service featuring news, commentary and regulatory insight.


Managing Your Accounting and Bookkeeping in India
In this issue of India Briefing Magazine, we spotlight three issues that financial management teams for India should monitor. Firstly, we examine the new Indian Accounting Standards (Ind-AS) system, which is expected to be a boon for foreign companies in India. We then highlight common filing dates for most companies with operations in India, and lastly examine procedures and regulations for remitting profits from India.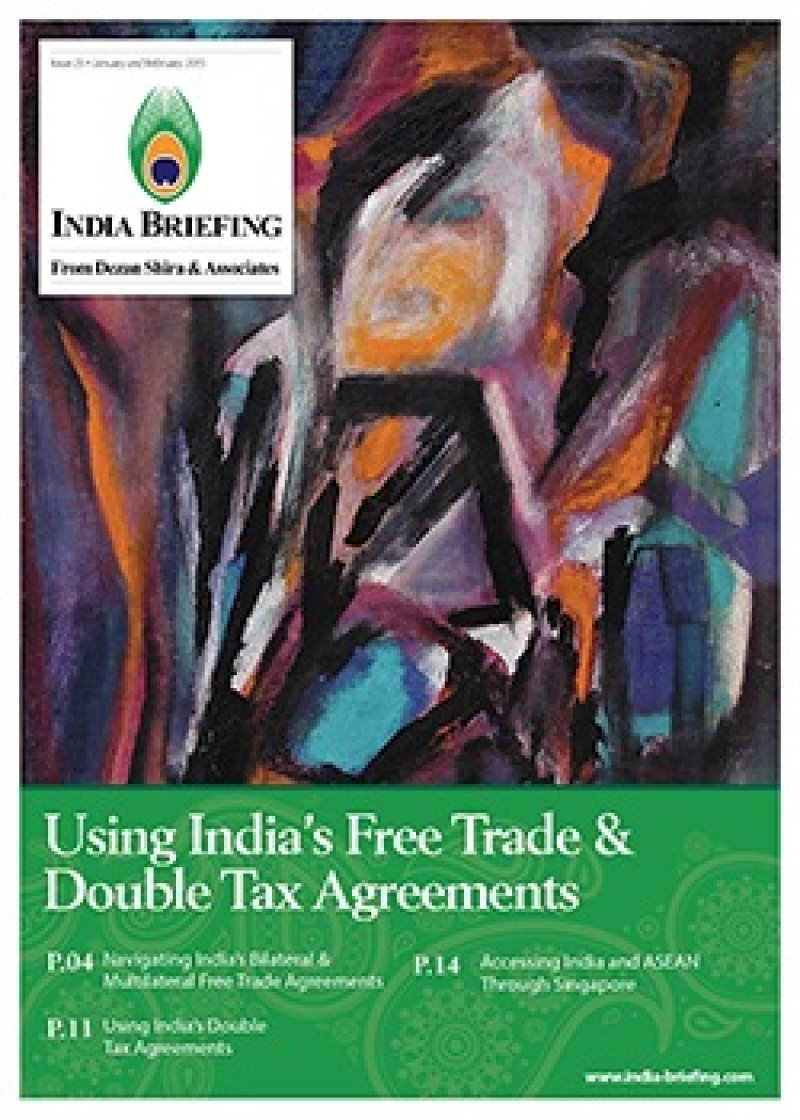 Using India's Free Trade & Double Tax Agreements
In this issue of India Briefing magazine, we take a look at the bilateral and multilateral trade agreements that India currently has in place and highlight the deals that are still in negotiation. We analyze the country's double tax agreements, and conclude by discussing how foreign businesses can establish a presence in Singapore to access both the Indian and ASEAN markets.

Passage to India: Selling to India's Consumer Market In this issue of India Briefing magazine, we outline the fundamentals of India's import policies and procedures, as well as provide an introduction to engaging in direct and indirect export, acquiring an Indian company, selling to the government and establishing a local presence in the form of a liaison office, branch office, or wholly owned subsidiary. We conclude by taking a closer look at the strategic potential of joint ventures and the advantages they can provide companies at all stages of market entry and expansion.