Impact of GST on Imports and Exports in India
By Vasundhara Rastogi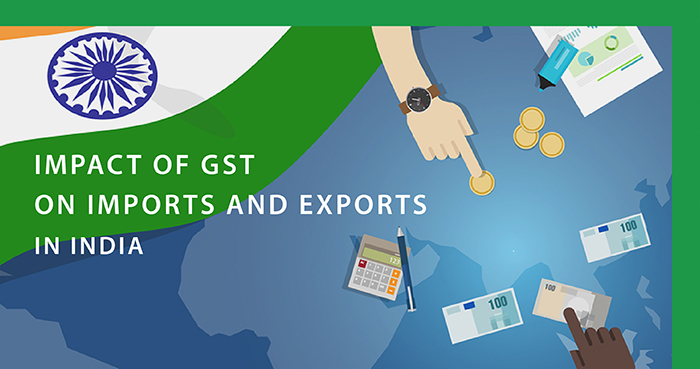 The new goods and services tax (GST), launched on July 1, 2017, will change how business is done in India. It is likely to have a significant impact on the international trade of goods through changes in the structure of import and export taxation, and the withdrawal of various indirect taxes and exemptions.

RELATED: Tax Compliance Advisory
GST impact on imported goods and services
In the previous tax system, the imports of goods were subject to import duties such as custom duty, countervailing duty (equivalent to excise duty), and special additional duty (equivalent to value added tax), and the import of services was subject to service tax.
Duty and GST on Imported Goods
Under the reformed tax structure, the integrated goods and services tax (IGST) replaces the previous indirect taxes imposed on the import of goods and services. Certain exceptions such as imports of pan masala and petroleum products, however, continue to attract levy of countervailing duties. 
In addition to IGST, customs duty, education cess, and other protective taxes, such as the anti-dumping duty and safe-guard duty, also continue to be levied on imports of certain goods – carrying over from the previous tax regime. For the import of services, only IGST is levied.
The Integrated Goods and Services Tax (IGST)
Imports under GST are treated as inter-state supply. Since GST is a destination-based tax, IGST will be levied in the state where the imported goods are consumed and imported services are received.
IGST can be paid using input tax credit of central goods and services tax (CGST), state goods and services tax (SGST), and IGST. Input tax credit is the credit that dealers can avail for taxes paid on their purchases, at the time of paying final tax on their sales.
In case of CGST and SGST, no cross utilization of input tax credit is allowed. This means that input tax credit of CGST can only be utilized for CGST and IGST, and input tax credit of SGST can only be utilized to pay for SGST and IGST.
Import of Services Under GST
Under GST, the import of service is taxable if –
The supplier of service is located outside India;
The recipient of service is located in India;
The place of supply of service is in India; and
The supplier of service and the recipient of service are not merely establishments of a distinct person.

RELATED: Goods and Services Tax (GST) in India: Key Terms and Concepts
Transitional provision
Businesses must note that if the import of services is made on or after July 1, 2017, it shall be chargeable to tax under GST law even if the transaction was initiated before July 1, 2017. Furthermore, if the tax on import of services has been paid in part under the previous law, the balance tax shall be paid under the new GST law.
Tax returns
An importer is required to file monthly tax returns under GST. Under the previous law, the importer was required to file returns under state tax law for purchase of goods (import of goods) and under central tax laws for claiming countervailing duties. While filing monthly returns, importers must declare the goods imported in table-5 of the GSTR-2 form, and services imported in table-6 of the GSTR-2 form.

RELATED: GST Returns Filing in India: All You Need to Know
Exemptions
Previously, the transportation of goods by aircraft and inbound shipment was not liable to service tax. Under GST, there is no such exemption.
Impact on exports
Under GST, exports are treated as 'zero-rated supplies'. If GST is paid at any point of supply against exports from India, a trader may either export without the payment of IGST under bond or letter of undertaking, or may pay the IGST and claim refund later. 
In both cases, an exporter must provide details of GST invoices in the shipping bill.
About Us
India Briefing is published by Asia Briefing, a subsidiary of Dezan Shira & Associates. We produce material for foreign investors throughout Eurasia, including ASEAN, China, Indonesia, Russia, the Silk Road, & Vietnam. For editorial matters please contact us here and for a complimentary subscription to our products, please click here.
Dezan Shira & Associates provide business intelligence, due diligence, legal, tax and advisory services throughout India and the Asian region. We maintain offices in Delhi and Mumbai and throughout China, South-East Asia, India, and Russia. For assistance with India investment issues or into Asia overall, please contact us at india@dezshira.com or visit us at www.dezshira.com.
Related Reading:
Dezan Shira & Associates is a pan-Asia, multi-disciplinary professional services firm, providing legal, tax and operational advisory to international corporate investors. Operational throughout China, ASEAN and India, our mission is to guide foreign companies through Asia's complex regulatory environment and assist them with all aspects of establishing, maintaining and growing their business operations in the region. This brochure provides an overview of the services and expertise Dezan Shira & Associates can provide.
---

An Introduction to Doing Business in India 2017 is designed to introduce the fundamentals of investing in India. As such, this comprehensive guide is ideal not only for businesses looking to enter the Indian market, but also for companies who already have a presence here and want to stay up-to-date with the most recent and relevant policy changes.
---

In this issue of India Briefing Magazine, we discuss payroll processing and reporting in India, and the various regulations and tax norms that impact salary and wage computation. Further, we explain India's complex social security system and gratuity law, and how it applies to companies. Finally, we describe the importance of IT infrastructure, compliance, and confidentiality when processing payroll in India.