Specialty Steel Industry Gets PLI Scheme: Which Target Segments Have Been Identified for Incentives?
India wants to expand its local production capacity of specialty steel products to lower import dependency and create an export-oriented production base. The Production-Linked Incentive scheme for the specialty steel industry will apply for a 5-year period from 2023-24 onwards. The scheme is set to benefit both major (integrated) steel players as well as downstream manufacturing MSME entities. We discuss the target specialty steel segments and which entities will be eligible to apply.

Keeping in line with India's "Make in India" policy to boost domestic manufacturing and cut down on import bills, the Union Cabinet approved the Production-Linked Incentive (PLI) scheme for manufacturing high grade specialty steel in India, on July 22, 2021. Approved with the budgetary outlay of INR 63.22 billion (US$848.93 million), the central sector scheme will be implemented for a five-year period, from 2023-24 to 2027-28.
Specialty steel is a downstream product in the steel manufacturing process and through upgrades to its industrial ecosystem, India wants to join advanced steel making countries like Japan and South Korea. 
In 2020-21, India imported 6.7 MT of steel, out of which 4 MT was specialty steel, worth INR 300 billion (US$4.04 billion). Through the PLI scheme, India wants to plug this gap in market demand by sourcing domestically and creating products for export. The PLI scheme is expected to draw investments worth approximately INR 400 billion (US$5.37 billion) and expand capacity of specialty steel by 25 million ton (MT), from 18 MT in 2020-21 to 42 MT in 2026-27. 
Apart from gaining technological know-how and boosting exports, the government also envisages the scheme will generate employment for over half a million people.
In related developments, the government recently approved an MoU between India and the Russian Federation on cooperation regarding coking coal that is used to make steel.
According to Union Minister of Steel, Ram Chandra Prasad Singh, steel is a deregulated sector in India. It is dominated by six major players – four in the private sector and two in the public sector. The private sector contributes about 86 percent of India's steel production and the public sector contributes about 14 percent.
Rules and guidelines for the PLI scheme for specialty steel will be duly released and will benefit both major and secondary steel makers, such as MSMEs (downstream enterprises).
In the meantime, steel producers and MSMEs have questioned certain eligibility criteria and implementation targets, such as total annual entitlement versus expected capital expenditure, threshold on minimum incremental production, and minimum investment. Many in the steel industry find the PLI requirements tough (target of incremental production on an annual basis, statutory audit) and incentives not sufficient to enable the participation of smaller players.
It remains to be seen if and how the government addresses these industry concerns in the implementation details of the scheme.
PLI schemes announced so far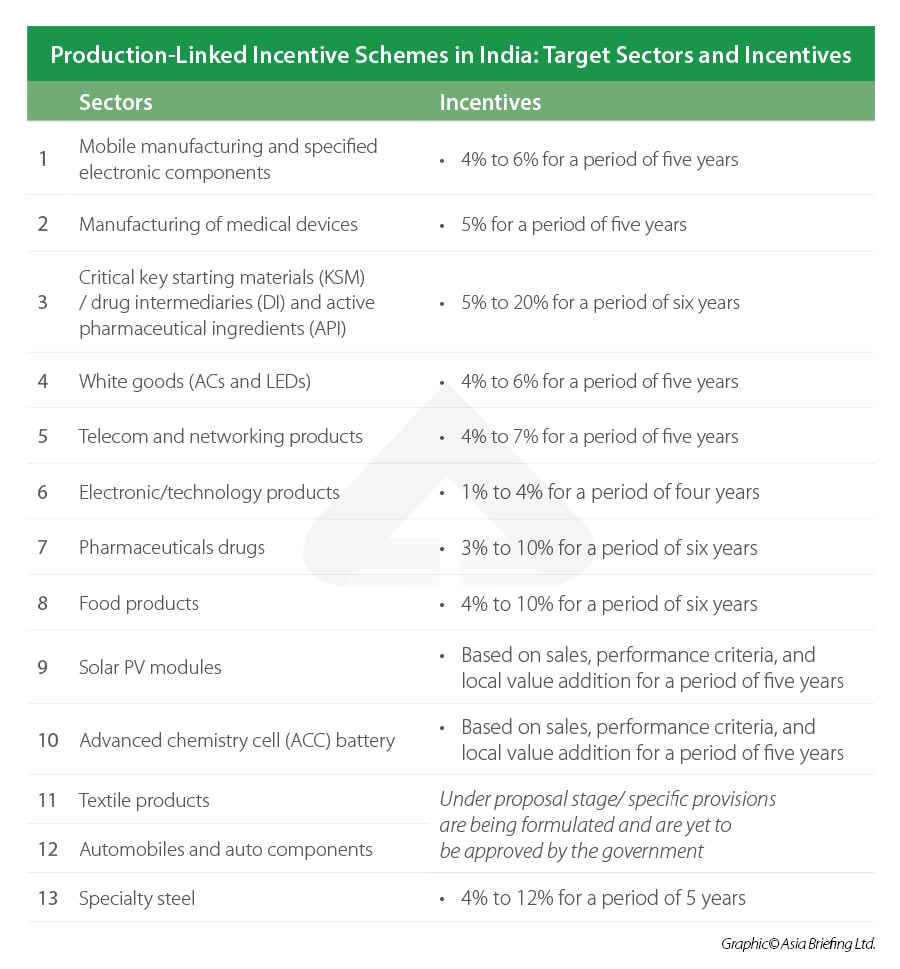 What is specialty steel and which categories are selected under PLI scheme?
Specialty steel is a value-added steel, made by processing normal finished steel through coating, plating and heat treatment. Apart from its applications in the automobile sector and specialized capital goods sector, it also holds high usage value in sectors like defense, space, and power.
The five categories of specialty steel that have been selected in the PLI Scheme are:
Coated/plated steel products
High strength/wear resistant steel
Specialty rails
Alloy steel products and steel wires
Electrical steel
It is expected that by 2027-28, India will start manufacturing products like API grade pipes, head hardened rails, electrical steel (needed in transformers and electrical appliances) etc. out of the above categories of products.
Currently, these products are manufactured in very limited quantities or not manufactured at all. Specialty steel makes up 4 million tons of India's 6.7 million ton steel imports; about eight percent of India's domestic steel capacity is dedicated to it.
Why is specialty steel segment targeted by the PLI scheme?
Specialty steel has been chosen as a target segment by the PLI scheme due to its under production in India, despite its high demand among stakeholders and strategic applications. In 2020-21, India produced a mere 18 MT of specialty steel out of the total 102 MT steel production. Resultant imports of around 4 MT of specialty steel in the same period have overburdened the foreign exchange reserves to the tune of INR 300 billion (US$4.03 billion).
By launching the PLI scheme in this sector, the government intends on becoming self-sufficient in specialty steel production and move up higher on the steel value chain to come at par with advanced steel making countries like South Korea and Japan. The government also intends on expanding the exports of specialty steel to 5.5 MT by 2026-27, and consequently refueling India's forex reserves by approximately INR 330 billion (US$4.43 billion).
Who can apply under the Scheme?
A company registered in India under the Companies Act 2013, that is engaged in manufacturing of the identified specialty steel grades can apply under the PLI scheme through an online portal. However, the approval is subject to the condition that end-to-end manufacturing must take place within the country. It means that the input material being melted and poured within the country using iron ore/scrap/sponge iron/pellets etc. shall be eligible to apply for incentive under the scheme.
The eligibility criteria for a company under the PLI scheme include a minimum investment limit as well as threshold minimum incremental production rate, which is a rate for a given product category and will be subsequently notified in the guidelines. Applicants are required to commit achieving either equal to or above threshold incremental production rate to be eligible for participation in PLI scheme.
A company may apply for multiple product categories as selected under the scheme. However, it must submit a separate application for each product category along with non-refundable application fee. The PLI is fund-limited, however, with a cap of INR 2 billion (US$26.86 million) on an eligible company across all product categories.
Major integrated steel players in the five chosen categories of specialty steel, including alloy steel manufacturers and secondary steel manufacturers in alloy steel products and steel wires, are expected to be the major beneficiaries of the scheme.
This scheme is also expected to provide a level playing field to downstream steel manufacturers, including micro, small and medium enterprises (MSMEs), along with integrated steel manufacturers.
Incentives under PLI scheme
Under the PLI scheme, incentives will be computed based on the incremental production, which is multiplied by the incentive slab rate as applicable and the weighted average sales price of the product.
There are three slabs of PLI incentives under this scheme, the lowest being 4 percent and highest being 12 percent which has been provided for electrical steel.
---
About Us
India Briefing is produced by Dezan Shira & Associates. The firm assists foreign investors throughout Asia from offices across the world, including in Delhi and Mumbai. Readers may write to india@dezshira.com for more support on doing business in in India.
We also maintain offices or have alliance partners assisting foreign investors in Indonesia, Singapore, Vietnam, Philippines, Malaysia, Thailand, Italy, Germany, and the United States, in addition to practices in Bangladesh and Russia.