India Throws Cat Among US & UK Hawks by Joining Military Parade with Chinese Soldiers in Moscow's Red Square
Op-ed by Chris Devonshire-Ellis
India's military and government have thrown a gauntlet down to the United States in parading soldiers on Red Square yesterday, being the delayed Victory Parade concerning the defeat of Nazi Germany and the end of WWII in 1945. This year is the 75th anniversary of that occasion. At the time, India was under British colonial rule. About 87,000 Indian soldiers are estimated to have died during the conflict. 
The British Government apparently declined to send any high-ranking officials to this year's event despite the fact that the Soviet Union and United Kingdom were allies at the time and Indian soldiers were largely under British command. The US sent its Ambassador. 
Images of Indian soldiers parading in Red Square yesterday can be seen here. 
The parade also included troops from Pakistan and China, who have shared recent border conflicts with India. Despite their recent differences, all three countries are members of the Shanghai Cooperation Organisation. (SCO). A map of the increasing influence of the SCO as a political body can be viewed below.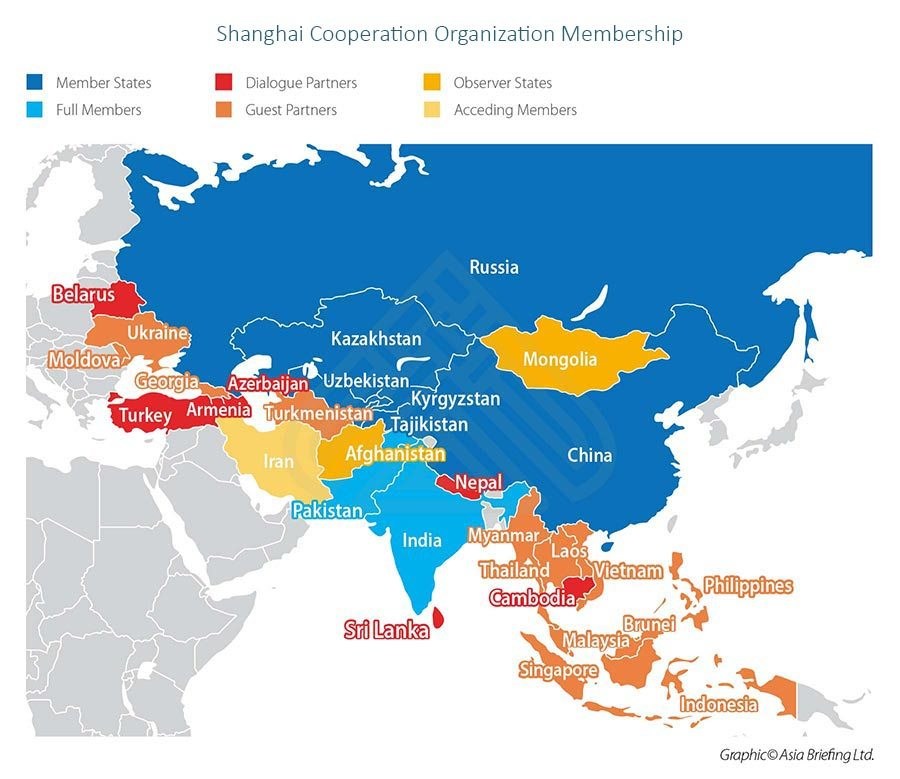 The marching of Indian military in the form of the Tri-Services Guard of Honour on Red Square just after five other national divisions following the Chinese military can be seen as warning to the UK and UK over the potential for future alliances should both countries continue their strategic differences of opinion with China and Russia, including the ongoing rows concerning sanctions and threats of trade wars. Those include countries that India and China have important strategic geographical and trade relations with, including Russia itself as well as countries important to China and India, such as Turkey, Iran and Myanmar. 
The Tri-Services Guard of Honour is made up of men or women drawn from three services of the Indian military: the Indian Army, Indian Air Force, and Indian Navy. It is based at New Delhi and is of company size – typically consisting of 80-150 soldiers and usually commanded by a Major. However, on this occasion, India also sent its highest ranking military official, the Defense Minister Rajnath Singh to the event, who took the salute.  
India views China and Russia as longer-term strategic partners. Interference with that can now be seen to have geopolitical consequences. India's Defense Minister was also scheduled to have discussions with his Pakistani and Chinese counterparts in meetings brokered by Moscow during the celebrations.  
In terms of intent, the inherent message from Delhi as concerns a pivot away from the US and Europe cannot have been made in greater clarity. India's geopolitical alliances are changing.
Related Reading