Investing in India's Textiles Sector: Key Points for Foreign Investors
India's textiles sector is driven by the country's abundant availability of raw materials and labor, with the market size standing at US$140.4 billion in 2020, and expected to grow to US$223 billion by 2021.
The sector is currently in need of foreign investments as it shifts its focus to the production of handloom fabrics, man-made fibers, and technical textiles.
To attract foreign investors, the government of India has ensured that 100 percent FDI is allowed in the textiles sector without needing any government approval, that is, under the automatic route. Various schemes have been introduced to further develop the industrial ecosystem, including industrial parks, skills development, and production-linked incentives.
Industry overview and investment climate
India's textiles sector is highly diversified, producing several products, ranging from traditional handlooms to the production of man-made fibers, such as filament yarn. An important sub-segment of this sector is the organized textile industry, which is known for its use of capital-intensive technology, for the creation of those textile products that involve spinning, weaving, and processing as well as garments manufacturing. Besides this, India is also the largest producer of cotton and jute in the world.
Aiming to develop the sector to be worth US$300 billion by 2025-26, the Indian government has planned a Production-Linked Incentive (PLI) Scheme worth US$1.42 billion for the setting up of seven mega textile parks, and to increase the production and exports of man-made fibers. The scheme is also expected to raise the value of total exports to US$300 billion by 2024-25.
The following lists India's state-wise textile exporting special economic zones (SEZs):
Brandix India Apparel City Private Ltd. – Visakhapatnam, Andhra Pradesh
Mas Fabric Park Pvt. Ltd. – Nellore, Andhra Pradesh
Ksidb SEZ Kannur – Kerala
Ig3 Infra Ltd – Uthukuli, Tamil Nadu
In addition, foreign investors should note the appealing investment climate that the textiles sector offers. It benefits from an organized retail landscape, a large and growing consumer market, direct employment of 45 million persons, the presence of an entire value chain from raw material sourcing to fabric to garment production, and an increasing focus on the production of technical textiles.
In 2020, India's textile exports were valued at US$20.5 billion, with garment exports at US$16.1 billion and handlooms at US$3.8 billion. In the period between April 2000 to December 2020, India's textiles sector received FDI worth US$3.68 billion.
India's major textile players state-wise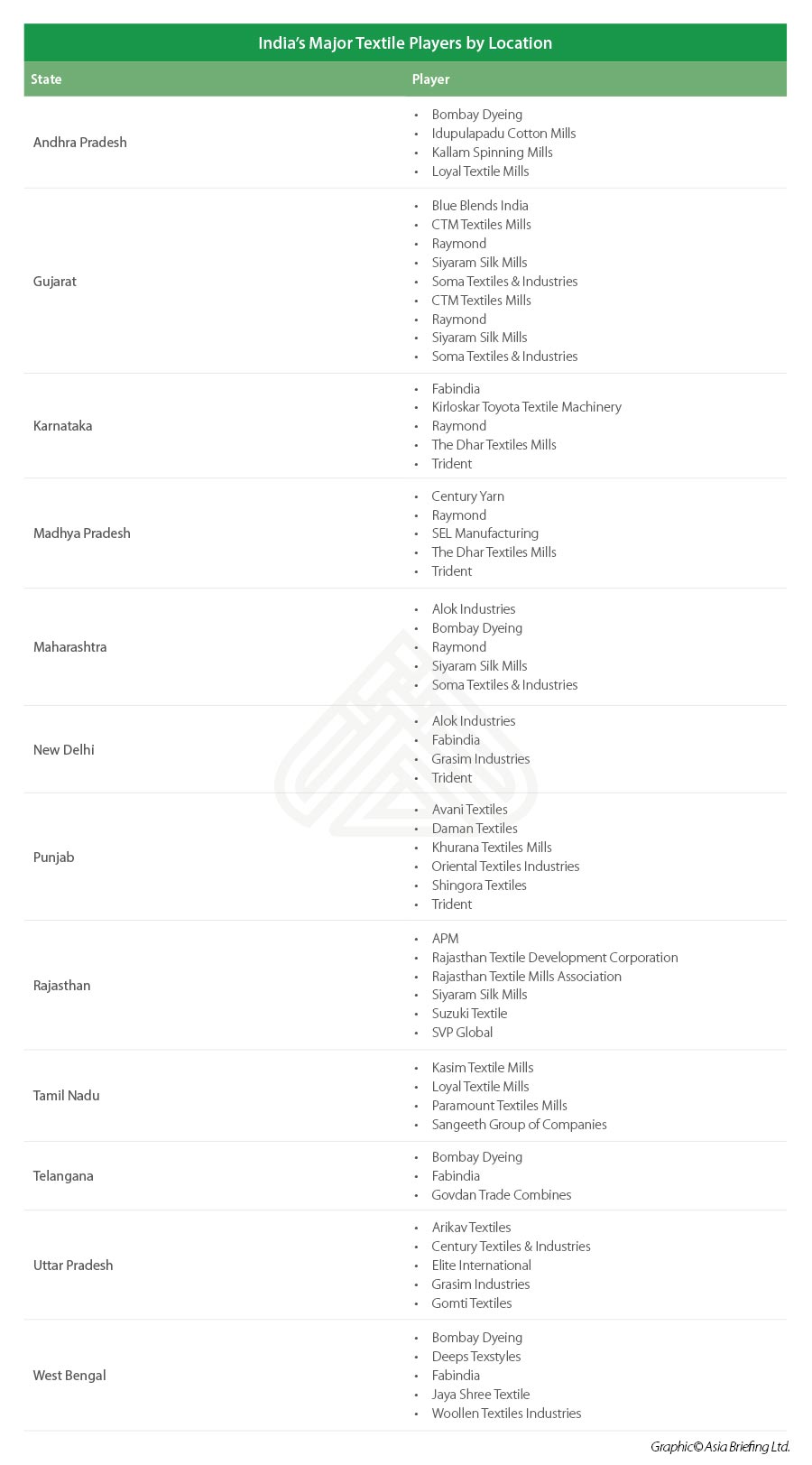 Schemes for India's textiles sector
To improve the capacity of the existing textiles sector, the government of India has announced the following schemes:
National Technical Textiles Mission
To improve the penetration of technical textiles in the country, this scheme will have four components:
Component-I: Research, innovation, and development.
Will research and develop higher grade carbon fiber, aramid or other protective fiber and its products, nylon fiber and its products, composites, and textile machinery.
Component-II: Promotion and market development.
Will aim to boost the average growth rate of the technical textiles so they are worth US$40-50 billion by 2024, by employing market development, market promotion, international technical collaborations, and investment promotions.
Component-III: Export promotion.
Will aim at export promotion of technical textiles to be worth US$2.6 billion by 2021-22, and ensure a 10 percent average growth per year up to 2023-24.
Component-IV: Education, training and skill development.
Will promote technical education at higher technology and engineering levels related to technical textiles in order to overcome the lack of human resources required to meet the technologically challenging and fast-paced growth of the technical textiles segment.
Mega Investment Textile Parks (MITRA) Scheme
This scheme will transform the textiles sector to become globally competitive, by attracting large foreign investments, that will boost both employment opportunities as well as exports. To do this, seven mega textile parks will be established over the next three years, all of which will be equipped with world-class infrastructure and plug-and-play (PnP) facilities (road connectivity, water-sewage connectivity etc.).
Scheme for Integrated Textile Parks (SITP)
To aid entrepreneurs in the set-up of textiles units that conform to international environmental and societal standards, this scheme will provide them with financial assistance, that will also be utilized in the setting up of infrastructure. The end goal of this scheme is to ensure that the finished units mobilize private investments, that in turn will increase employment opportunities.
Amended Technology Upgradation Fund (ATUFS) Scheme
This scheme will provide a one-time capital subsidy for investments in the employment and technology intensive segments of the textile value chain, with the goal of reducing dependence on imports and simultaneously increasing exports. The scheme will be credit-linked, and the projects for technology upgradation that will be covered by a prescribed limit of term loans, sanctioned by lending agencies, will only be eligible for grant of benefits under it.
Integrated Skill Development (ISDS) Scheme
This scheme addresses the labor requirement needed to manage the diverse textiles sector, and all its segments. It will implement training experience through three components, and each trainee will be provided with a grant subsidy to the extent of 75 percent of product cost with a ceiling of US$133. The scheme has made significant progress in the last five years, and trained around 420,000 candidates in the areas of handlooms, handicrafts, technical textiles, sericulture etc. Currently, 1.1 million training targets under 76 projects have been sanctioned, to around 58 implementing agencies spread throughout India.
Areas being promoted in the textiles sector
Handloom weaving
India has a rich cultural heritage around handloom weaving. The intricacy involved in its production cannot be replicated by automated manufacturing and the fabrics are renowned for their distinct designs. To ensure the continuity and preservation of this art, India is keen to attract investments towards developing industrial capacity at scale. Bhagalpur, Godda, Guntur, Prakasam, Shiva Sagar, Trichy, Varanasi, and Virudhunagar are major handloom clusters that offer a wide range of textile products, such as sarees, stoles, shawls, bedspreads, curtains, drapes, rugs, kitchen linen, towels etc. Australia, EU, Japan, UAE and the USA are the main markets for Indian handlooms. In 2019, handloom exports were valued at US$343.69 million, and from April to October 2020, they were valued at US$110.76 million.
Man-made fibers
India's man-made fibers (MMF) are known for their workmanship, colors, and durability. India has set up world-class manufacturing plants and is continually innovating its MMF industry to tap global markets. Bangladesh, Brazil, Egypt, Turkey, and the US are the main markets for Indian man-made filament yarn, whereas Afghanistan, Bangladesh, Pakistan, Sri Lanka, and the UAE are the main markets for MMFs.
India is ranked as the sixth largest exporter of MMF textiles, and from April to September 2020 – it exported man-made staple fibers worth US$545.80 million. In September last year, the exports stood at US$117.89 million; in October, yarn exports were valued at US$575 million.
In 2019, India's MMF exports were worth US$3.4 billion. By the end of the fiscal year 2020-21, they were expected to be valued at US$7 billion.
India is also the second largest world producer of polyester and silk.
Technical textiles
A technical textile refers to a textile product that is manufactured for the purpose of functionality as opposed to aesthetics. One such example is the agrotech (agro-textile), which aims to aid farming practices by addressing crop protection and development.
Buildtech (construction textiles), clothtech (clothing textiles), geotech (geotextiles), hometech (domestic textiles), indutech (industrial textiles), medtech (medical textiles), mobiltech (automotive and transport textiles), packtech (packaging textiles), protech (protective textiles), and sportech (sports textiles) are other examples of technical textiles, all of which find use across India's multiple non-conventional textile sectors, such as construction, healthcare, automobiles, sports, agriculture etc.
Packtech accounts for 41.6 percent of all technical textiles, followed by indutech at 11.3 percent, hometech at 10.4 percent, and mobiltech at 9.8 percent.
The cost-effectiveness, eco-friendliness, user-friendliness, and durability of technical textiles combined with their end-use applications in many sectors, drive the appeal for technical textiles and their growing global demand.
The Indian technical textiles industry accounts for 12 percent of its textiles value chain, and by 2024, this industry is expected to be worth US$40 billion.
To progress towards this goal, in February 2020, the government set up a National Technical Textiles Mission worth US$194 million for the purpose of promoting the research and innovation of the technical textiles market, as well as increasing skill development and exports. Eight centers of excellence and 11 focus incubation centers (FICs) have also been set up to further promote research and innovation.
Alok Industries Limited, Bombay Dyeing, KPR Mill Limited, Reliance Industries Limited, and Welspun India Home Textiles are among some of the top technical textile players in India.
Opportunities for foreign investors
Greenfield green fiber project
Sutlej Textiles and Industries, India's leading producer of yarns including mélange yarn and specialty yarns, has commenced its staple fiber greenfield green fiber project in Baddi, Himachal Pradesh. This project, executed from scratch, aims to manufacture 120 tpd unit of raw white, black, and dope-dyed polyester staple fiber (PSF) by recyling pet (plastic) bottles. Interested foreign investors may contact this company for further details.
Mega investment textile parks
The government has launched the Mega Investment Textile Parks (MITRA) Scheme, which will function alongside the PLI scheme to enable India's textiles sector to become globally competitive, by attracting foreign investments and boosting textile exports.
The MITRA scheme will utilize foreign investments by prioritizing the construction and building of state-of-the-art infrastructure that will allow domestic manufacturers to be on par with the international textiles market, and pave the way for their entry into the global market.
These investments are also expected to boost employment opportunities in the textiles sector, which is India's second largest provider of employment after the agricultural sector.
Silk mark products
The Silk Mark Organization of India (SMOI) is an initiative by the Central Silk Board (CSB), Ministry of Textiles, India, to facilitate silk trade between genuine manufacturers and buyers.
To aid numerous Indian artisans, weavers, craftsmen, and micro-entrepreneurs to showcase over 3,000 of their silk products for the purpose of trade and business, the SMOI has signed a memorandum of understanding (MoU) with Amazon India, which will give it a wider market base to sell these goods by setting up a silk mark store. All products sold will be silk mark labelled to show authenticity.
By bringing these small sellers online, Amazon India aims to expand their presence, provide them with further employment opportunities and bring attention to micro, small and medium enterprises (MSMEs), by helping them with the shipping and delivery of the products, technical training, and marketing and sales support.
The growing online presence of India's silk market is expected to not only bridge the gap between India's traditionalist and modern textiles, but also encourage foreigners to investigate all the textile segments that India has to offer. Foreigners who may be particularly interested in trading in silk, can make use of this opportunity to learn about India's silk trade and business practices, and familiarize themselves with the MSMEs who are beginning to strengthen their outreach in this industry.
Included among popular silk products are sarees, salwar kameez sets, jackets, shirts, scarves, stoles, ties etc.
Foreign investments in the textiles sector
The textiles sector in India is still at a nascent stage, and requires foreign investments to help raise its manufacturing capacity. In order to attract FDI towards various textile segments, such as technical textiles and textile machinery, it is necessary to identify which country is best capable of matching India's FDI needs in these specific areas.
Key foreign investors
The following lists companies from various countries, specializing in the various textile segments that India is interested in:
Dornier, Fleissner and Karl Mayer – Germany – textile machinery
Fukuhara, Muratech and Toyota – Japan – textile machinery
Benninger, Oerlikon and Saurer – Switzerland – textile machinery
Acker Textilwerk and BWF Tec GmbH – Germany – technical textiles
Cerruti, Loro Piana and Ermenegildo Zegna – Italy – high end fabrics
Highland Industries, Atlanta Fiberglass and Seaman Corporation – USA – high end fabrics
Akin Holdings, Bossa and Calik Holdings – Turkey – high end fabrics
Asahi Kasei, Kuraray and Toyobo – Japan – synthetic textiles
Lea Group and Sheico Group – Taiwan – synthetic textiles
Japan
On January 21, the Textiles Committee, Ministry of Textiles, India signed an MoU with the Nissenken Quality Evaluation Center, Japan to provide required support to each other's textiles industries and improve trade between them.
The main objective of this MoU is to ensure that Japanese buyers are guaranteed quality Indian textiles through a testing and conformity assessment, research and development (R&D), and consultancy.
To work towards this goal, both institutions have formally agreed to share and exchange relevant technical information with each other on a regular basis, carry out all activities in accordance with the quality assurance norms, conduct joint research projects for the development of user-friendly tools for the dissemination of data for the industry, and facilitate sourcing across the textiles value chain (TVC) of both the countries.
South Korea
The Kakatiya Mega Textile Park in Telangana has set up a complete ecosystem that is meant to support India's textiles value chain. Its main objective is to provide world-class infrastructure facilities that will enhance the productivity and increase the efficiencies of the textile industry.
To accomplish this, a South Korean textile and apparel company, Youngone Corporation, will be investing US$119 million over the next five years, starting in 2021.
Key features of this park are:
Energy-efficient hybrid vehicles;
Energy-efficient buildings and truck holding areas;
Decongested primary roads;
A segregated transport system;
Provision for parking; and
An ecological corridor.
---
About Us
India Briefing is produced by Dezan Shira & Associates. The firm assists foreign investors throughout Asia from offices across the world, including in Delhi and Mumbai. Readers may write to india@dezshira.com for more support on doing business in in India.
We also maintain offices or have alliance partners assisting foreign investors in Indonesia, Singapore, Vietnam, Philippines, Malaysia, Thailand, Italy, Germany, and the United States, in addition to practices in Bangladesh and Russia.