Italy – India Trade Relations
By Andrea Bottega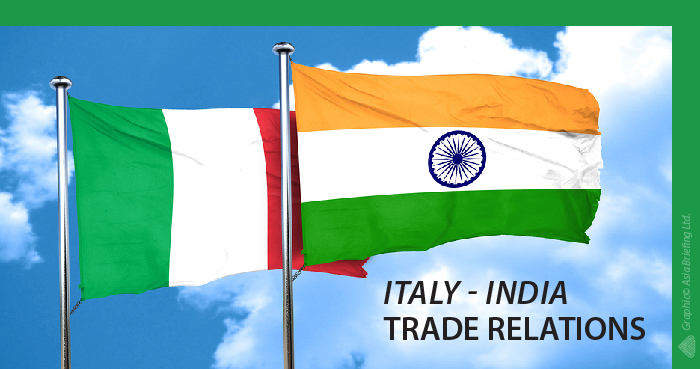 Italy is one of India's most important trading partners in the European Union (EU). Through a series of trade delegations and government-led trade initiatives, the Italian authorities have succeeded in establishing a dynamic relationship with India predicated on political, economic and scientific cooperation.
Bilateral trade between both nations witnessed a strong growth until 2007, when the global recession led to a marked slowdown in the Italian economy. However, with new economic reforms taking place in both countries, bilateral trade is showing new signs of growth.
In the year 2016 financial year (FY), for example, trade between India and Italy rose to US$8.80 billion.

RELATED: Impact of GST on Imports and Exports in India
Bilateral trade: A snapshot
Italian businesses are becoming increasingly aware of the vast opportunities offered by the Indian market. Indeed, trade between Italy and India is rising at a growth rate of 30 percent.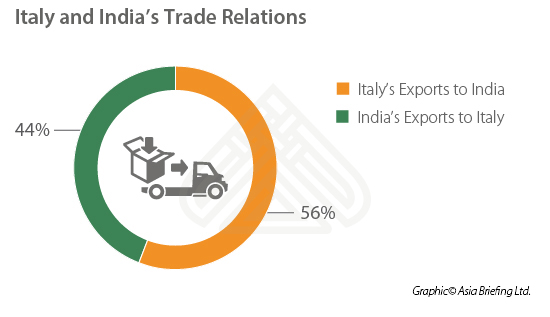 In 2016, Italian exports into India amounted to US$3.9 billion dollars; Indian exports into Italy accounted for US$4.9 billion dollars. Italian businesses see India as an increasingly attractive trading partner.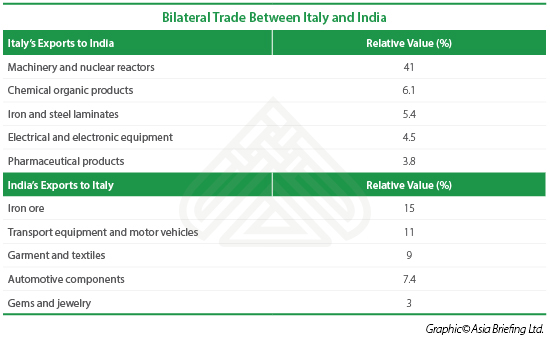 Diplomatic engagement creating new trade opportunities
On October 30, 2017, Italian Prime Minister Paolo Gentiloni met Indian Prime Minister Narendra Modi in New Delhi, the first time an Italian Prime Minister has made a diplomatic visit to India since 2007. Relations between the two nations had soured in 2012 when on-duty Italian marines mistook two Indian fishermen for pirates, killing both men off India's southern coast. Gentiloni's visit to India represents a conscious attempt to rekindle diplomatic ties and strengthen bilateral trade.    
 During the diplomatic meeting, Gentiloni and Modi inked six Memorandums of Agreement (MoUs) aimed at enhancing cooperation in the following fields:
Energy;
Railroad safety;
Bilateral investment;
Joint training programs for foreign services;
Cultural exchange; and
Diplomatic ties.
Improved bilateral ties between Italy and India are paving the way for increased economic cooperation. In May, 2017, the India-Italy Joint Economic Commission met in Rome – establishing joint working groups in the following areas:
Infrastructure;
Tourism;
Railways;
Food Processing;
Renewable Energy;
Information Technology; and
Agriculture. 
In 2016, the India Italian Joint Committee, established under the Scientific and Technological Cooperation Agreement, approved several initiatives and projects to encourage cooperation in the sectors of science, technology and innovation with emphasis on sustainable agriculture, health care, biotechnologies and nanotechnologies.
This brand of 'science diplomacy' acts as a stimulant to bilateral trade: creating dialogue and new networks. India's recent US$7 million investment into two energy beamlines at the Sincrotrone of Trieste is a testament to the opportunities strengthened engagement between Italy and India can produce. 

RELATED: Pre-Investment, Market Entry Strategy Advisory
Doing Business in India
India has made impressive strides in improving the ease of doing business. India remains one of the most competitive countries in South Asia, ranked 40th in the global competitiveness ranking of 137 countries by the World Economic Forum (WEF). National competitiveness is defined as a set of institutions, policies and factors that determine a country's level of productivity. Improvement across most pillars of competitiveness, particularly infrastructure and higher education, reflects recent public investments in these areas. Strides in labor market efficiency, especially the nation's ability to attract and retain talent, has also improved India's WEF 2017 ranking.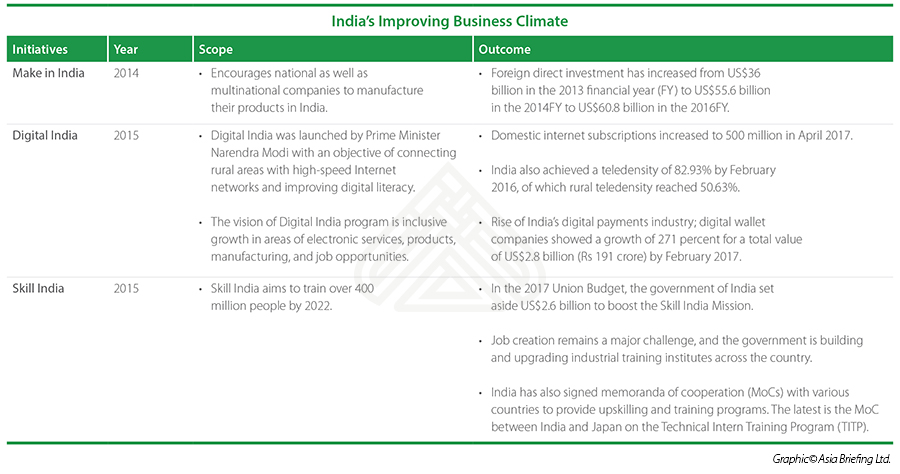 Recently, the Government of India has launched a series of initiatives to facilitate investment, foster innovation, and build best in class manufacturing infrastructure in the country. These programs aim to attract foreign direct investment by eliminating excessive regulations and fostering a culture of bureaucratic transparency.
Conclusion
India can be the ideal partner for Italian companies looking to expand into emerging markets. Italian companies are actively participating in the Make in India campaign by offering collaborations in areas such as food processing, infrastructure, heavy machinery, renewable energy, advanced technology, as well as information and communication technology.
In approximate 800 Italian companies are already active in India. As engagement between the two nations continues to strengthen, Italian businesses looking to expand globally will come to see India as a natural choice.  
About Us 
India Briefing is published by Asia Briefing, a subsidiary of Dezan Shira & Associates. We produce material for foreign investors throughout Eurasia, including ASEAN, China, Indonesia, Russia, the Silk Road, & Vietnam. For editorial matters please contact us here and for a complimentary subscription to our products, please click here.
Dezan Shira & Associates provide business intelligence, due diligence, legal, tax and advisory services throughout India and the Asian region. We maintain offices in Delhi and Mumbai and throughout China, South-East Asia, India, and Russia. For assistance with India investment issues or into Asia overall, please contact us at india@dezshira.com or visit us at www.dezshira.com.

Dezan Shira & Associates Brochure
Dezan Shira & Associates is a pan-Asia, multi-disciplinary professional services firm, providing legal, tax and operational advisory to international corporate investors. Operational throughout China, ASEAN and India, our mission is to guide foreign companies through Asia's complex regulatory environment and assist them with all aspects of establishing, maintaining and growing their business operations in the region. This brochure provides an overview of the services and expertise Dezan Shira & Associates can provide.

 An Introduction to Doing Business in India 2017
An Introduction to Doing Business in India 2017 is designed to introduce the fundamentals of investing in India. As such, this comprehensive guide is ideal not only for businesses looking to enter the Indian market, but also for companies who already have a presence here and want to stay up-to-date with the most recent and relevant policy changes.

Working as an Expat in India
In this issue of India Briefing Magazine, we look at India's living and working environment, HR and payroll laws, and the taxation norms as applicable to foreign nationals. India is the second most favored destination for expatriates that want to work in the emerging markets. Expatriates should take note of the basic social and welfare concerns as well as the regulatory and tax issues that apply to foreigners that work in the country.