Reducing the Risks Posed by Legislative and Judicial Actions in India
Recent legislative and judicial actions in India's capital of Delhi have caused significant disruption to the establishment of businesses. In the past few weeks, Delhi has implemented two measures to combat the rising levels of pollution in the mega city. Both have influenced various facets of Delhi's economy, were particularly harsh on certain businesses, and inadvertently punished consumers in the city. 
The plans were introduced with noble intentions, but affected business operations for numerous companies. Most of these companies were underprepared to cope with changes in Delhi's economic landscape. This underlined the importance of preparation and adaptation for businesses that operate in India – companies that keep abreast of changes in the legislative and judicial space can mitigate the risks that their businesses face.
The AAP Gambit
The Aam Aadmi Party (AAP) government started the second trial run of its Odd-Even Plan from April 15 until April 30. The plan only permitted vehicles with odd number plates to ply on odd dates, and vehicles with even number plates to ply on even dates. The first trial run of the Odd-Even plan was implemented from January 1 until January 15 and aimed to reduce the dangerously high levels of pollution in the city. The actual impact of the plan, however, remains unclear.
While the Odd-Even plan went off without a major hitch, another policy announced by the AAP courted significant controversy. This was the ban on surge pricing for the duration of the Odd-Even scheme. Surge pricing is a pricing strategy used by app-based cab aggregators such as Ola and Uber. It implies that fare rates increase automatically as a response to increased demand for cabs. 
Supreme Court's Decision
The second policy decision followed the Supreme Court's ban on diesel cabs plying in Delhi and the National Capital Region (NCR) on May 1, just as the second trial run of the Odd-Even Plan ended. The court decision aimed to bring down pollution levels in the city. Previously, the Supreme Court had extended the deadline from March 31 to April 30 for diesel cabs to convert to Compressed Natural Gas (CNG), which is known to pollute less.
This decision by the Supreme Court reportedly affected 27,000 taxis, prompting several protests. Delhi was gridlocked as angry and prospectively unemployed cab drivers blocked major thoroughfares in the capital, including routes to Noida and Gurgaon, where several multinational companies are located. The court's decision to ban diesel cabs also affected several consumers in multiple ways.
What is the Impact?
The AAP government introduced the ban on surge pricing as it deemed it as extortionate. The move was a direct intervention that disturbed the market equilibrium by altering the basic economic forces of supply and demand. It follows basic economic logic that higher prices incentivize a higher supply of a good or service. In this case, it would translate into ensuring a higher supply of cabs on Delhi roads.
In addition, surge pricing acts as a means to sort customers not only based on their ability to pay, but also their willingness to pay. Thus, a number of consumers, who may have urgent appointments, would be willing to pay a higher price. However, the ban on surge pricing without much thought resulted in the reduced supply of cabs from operators such as Ola and Uber. Consumers were left without cabs and a large number of them could not use their own cars due to the Odd-Even scheme. Other external factors, such as a poor public transport system, an overburdened subway system, and the absence of affordable, alternative cab services, forced commuters into a cul-de-sac. The move to ban surge pricing – which is Uber and Ola's core business model – had a profound impact on their business operations as well.  
The most important question thus becomes whether governments owe a responsibility to provide adequate time for businesses to respond to regulatory changes. In this regard, the Delhi government fares quite poorly as most economic policies, including the ban on surge pricing, tended to be reactionary. The government, particularly in this case, did not create a suitable timeline for companies to adapt to the changes. Such a lack of warning and planning often creates a perception that India's regulatory landscape is too erratic, which may disincentivize foreign companies from entering India at all. Therefore, the AAP gambit seems to have been an ill-conceived move posing a detrimental impact on the overall economy.
The Supreme Court's decision to ban diesel cabs also has significant economic implications. This is why the central government, state government, and the National Association of Software and Services Companies (NASSCOM) – one of India's primary trade bodies – appealed to the court to revoke its decision. The ban causes direct losses to the cab industry, and once again cuts the supply source for companies such as Uber and Ola that often use cabs running on diesel. Moreover, the ban does not account for the cost of conversion to CNG, which ranges from U.S. $1000-1500. This makes it too expensive for most cab drivers given their monthly salaries, affecting their scope for savings.
The ban affects other industries as well. NASSCOM said that if the ban was not revoked, it would affect America's $25 billion Business Process Outsourcing (BPO) industry as well as the software industry, to which Delhi and NCR contribute around U.S. $ 5 billion. A number of BPOs and software companies use diesel cabs to pick and drop employees. The ban on diesel cabs could cause a potential loss of U.S. $ 1 billion if the ban stays in effect for around six to nine months.
In such a scenario, India runs a risk of scaring off potential investors, who might believe that the country is characterized by judicial actions that unnecessarily complicate business operations and interfere in the market.
Latest Developments
The ban on surge pricing was revoked on May 1, with the end of the Odd-Even scheme. Meanwhile, on May 10, the Supreme Court revoked the ban on diesel cabs operating in Delhi and NCR. The reintroduction of surge pricing ensured that Ola and Uber could operate normally and consumers were not adversely affected. Meanwhile, the revocation of the ban on diesel cabs eased the pressure on the cab, BPO and software industries, and ensured a ready supply of cabs for consumers.
Adit Pujari, an advocate in the matter of the ban on diesel cars, notes that that the Supreme Court overturned the decision to ban diesel cabs when it realized that the BPO and software industry could potentially be paralyzed by the decision. Pujari says, "The Supreme Court's stance on issues such as diesel has been fairly consistent since 1993. The court has wanted to phase out diesel." In this regard, it is vital to note that the judiciary in India often maintains a predictable trajectory in its decisions.
Lessons for Companies
The key takeaway for companies that are planning to enter India or are already operating in India is simple. Such companies should note that India's regulatory landscape is not static. The regulations are often an amalgamation of legislative and judicial actions. Companies need to be prepared to adapt to the changing regulatory environment to mitigate the risks faced by their core business operations. Periodic regulatory monitoring, political risk mapping, tracking new legislations and judgments, and compliance checks are tools available to help companies traverse the Indian regulatory landscape. Companies that use such tools can stop legislative and judicial actions from disrupting their business.

About Us
Asia Briefing Ltd. is a subsidiary of Dezan Shira & Associates. Dezan Shira is a specialist foreign direct investment practice, providing corporate establishment, business advisory, tax advisory and compliance, accounting, payroll, due diligence and financial review services to multinationals investing in China, Hong Kong, India, Vietnam, Singapore and the rest of ASEAN. For further information, please email india@dezshira.com or visit www.dezshira.com.
Stay up to date with the latest business and investment trends in Asia by subscribing to our complimentary update service featuring news, commentary and regulatory insight.


Managing Your Accounting and Bookkeeping in India
In this issue of India Briefing Magazine, we spotlight three issues that financial management teams for India should monitor. Firstly, we examine the new Indian Accounting Standards (Ind-AS) system, which is expected to be a boon for foreign companies in India. We then highlight common filing dates for most companies with operations in India, and lastly examine procedures and regulations for remitting profits from India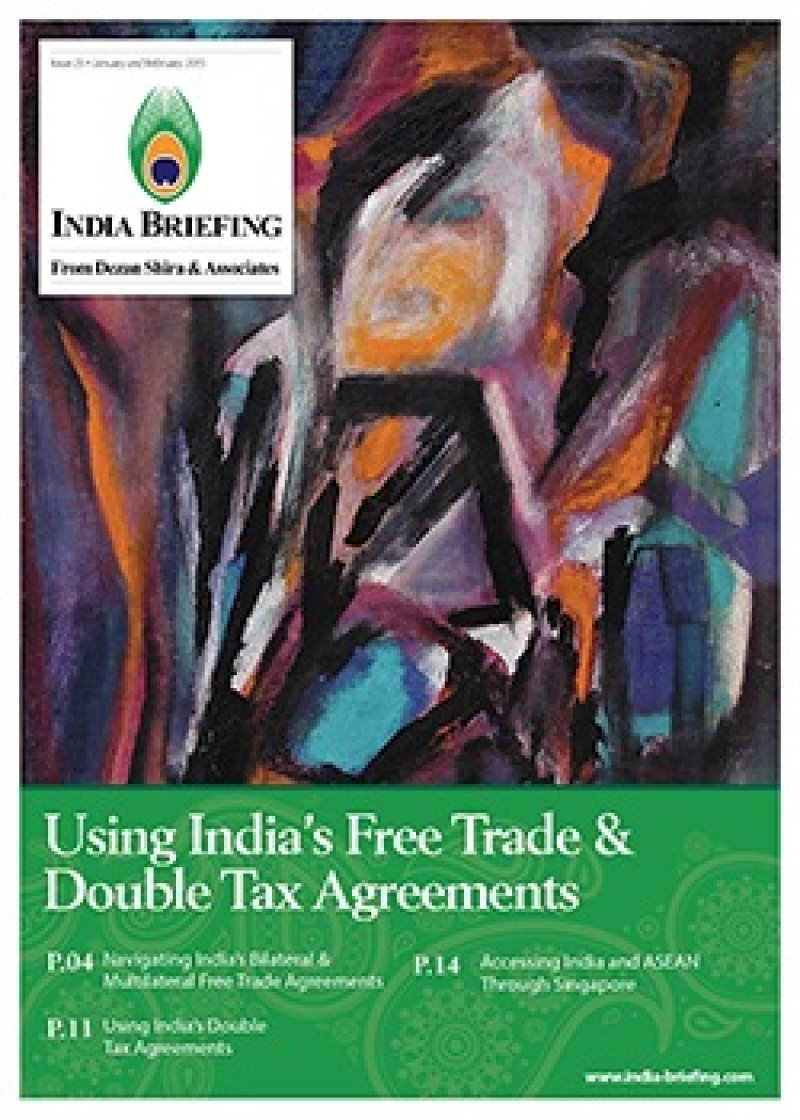 Using India's Free Trade & Double Tax Agreements
In this issue of India Briefing magazine, we take a look at the bilateral and multilateral trade agreements that India currently has in place and highlight the deals that are still in negotiation. We analyze the country's double tax agreements, and conclude by discussing how foreign businesses can establish a presence in Singapore to access both the Indian and ASEAN markets.

Passage to India: Selling to India's Consumer Market In this issue of India Briefing magazine, we outline the fundamentals of India's import policies and procedures, as well as provide an introduction to engaging in direct and indirect export, acquiring an Indian company, selling to the government and establishing a local presence in the form of a liaison office, branch office, or wholly owned subsidiary. We conclude by taking a closer look at the strategic potential of joint ventures and the advantages they can provide companies at all stages of market entry and expansion.