Why India and ASEAN Relations Are Set to Prosper
The current economic relationship between India and ASEAN countries presents a multitude of industrial, commercial, and investment opportunities.  India has welcomed ASEAN's plans to establish economic and political relationships with neighboring nations, and India and ASEAN have increasingly supported bilateral trade, promoted foreign investment, and strengthened diplomatic relations.
Bilateral trade between India and ASEAN totaled US$80 billion in 2014, up ten billion from 2012 and increasing by an average annual rate of 23 percent over the past decade. A large portion of India and ASEAN's surging economic and political relationship can be accredited to two things: India's "Act East" policy, which reaffirmed India's plans to engage more substantially with the economies of its Southeast Asian neighbors; and rising business optimism within ASEAN, as outlined in the latest ASEAN Business Optimism Index by Dun & Bradstreet.
Singapore
Singapore is India's strongest connection to the ASEAN market, accounting for 25.9 percent of all of India's trade with ASEAN from 2013-2014. The city state has also benefited economically from its tight relationship with India, from which it imported USD 7.1 billion in 2014.
In addition to a healthy trade relationship, Singapore and India also enjoy a diplomatic political history of over 50 years. In 2014, Singapore and India again strengthened defense partnerships and recommitted to the practice of joint military training exercises.
As India's portal to the rest of ASEAN, Singapore is likely to enjoy a mutually beneficial economic and political relationship with India for multiple upcoming decades.
Vietnam
Vietnam and India have also sought to strengthen their economic and political standing. Vietnam's 2014 renewal of Indian oil blocks in the South China Sea is indicative of improved diplomatic and defense relations between the two nations.
The economies of India and Vietnam are anticipated to increasingly rely on one another for trade in the upcoming years. From 2013-2014, bilateral trade between Vietnam and India totaled USD 8.03 billion, and both countries' governments predict this number to reach US$15 billion by 2020. In terms of exports from Vietnam to India, large investment opportunities exist in the textile and pharmaceutical industries.
Indonesia
India and Indonesia's economic relationship has grown exponentially in recent years. After signing a double taxation agreement (DTA) in 2012, bilateral trade between the two countries totaled US$20 billion. In 2012, the Indian embassy in Jakarta launched the India Business Forum, in which Indian business owners committed to further interaction with the Indonesian market.
In 2014, Indonesia accounted for 38 percent of ASEAN's total GDP. By increasing trade with Indonesia, India will gain significantly greater access to the Southeast Asian economy. At the same time, India's population of over 1.27 billion presents a large market for the ASEAN countries' primary exports of oils, gas, and electronic equipment.
Room for Growth
It remains to be seen how the ASEAN region will respond to India's recent initiatives to improve economic and political relations. Although the last several years have seen considerable development in India-ASEAN relations, there is further room in these markets for significant growth in the coming years.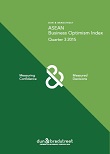 The ASEAN Business Optimism Index, released every quarter by Dun & Bradstreet, is considered a leading economic indicator for turning points in business activity and measuring business sentiment. The Index captures business expectations for the quarter ahead based on six parameters: sales volume, net profit, selling price, new orders, inventory, and employment. Sampling in the Index represents key business sectors including manufacturing, construction, wholesale, transportation, services, finance, mining and agriculture, according to their GDP contribution in each nation.
The ASEAN Business Optimism Index for Q3 2015 is out now and available as a complimentary download in the Asia Briefing Bookstore.

An Introduction to Doing Business in India 2015 (Second Edition)
Doing Business in India 2015 is designed to introduce the fundamentals of investing in India. As such, this comprehensive guide is ideal not only for businesses looking to enter the Indian market, but also for companies who already have a presence here and want to keep up-to-date with the most recent and relevant policy changes. We discuss a range of pertinent issues for foreign businesses, including India's most recent FDI caps and restrictions, the key taxes applicable to foreign companies, and how to conduct a successful audit.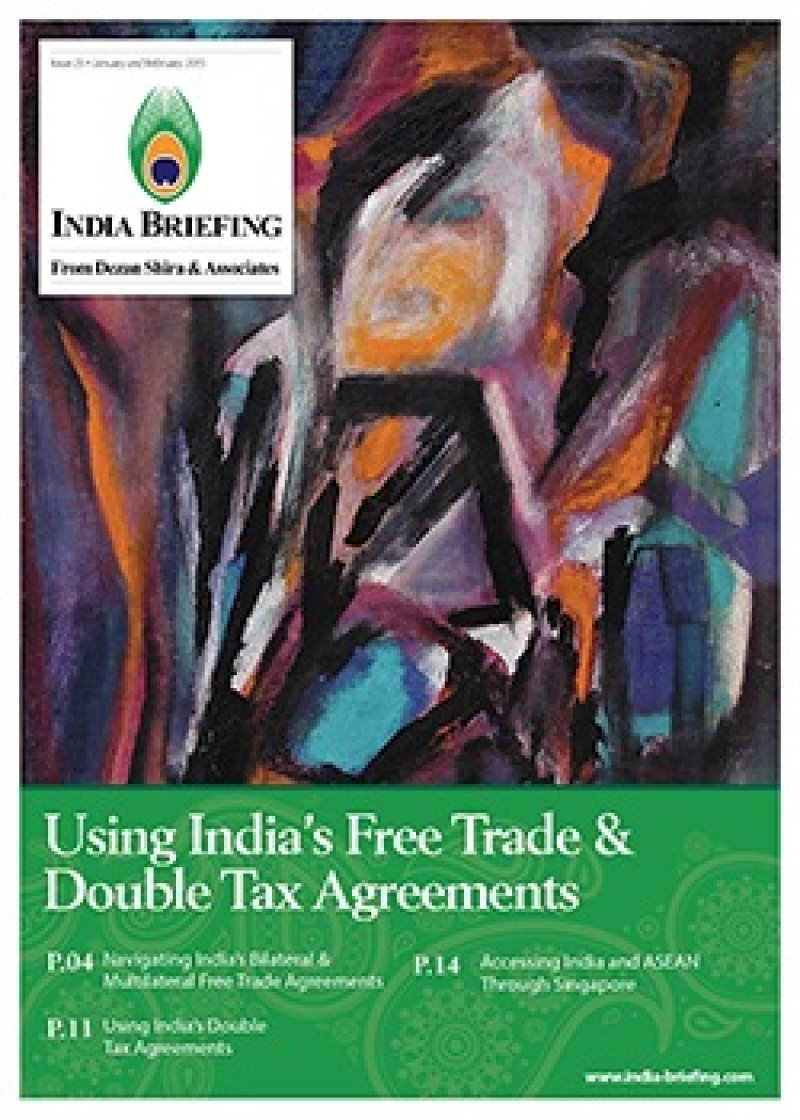 Using India's Free Trade & Double Tax Agreements
In this issue of India Briefing magazine, we take a look at the bilateral and multilateral trade agreements that India currently has in place and highlight the deals that are still in negotiation. We analyze the country's double tax agreements, and conclude by discussing how foreign businesses can establish a presence in Singapore to access both the Indian and ASEAN markets.

Passage to India: Selling to India's Consumer Market In this issue of India Briefing magazine, we outline the fundamentals of India's import policies and procedures, as well as provide an introduction to engaging in direct and indirect export, acquiring an Indian company, selling to the government and establishing a local presence in the form of a liaison office, branch office, or wholly owned subsidiary. We conclude by taking a closer look at the strategic potential of joint ventures and the advantages they can provide companies at all stages of market entry and expansion.