State by State: India and Arizona Trade
Nicknamed the 'Grand Canyon State', Arizona is widely known for its natural wonders. Arizona's economy was built on cattle, copper, citrus, cotton and climate – which is known locally as "the Five C's". The state's economy has since diversified; higher education, healthcare and transportation are major contributors to the state's present day economy.
Arizona's trade relationship with India remains limited, but there is scope for improvement. Arizona imported US $193 million from India in 2014, marking a steady increase in imports from India since 2011. Despite this, India is only the 17th largest exporter to Arizona.
The value of Arizona's exports to India does not rank within Arizona's top 25 recipients of its exports. However, some of Arizona's top international exports are highly sought after in India. Demand for top Arizona exports – such as civilian aircraft, electronics and semiconductors, defense equipment, machinery and medical devices – is growing in India. Meanwhile the Indian government has sought to incentivize foreign investment and develop infrastructure for these industries.

RELATED: Presidential Visit to Buoy U.S. – India Business Relationships
Investment Opportunities
Electronics and Semiconductors
A growing middle class and increased government expenditure has caused demand for electronics and semiconductors to grow substantially in India. Industry experts expect that the Indian market will require approximately US $400 billion in electronics goods between 2014 and 2020, but domestic manufacturers will only be able to produce US $100 billion in goods. This means that India will need to import US $300 billion in electronics over the next five years. Electronic System Design & Manufacturing (ESDM) companies in Arizona can take advantage of this demand shortfall by selling to the Indian market or establishing Indian subsidiaries.
India is one of the largest importers of defense equipment in the world. Long-standing internal and external conflicts have encouraged the Indian government to expand its military capability significantly, but the domestic defense industry has been unable to keep pace with the government's shopping list. As a result, India imports the vast majority of its military equipment; it spent US $5.57 billion on defense imports in 2014. Companies in Arizona that produce defense equipment should consider opportunities to sell to the Indian government and Indian firms that are attempting to modernize the country's military.
India currently imports roughly 70 percent of the medical devices in its market. Although medical devices were only worth US $6.3 billion in 2013, experts project the industry to grow to US $50 billion by 2025. This growth is facilitated by increased healthcare spending by the Indian middle class, as well as the development of medical tourism industry in India. Medical device manufacturers in Arizona can seek to sell to this market from abroad or manufacture in India through new foreign direct investment (FDI) laws in India, which now allows 100 percent FDI.
Tax Treaty – U.S. Trade with India
The U.S. has signed a Double Tax Treaty with India. This can reduce tax burdens under certain circumstances in both trade and any legal establishment. Please seek professional advice for specific India investment requirements.
Further Support from Dezan Shira & Associates
Dezan Shira & Associates can service Arizona-based companies that are looking to develop their Asia operations. The firm can help companies establish a direct office in the region and can guide them through the affiliated tax, legal and HR issues that come with doing so. To arrange a free consultation, please contact our U.S. office at usa@dezshira.com.
For further Arizona-Asia trade data, please see our related article on trade with China and Vietnam.

About Us
Asia Briefing Ltd. is a subsidiary of Dezan Shira & Associates. Dezan Shira is a specialist foreign direct investment practice, providing corporate establishment, business advisory, tax advisory and compliance, accounting, payroll, due diligence and financial review services to multinationals investing in China, Hong Kong, India, Vietnam, Singapore and the rest of ASEAN. For further information, please email india@dezshira.com or visit www.dezshira.com.
Stay up to date with the latest business and investment trends in Asia by subscribing to our complimentary update service featuring news, commentary and regulatory insight.

An Introduction to Doing Business in India 2015 (Second Edition)
Doing Business in India 2015 is designed to introduce the fundamentals of investing in India. As such, this comprehensive guide is ideal not only for businesses looking to enter the Indian market, but also for companies who already have a presence here and want to keep up-to-date with the most recent and relevant policy changes. We discuss a range of pertinent issues for foreign businesses, including India's most recent FDI caps and restrictions, the key taxes applicable to foreign companies, how to conduct a successful audit, and the procedures for obtaining an employment visa.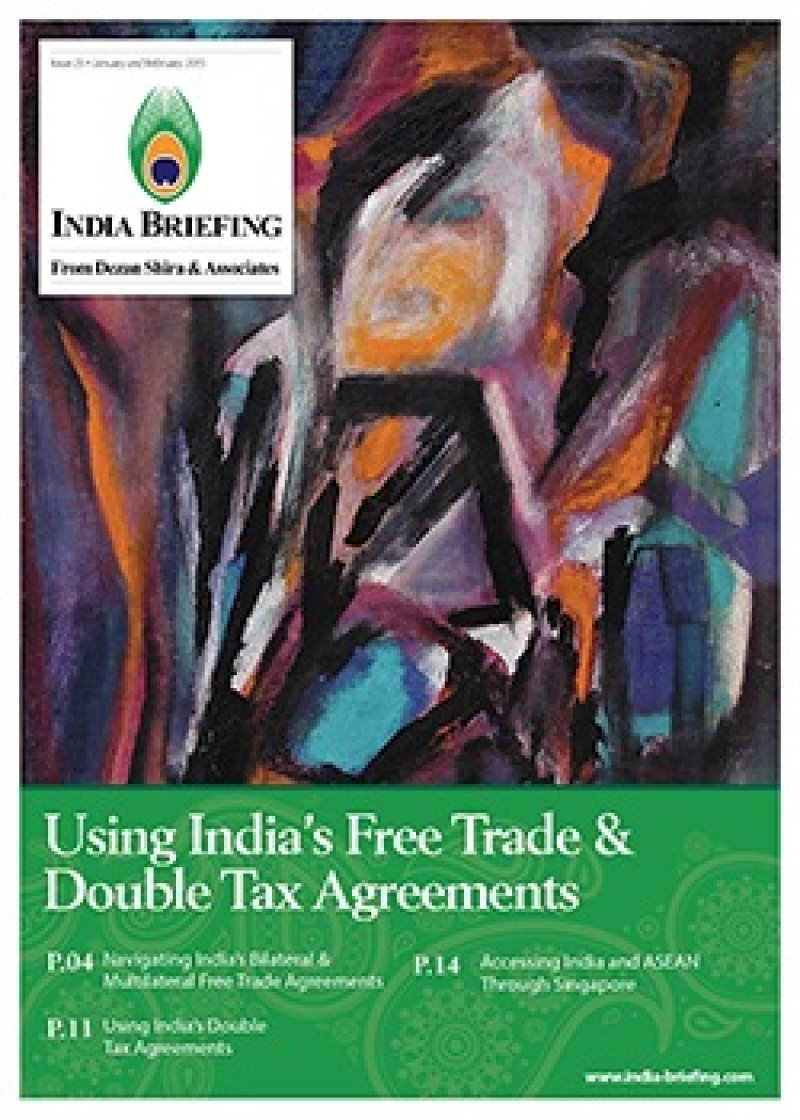 Using India's Free Trade & Double Tax Agreements
In this issue of India Briefing magazine, we take a look at the bilateral and multilateral trade agreements that India currently has in place and highlight the deals that are still in negotiation. We analyze the country's double tax agreements, and conclude by discussing how foreign businesses can establish a presence in Singapore to access both the Indian and ASEAN markets.

Passage to India: Selling to India's Consumer Market In this issue of India Briefing magazine, we outline the fundamentals of India's import policies and procedures, as well as provide an introduction to engaging in direct and indirect export, acquiring an Indian company, selling to the government and establishing a local presence in the form of a liaison office, branch office, or wholly owned subsidiary. We conclude by taking a closer look at the strategic potential of joint ventures and the advantages they can provide companies at all stages of market entry and expansion.