What's in India's PLI Scheme for the Automobile and Auto Components Industries?
On September 15, 2021, India's federal government approved a production-linked incentive (PLI) scheme for automobile and auto components with a budgetary outlay of INR 259.38 billion (US$3.50 billion) to boost domestic manufacturing capacity, including the production of electric and hydrogen fuel cell vehicles.
The latest in a series of emerging-industry focused PLI schemes, it aims to push forward India's transition to clean energy along with accelerating India's share in the global automotive trade (unit production and components). The PLI scheme for the automotive industry will be implemented over a period of five years, starting from FY 2022-23.
The PLI scheme will incentivize cost efficient manufacturing of high value advanced automotive technology vehicles and products like sunroofs, adaptive front lighting, automatic braking, tire pressure monitoring systems, and collision warning systems, etc.
According to the recently released report by credit ratings agency ICRA, the PLI scheme will not only boost localization, but also accelerate investments towards developing a local EV ecosystem and has the potential to make India an export hub in the global auto supply chain. This scheme will aid in expanding India's participation in the global supply chains of these advanced automotive technology products by encouraging the local industry to make fresh investments to the tune of INR 425 billion (US$5.73 billion) over the next five years. These investments are further expected to translate into an incremental production of over INR 2.3 trillion (US$30.69 billion).
The PLI scheme for the automotive industry intends to promote higher-tech green manufacturing, and will benefit from the INR 181 billion (US$2.42 billion) PLI scheme for advanced chemistry cell manufacturing as well as the Faster Adoption of Manufacturing of Hybrid and Electric Vehicles (FAME) scheme. These schemes are likely to become essential to India's clean energy goals, enabling the country to transition from fossil fuel-dependencies to an environmentally sustainable and more efficient electric vehicle (EV)-based transportation system. Consequently, it will facilitate India's commitment towards reducing carbon emissions and oil imports.
Which auto components will be target beneficiaries of the PLI scheme?
The PLI scheme will incentivize only makers of advanced automotive technologies or auto components – whose supply chains are weak, dormant, or non-existent. It is open to both the existing companies as well as new investors. This scheme excludes conventional petrol, diesel, and CNG segments (Internal Combustion Engine) since these segments have sufficient capacity in India.
The PLI scheme targeting auto parts include the following component schemes:
Champion Original Equipment Manufacturers (OEM) Scheme: It is a sales value linked plan, applicable to battery electric and hydrogen fuel cell vehicles of all segments.
Champion Incentive Scheme: It is a sales value linked plan for advanced technology components, complete and semi-knocked down (CKD/SKD) kits, vehicle aggregates of two-wheelers, three-wheelers, passenger vehicles, commercial vehicles and tractors, including automobiles meant for military use and any other advanced automotive technology components prescribed by the Ministry of Heavy Industries – depending upon technical developments.
Key guidelines for PLI scheme approvals
An approved applicant shall be eligible for benefits for five consecutive financial years with FY 2020 being treated as the base year for calculation of eligible sales. The eligibility criteria have been specified below.
Eligibility criteria for existing automotive companies
An existing automotive company or its group companies will be required to meet the basic eligibility criteria to receive incentives.

Eligibility criteria for new non-automotive companies
A new non-automotive investor company or its group companies will be defined as those who have no revenue from the manufacturing of automobile or auto components as on March 31, 2021. They can qualify for the PLI scheme provided they present a clear business plan to invest in India and generate revenues from advanced automotive technology vehicles or advanced automotive technology components manufacturing. A new applicant must satisfy the entire eligibility criteria.

Minimum new cumulative domestic investment criteria
Besides the above eligibility criteria, the Minimum New Cumulative Domestic Investment has to be achieved by both the existing automotive companies as well as the new non-automotive investor companies starting from April 1, 2021.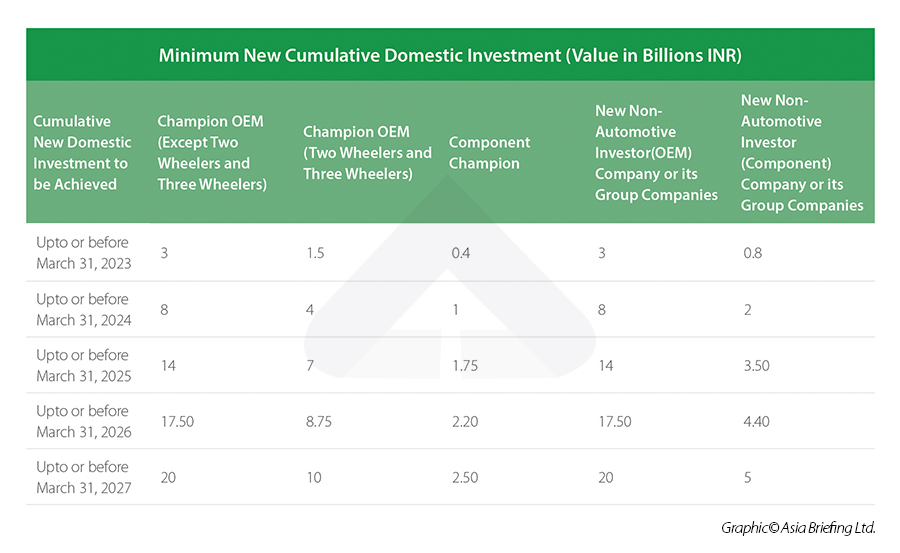 Incentive Slabs for Champion OEM and New Non-Automotive (OEM) Investor Company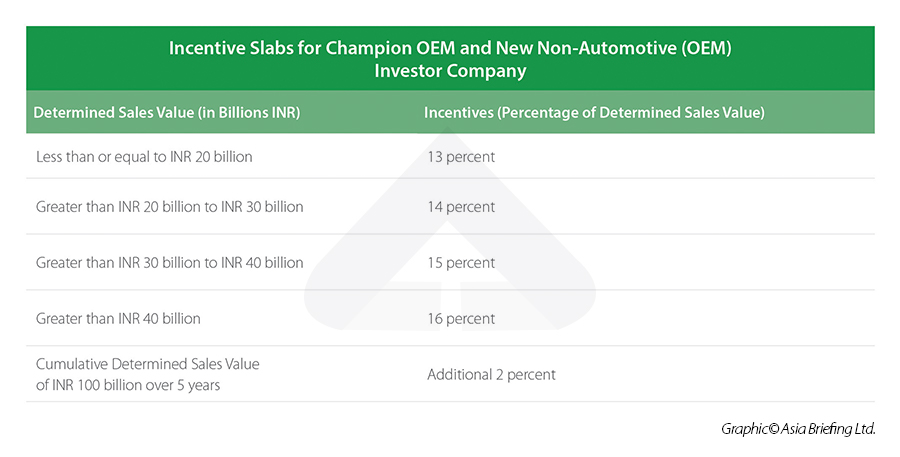 Here it must be noted that only those battery EVs will be eligible for incentives, which meet the performance criteria of the FAME-II scheme or as notified from time to time by the Ministry of Heavy Industries.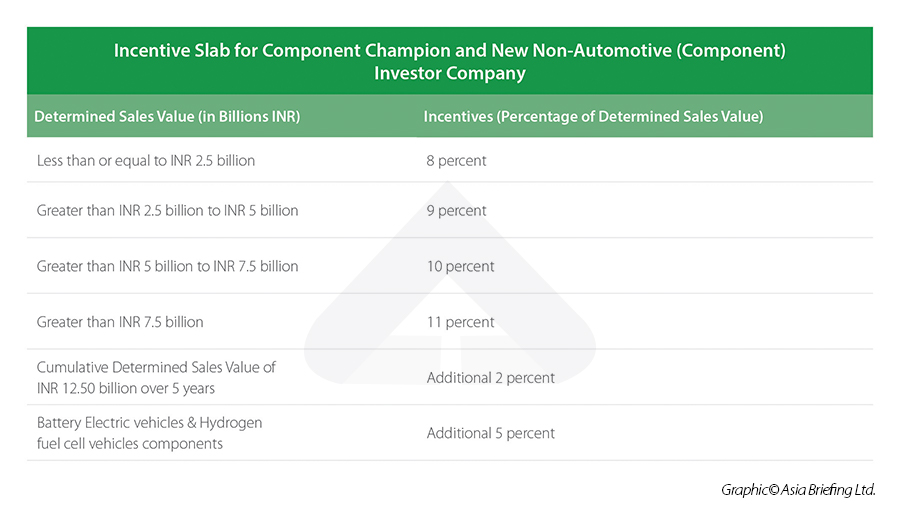 ---
About Us
India Briefing is produced by Dezan Shira & Associates. The firm assists foreign investors throughout Asia from offices across the world, including in Delhi and Mumbai. Readers may write to india@dezshira.com for more support on doing business in in India.
We also maintain offices or have alliance partners assisting foreign investors in Indonesia, Singapore, Vietnam, Philippines, Malaysia, Thailand, Italy, Germany, and the United States, in addition to practices in Bangladesh and Russia.