By Dezan Shira & Associates
Publications Editor: Samuel Wrest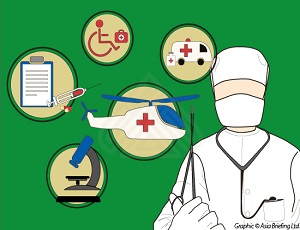 This year, India's medical devices industry will be opened up to 100 percent foreign direct investment (FDI).  The move had been in the works for some time – India's union cabinet met last year to discuss the reform, while the industry's regulatory framework has been tweaked several times since it was first introduced in 2005.
India presents an attractive market opportunity for global medical device manufacturers, but the country has never been able to tap into its potential as a domestic manufacturing base. Despite having a medical device market that ranks in the world's top 20, the industry has a long history of being under-resourced.
The new FDI cap will spur foreign investment in India's domestic medical device industry. However, companies should be careful when planning their entry strategy. The type of entity a firm chooses and the state they choose to locate it in is influential, and a thorough understanding of the industry's various regulations is absolutely necessary.

Investing in India's Emerging Wine Industry
Direct Investment
When foreign entities invest in India, their investment will go through one of two FDI routes, which affects the amount they are able to invest and the investment timeline The two routes are:
The Government Route: For investment in business sectors requiring prior approval from the Foreign Investment Promotion Board (FIPB)
The Automatic Route: For investment in business sectors that do not require prior approval from the government
India previously permitted 100 percent FDI in its medical devices industry through the government route, which has been widely identified as a key reason for the sector's poor investment inflows. However, the government has said that India's domestic firms will not be able to invest the kind of capital that the sector needs. Increased FDI is therefore seen as the primary way to see the industry grow. 
The decision to change the investment route had an almost instant impact on the shares of domestic Indian medical device manufacturers. Opto Circuits (India) Ltd saw a sharp rise of 16 percent, while Siemens India rose by 2.2 percent. Local analysts expect this trend to continue.  
Although the changes in FDI policy will go some way to improve the sector, there are a number of other problems that could deter foreign investors from manufacturing in India. High tax rates imposed on domestic manufacturers have made investment unappealing to some foreign companies, especially given the comparatively low amount of tax levied on imported medical goods. It is therefore hardly surprising that foreign firms often choose to access India's medical market without establishing a direct presence – many companies establish factories in neighboring China and export devices into India.

Market Overview: The Medical Devices Industry in China
Importing Medical Devices 
Accessing India's medical devices industry through an indirect route remains attractive to foreign firms. India is heavily reliant on foreign imports:  70 percent of its medical devices and equipment are outsourced from other countries, particularly from the U.S.
Medical device companies that have already been approved in the U.S., Europe, Canada, Japan or Australia are able to legally sell in India. Prior to starting the import process, firms must prepare and submit a technical dossier; documents that clearly detail the type of devices intended for import and their associated risks. Devices with higher levels of risk to patients, and which necessitate greater control for safe use, will require a longer dossier and will further be subject to stricter checks. Should the dossier be found to lack all relevant information, it will likely be rejected.
If a company does not have a branch office in India, it will have to contract an importer that possesses a valid import license. Doing so is often a difficult process for companies that have not sourced a consultant, and should not be completed without first conducting a thorough due diligence of the prospective candidate.   
India's Domestic Market 
The global size of the medical devices sector is predicted to reach US $400 billion this year. However, India – a key player in the global pharmaceuticals industry, of which medical devices used to be covered – is underperforming. The country's market share stood at US $6.3 billion in 2013, contributing around 7-8 percent to overall healthcare spending in India as opposed to the 18 percent contributed by pharmaceuticals. With per capita spending estimated to be at less than US $3, it is understandable that the government feels FDI is the only way to spur domestic growth.
Despite such figures, India's medical devices sector is expected to experience unprecedented growth during the next decade. By 2025, the industry is projected to be worth US $50 billion. This can be attributed to the country's growing middle class, an increase in the number of hospitals and, consequently, a greater need for sophisticated medical devices and better healthcare.

About Us
Asia Briefing Ltd. is a subsidiary of Dezan Shira & Associates. Dezan Shira is a specialist foreign direct investment practice, providing corporate establishment, business advisory, tax advisory and compliance, accounting, payroll, due diligence and financial review services to multinationals investing in China, Hong Kong, India, Vietnam, Singapore and the rest of ASEAN. For further information, please email india@dezshira.com or visit www.dezshira.com.
Stay up to date with the latest business and investment trends in Asia by subscribing to our complimentary update service featuring news, commentary and regulatory insight.


Establishing Your Sourcing Platform in India
In this issue of India Briefing, we highlight the advantages India possesses as a sourcing option and explore the choices available to foreign companies seeking to create a sourcing presence here. In addition, we examine the relevant procurement, procedural and tax duty concerns involved in sourcing from India, and conclude by investigating the importance of supplier due diligence – a process that, if not conducted correctly, can often prove the undoing of a sourcing venture.

Taking Advantage of India's FDI Reforms
In this edition of India Briefing Magazine, we explore important amendments to India's foreign investment policy and outline various options for business establishment, including the creation of wholly owned subsidiaries in sectors that permit 100 percent foreign direct investment. We additionally explore several taxes that apply to wholly owned subsidiary companies, and provide an outlook for what investors can expect to see in India this year.
China Investment Roadmap: The Medical Device Industry
In this issue of China Briefing, we present a roadmap for investing in China's medical device industry, from initial market research, to establishing a manufacturing or trading company in China, to obtaining the licenses needed to make or distribute your products. With our specialized knowledge and experience in the medical industry, Dezan Shira & Associates can help you to newly establish or grow your operations in China and beyond.