India COVID-19 Vaccine Development and Availability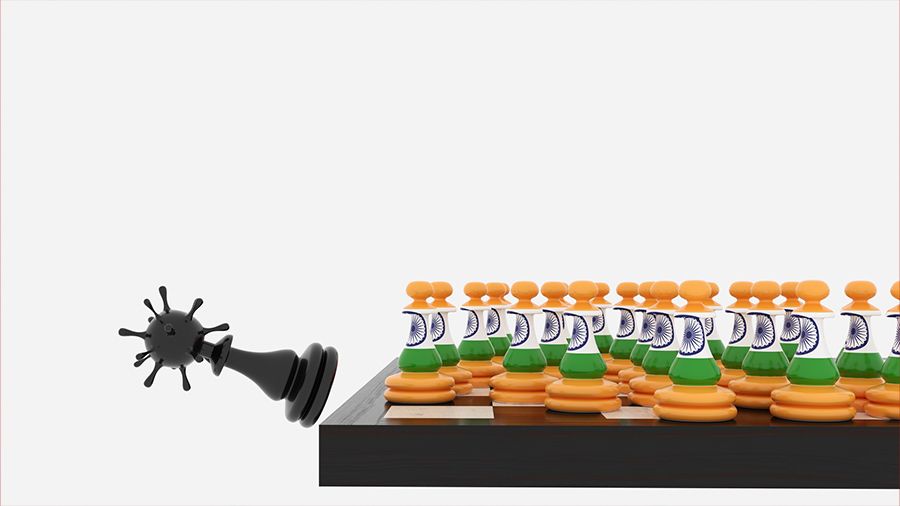 India's COVID-19 vaccination drive will start January 16, 2021. According to Chief Minister Arvind Kejriwal, the vaccination will be administered on four days a week in the capital Delhi: Monday, Tuesday, Thursday, and Saturday. Frontline and healthcare workers are the priority recipients of the COVID-19 vaccine in this phase.
Covishield produced by the Serum Institute of India (Oxford-AstraZeneca vaccine) and Bharat Biotech's Covaxin are available for India's initial COVID-19 vaccination drive.
Indian government partnering with Russian, British, and domestic firms for vaccine production.

Two shot treatments could start to be available from January 2021.
Competitive consumer pricing agreed with BRICS nations.
Latest updates
India could approve 4 more vaccine contenders by June-July to strengthen India's stockpile, as per officials quoted in the media.
India's COVID-19 vaccination drive will start January 16, 2021. According to Chief Minister Arvind Kejriwal, the capital Delhi has received 274,000 vaccine doses from the central government, which will be administered from 81 centers initially and, subsequently, from 175 centers and then 1,000 centers across the city. The vaccination will be administered on four days a week: Monday, Tuesday, Thursday, and Saturday. Frontline and healthcare workers are the priority recipients of the COVID-19 vaccine in this phase.
India reportedly expects Oxford-AstraZeneca's Covishield and Bharat Biotech's Covaxin to be available for emergency roll-out by January-February 2021, and around four vaccines by the end of April 2021. The current objective is to vaccinate a priority population of around 300 million Indians by July 2021. On late Sunday evening, December 6, Covishield applied for emergency approval; Covaxin is expected to get approved for emergency use by the end of January or early February by current estimates.
COVID-19 vaccine candidates in India
The Russian Direct Investment Fund (RDIF) and India's pharmaceutical company Hetero have entered into an agreement to produce more than 100 million doses of Russia's Sputnik V coronavirus vaccine per year in India, producers of the vaccine said in a statement recently. The sides plan to start the vaccine production in early 2021, according to the statement. 
The Sputnik V vaccine was developed by the Gamaleya Research Institute (GRI) of Epidemiology and Microbiology and was registered by Russia's Health Ministry earlier this year, becoming the world's first registered vaccine against COVID-19. It underwent clinical trials in June and July. On August 15, Russia's Health Ministry announced the start of its production. The third – post approval – stage of clinical trials of the Russian vaccine began on August 25. 
The efficacy of the Sputnik V vaccine exceeds 95 percent, 42 days after the first dose, provided that the patient receives the second dose, according to interim analysis results.
More than 50 countries have applied for purchase of over 1.2 billion doses of Sputnik V. The vaccine supplied to overseas markets, will be produced by international partners of the Russian Direct Investment Fund in India, Brazil, China, South Korea, and other countries, and has been arranged through close cooperation between India and Russia through joint membership of institutions, such as the recent BRICS summit, which India's Prime Minister Narendra Modi and Russian President Vladimir Putin attended along with counterparts from Brazil, China, and South Africa. 
Indian government backing for COVID-19 vaccine development was made clear by India's health minister Harsh Vardhan through an announcement of a US$120 million grant for COVID-19 vaccine research at that meeting, through the BRICS Science, Technology, and Innovation Cooperation session. 
India is also looking at producing a vaccine named Covishield developed at Oxford University in the UK. The Serum Institute of India (SII), the world's largest vaccine manufacturer by volume, and the Indian Council of Medical Research (ICMR) announced completion of enrolment for phase 3 clinical trials of Covishield in India, according to a 11 November statement by SII. Under a private-public partnership between SII and ICMR, phase 2 and 3 clinical trials of the vaccine are being conducted at 15 different centres across the country with a planned roll out in the next few weeks. 
The Drugs Controller General of India (DCGI) has also permitted locally produced  vaccines – one developed by Bharat Biotech of Hyderabad in collaboration with the Indian Council of Medical Research and another one by Zydas Cadila Healthcare of Gujarat. Both are now in the second phase of human clinical trials.
These vaccines are all based on well proven and understood technology that uses dead samples of COVID-19 to produce an immune reaction. This is a different technology than that being developed in the United States, which is genetically modifying an existing, harmless virus by inserting a COVID-19 gene into it. Although such vaccines are marginally safer, there are transportation and distribution difficulties as they require sub-zero temperature storage.     
There are also some drawbacks with the Indian, Russian, and British vaccines being trialed in India as they require two shots to be effective and can induce a negative reaction in a small minority of patients. On the other hand, they can be stored at cool room temperatures. It is for this reason that vaccines such as these are likely to be in demand in the Middle East, countries like India, and across Africa, much of South-East Asia, and South America.  
However, India has thus far not signed a deal for the coronavirus vaccine yet, which makes timelines for country-wide roll-out unclear at the present. Still, subject to approval of domestic regulators, the vaccine is likely to be rolled out next year (similar to other countries) and in phases, targeting the most vulnerable beneficiaries on a priority basis, such as frontline healthcare workers.
Our most recent December business update concerning the COVID-19 situation in India has just also just been published and can be read here.
Related Reading