India's Pharmaceutical Industry – Foreign Investment Opportunities, Incentives
India's pharmaceutical industry is among the leading global producers of cost-effective generic medicines and vaccines, supplying 20 percent of the total global demand by volume and 62 percent of the global demand for vaccines.
India ranks third worldwide for pharmaceutical production by volume and 14th by value. The country has an established domestic pharmaceutical industry, with a strong network of 3,000 drug companies and about 10,500 manufacturing units.
Out of these, more than 2,000 units are World Health Organization (WHO) good manufacturing practice (GMP) approved; 253 are European Directorate of Quality Medicines (EDQM)-approved plants; 1,105 have Europe's Certificate of Suitability (CEPs); more than 950 match therapeutic goods administration (TGA) guidelines; and 584 sites are approved by the US Food and Drug Administration (US FDA).
The pharmaceutical industry in India produces a range of bulk drugs, which are the key acting ingredients with medicinal properties that form the basic raw materials for formulations. 
Bulk drugs account for roughly one-fifth of the industry output while formulations account for the rest. India also has the expertise for active pharmaceutical ingredients (APIs) and sees significant opportunities for value-creation. India is the source of 60,000 generic brands across 60 therapeutic categories and manufactures more than 500 APIs. According to the Confederation of Indian Industry, India's API industry is ranked the third largest in the world, and the country contributes approximately 57 percent of APIs to the pre-qualified list of the WHO.
Indian companies supply over 80 percent of the anti-retro-viral drugs used globally to combat AIDS (Acquired Immuno Deficiency Syndrome). Since the COVID-19 pandemic broke out this year, most Indian vaccine companies have reportedly been working closely with academic research institutions and major pharma companies outside the country.
Six domestic firms – Aurobindo, Cipla, Desano, Emcure, Hetero Labs, and Laurus Labs have a sub license with the UN-backed Medicines Patent Pool to manufacture anti-AIDS medicine TenofovirAlafenamide (TAF) for 112 developing countries.
Key players in the industry
India's generic drug producers hold a strong position in the global supply chain and play an integral role in developing the pharmaceutical industry.
Some of the major domestic players in the industry include Sun Pharmaceutical Industries, Cipla, Lupin, Dr. Reddy's Laboratories, Aurobindo Pharma, Zydus Cadila, Piramal Enterprises, Glenmark Pharmaceuticals, and Torrent Pharmaceuticals.
Major pharmaceutical clusters
Andhra Pradesh, Gujarat, Maharashtra, and Goa are the major pharmaceutical manufacturing clusters in the country. The bulk drug clusters are located primarily in Ahmedabad, Vadodara, Mumbai, Aurangabad, Pune, Hyderabad, Chennai, Mysore, Bangalore, and Visakhapatnam (Vizag).
The pharmaceutical hubs offer investment opportunities in the production of API or bulk drugs, biosimilars, vaccines, neutrceuticals, as well as food and drug testing and contract research.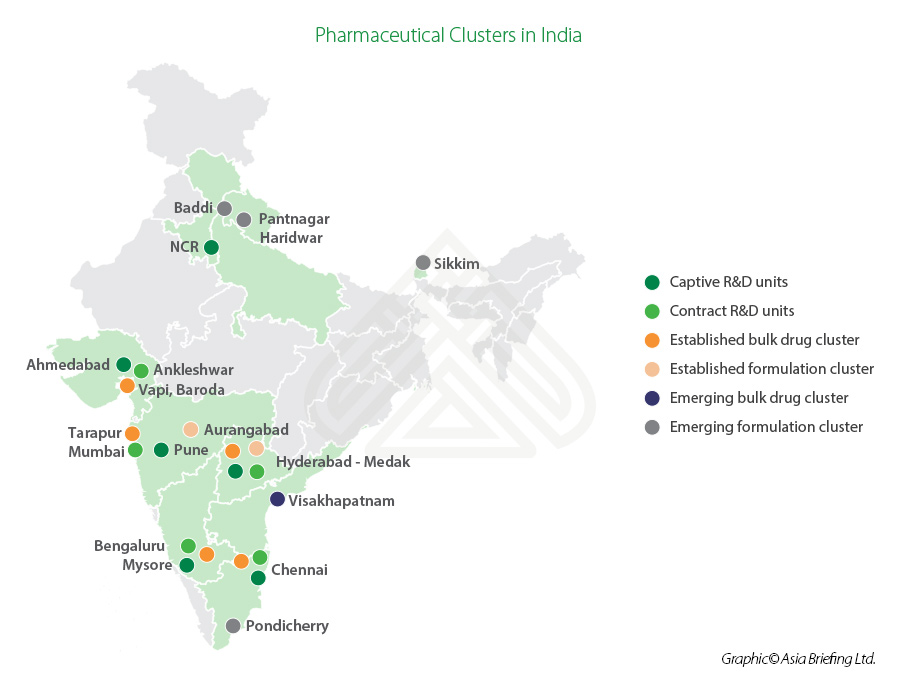 Foreign direct investment
India's current foreign direct investment (FDI) policy allows 100 percent FDI under automatic route in greenfield pharmaceutical projects and 74 percent FDI under the automatic route in brownfield projects – upwards of which can still be allowed through the government approval route.
India recently announced the setting up of three bulk drug parks and a production linked incentive scheme for promotion of domestic manufacturing of critical Key Starting Materials (KSMs), drug intermediates and APIs under which they will be eligible for financial incentives on the basis of their sales for the first five to six years. Since March this year, India has fast-tracked clearances for bulk drug production setups in the country to ramp up domestic production.
Under the green field category, companies establish their subsidiary and start their own production by constructing new plants or facilities from the ground up. Whereas, under brownfield investment, companies buy or lease existing facilities to begin a new production activity.
The government is now courting foreign investment from Latin American and Caribbean countries as well, given the benefits of setting up in India and the market access that opens up for investors. According to Chemicals and Fertilizers Minister D V Sadananda Gowda, drug companies based in India will be access not just the domestic market but also US, Japan, the EU, and Southeast Asia through India as a production base.
Export trends
Considered to be a high-quality generic manufacturer across the globe, India exports half of its total production of pharmaceuticals to more than 200 countries in the world.
In 2017-18, India exported pharmaceuticals products worth US$17.27 billion. In 2018-19, India's pharmaceuticals exports were worth US$19.3 billion, showing a growth of 10.72 percent year on year. In 2019-20, exports grew to US$20.5 billion. By 2020-21, the industry estimates exports to grow to US$25 billion. This year, India's pharma exports in the first six months amounted to US$11.38 billion, which was nearly 15 percent higher than in the same period last year. This is significant, because according to the Pharmaceutical Export Council of India (Pharmexil), 55 percent of Indian exports are to highly regulated markets.
The US is the most lucrative generics market for India's pharma industry. It is valued at around $60 billion and accounts for about 25 percent of India's total shipment. In 2017-18, India exported about US$3.21 billion worth of generic drugs to the US, despite the tough regulatory environment in the country.  
With branded drugs going off patent during 2017-19, research agencies estimate the export of generic drugs to the US to rise by about US$55 billion. India's other important export destinations include the United Kingdom, South Africa, Russia, and Nigeria.
Contract manufacturing and research services in India
The rising costs and regulatory pressure in developed markets are forcing many global pharmaceutical companies to reduce their internal capacities in research and development (R&D), and manufacturing, and turn to contract manufacturing and research services (CRAMS), and outsourcing of research and clinical trials to developing countries.
These strategies help multinational companies reduce costs, increase development capacity, and focus on their core profit makings activities, such as drug discoveries and marketing, rather than on manufacturing.
India, with a large patient population and genetic pool, is fast emerging as a preferred destination for such multinationals seeking efficiencies of cost and time. The country's CRAM industry offers a significant cost-quality proposition, with potential savings of about 30-40 percent compared to western markets such as the US and Europe.
Since the amendment to Patents Act in 2005, many Indian pharmaceutical companies have gradually moved away from generic production to the development of new drugs, exports to regulated markets and cooperative agreements with global pharma companies.
Advantage India
A US$33 billion opportunity, the pharmaceutical industry in India presents considerable potential for collaborative and outsourced R&D in drug development, biotechnology, chemicals, and manufacturing of medicinal products. The pharmaceutical industry is projected to grow to be worth US$65 billion by 2024.
India's CRAM sector is globally recognized for its high-end research services and is one of the fastest growing segments of the country's pharmaceutical industry. In fact, India holds 12 percent of all global manufacturing sites catering to the US market.
The country has a low-cost of production, low R&D costs, innovative scientific manpower, and a large number of national laboratories that have the potential to steer the industry ahead to a higher level. As per industry analysts, the cost of manufacturing in India is approximately 33 percent lower than that of the US.
Besides, India is the only country in the world that has the highest number of US FDA-approved plants for generic drug manufacturing (more than 262 including active pharmaceutical ingredients) outside the US. Some of the leading Indian pharma companies derive about 50 per cent of their turnover from exporting generic medicines to developed markets like the US and Europe.
India has also made changes to its regulatory regime, enacting the New Drug and Clinical Trial Rules, 2019 last year under the aegis of the Drugs and Cosmetics Act, 1940, thereby bringing an end to a long-drawn-out process to codify the rules applicable to clinical trials.
This article was originally published on January 25, 2019. It was last updated November 25, 2020.