Shopping Festivals in India – A Key Promotional Tool for Retailers
By Vasundhara Rastogi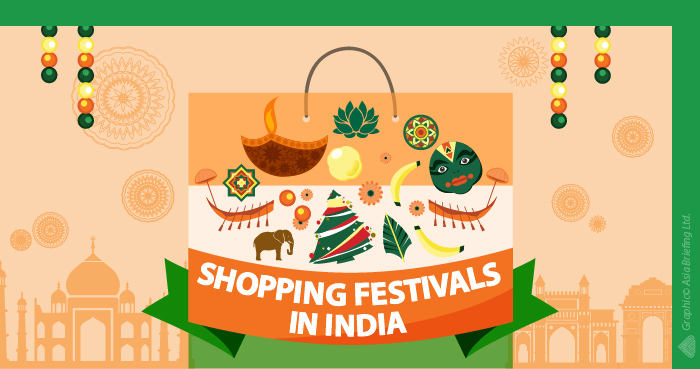 It is festival season again in India.
Brick and mortar retailers and e-commerce platforms are gearing up with additional stock, hiring more employees, and launching attractive deals and offers.  
Last week, the e-commerce giant Amazon and home-grown rival Flipkart rolled out their first round of pre-festival sales – the Great Indian Festival and the Big Billion Day, respectively – offering high discounts and deals across key consumer durable categories such as smartphones, home appliances, electronics, and fashion. In five days, the two e-commerce companies generated US$1.5 billion (Rs 9,000 crore) of sales, showing a 40 percent year-on-year growth in comparison to last year's US$1.05 billion.
The numbers demonstrate the growing significance of festivals in India's consumer market.
In this article, we provide an overview of some of India's main festivals, and discuss how businesses can use the festive period to enhance their sales. 

RELATED: Pre-Investment, Market Entry Strategy Advisory
Festivals in India
India is home to a number of tribes, religions, and ethnic groups, and celebrates festivals in different forms throughout the year.
However, in terms of business and overall consumer market sentiment, the months starting from September to December are usually regarded as the main 'festive season' in the country.
Some of the most widely celebrated festivals falling in this season are given below.
Onam
Onam is a harvest festival celebrated by Malayalees – a dominant linguistic group in the southern state of Kerala. The festival falls in the first month of the Malayalam calendar, which corresponds with the period from August to September in the Gregorian calendar, and lasts for four to ten days.
Onam is the biggest festival in Kerala, and is seen as a test market by retail companies for the ensuing festive season in the country. Correspondingly, brands come out with customized marketing strategies to maximize sales and revenue.
This year, Onam began on August 25 and ended on September 6.

RELATED: Business Intelligence Solutions
Ganesh Chaturthi
Ganesh Chaturthi is Maharashtra's biggest festival that worships the Hindu god Ganesha. Brands often join the festive fervor with campaigns that express the devotion of people towards Lord Ganesha.
As things bought during the ten-day period are considered auspicious, the business payback from Chaturthi is vast, especially for gold dealers, automobile sellers, and businesses supplying fruits, sweets, and flowers.
This year, Chaturthi began on August 25 and ended on September 26 – coinciding with the southern festival of Onam, adding extra fervor to the season's business.
Navratri, Dussehra, and Durga Puja
A nine-day festival worshipping all the manifestations of the mother goddess, Navratri is celebrated across India. The tenth day is called Dussehra, which commemorates the killing of Ravana – a demon god in Hindu mythology, by Lord Rama.
In southern states, the day is dedicated to the worshiping of three Hindu goddesses; in east India, people celebrate the goddess Durga's victory over evil in a separate mythological narrative.  
In terms of market trends, Indian shoppers respond strongly to sales and offers during the Dussehra and Durga Puja festivals, as it marks the beginning of an auspicious period according to the Hindu calendar. This is why most sales and discount offers are made around this time to maximise sales and revenue.
This year, Dussehra and Durga Puja will be celebrated on September 30.

RELATED: Tapping into India's Dynamic Consumer Market – Major Patterns and Trends
Diwali
Diwali is called the festival of lights in India, and is celebrated in most parts of the country. Earlier, it was prominently celebrated in north India, but in recent years, it has become popular across India.
It is considered as the main gifting season for Indians, and witnesses the highest sales on days leading up to Diwali, especially on the day of Dhanteras: where "Dhan" means wealth. Dhanteras is the day when most Indians consider it auspicious to buy gold and other precious metals, household appliances, and automobiles.
This year, Diwali will be celebrated on October 19.
Christmas
Like elsewhere around the world, Christmas is hugely popular in India. It is celebrated among all religions and ethnic groups with equal vigor – shopping being the focal point of the holiday.
After a temporary spending dip in the post-Diwali period, the Indian market sees a huge surge in sales during Christmas with retailers re-launching their festive offers.

RELATED: E-commerce in India: Market Trends and Regulations 
India's festive season – A great promotional tool for retailers
In India, the festival season offers a great opportunity for businesses to reconnect with current and prospective clients and customers. Additionally, it allows companies to launch new products, increase brand penetration, and make their products more accessible in the market.
Customs and traditions related to gifting are also on the rise as the increased spending capacity of India's consumers grows, leading to high sales across all categories of consumer products during the festive season.
This year, market analysts expect consumer durables to see a 10 to 20 percent increase in sales at the end of the season as compared to this period last year.
The high demand is estimated mainly because of the constrained demand built in the run-up to the launch of the goods and services tax (GST) in July, a rise in rural demand owing to a good monsoon, and overall consumer confidence in the economy.
The online market, dominated by Amazon and Flipkart, have become an important part of India's festive season. Their shopping festivals form huge calendar events that attract millions of Indian online shoppers each year. As these online platforms play an integral role in encouraging consumers to experience new products and brands, they present a great opportunity for foreign brands to successfully tap into India's growing consumer market and preferences.
About Us
India Briefing is published by Asia Briefing, a subsidiary of Dezan Shira & Associates. We produce material for foreign investors throughout Eurasia, including ASEAN, China, Indonesia, Russia, the Silk Road, & Vietnam. For editorial matters please contact us here and for a complimentary subscription to our products, please click here.
Dezan Shira & Associates provide business intelligence, due diligence, legal, tax and advisory services throughout India and the Asian region. We maintain offices in Delhi and Mumbai and throughout China, South-East Asia, India, and Russia. For assistance with India investment issues or into Asia overall, please contact us at india@dezshira.com or visit us at www.dezshira.com.
Related Reading:
Dezan Shira & Associates is a pan-Asia, multi-disciplinary professional services firm, providing legal, tax and operational advisory to international corporate investors. Operational throughout China, ASEAN and India, our mission is to guide foreign companies through Asia's complex regulatory environment and assist them with all aspects of establishing, maintaining and growing their business operations in the region. This brochure provides an overview of the services and expertise Dezan Shira & Associates can provide.
---

The third edition of Tax, Accounting and Audit in India is updated for 2017, and provides an overview of the fundamentals of India's tax, accounting, and audit regime. The guide also includes a detailed introduction of the Goods and Services Tax (GST) that was launched on July 1, 2017, representing the complete transformation of India's indirect taxation structure. 
---

In this issue of India Briefing Magazine, we discuss payroll processing and reporting in India, and the various regulations and tax norms that impact salary and wage computation. Further, we explain India's complex social security system and gratuity law, and how it applies to companies. Finally, we describe the importance of IT infrastructure, compliance, and confidentiality when processing payroll in India.