Chinese Investment into Digital India Confirms Key Market Dynamics
By Bradley Dunseith

Between June and August 2016, Chinese firms invested US$2.3 billion into India. To put this in context, mainland China FDI into India totalled US$1.2 billion between April 2000 and September 2015. But Chinese FDI into India was proliferating even before this recent surge.
Chinese investors have been targeting India's digital sector – a break from China's FDI trajectories in other Asian markets. In most of Asia, China's investment focuses on infrastructure, extractive, and manufacturing industries; in India, Chinese investors are strengthening India's digital ecosystem.
What sparked China's recent interest in India after over a decade of neglect?

 RELATED: Corporate Establishment Advisory
China's pattern of investments in India
From 2014 to 2015, mainland China FDI into India has grown either by 200 percent or 600 percent – depending on which of the two countries reported it. India's Department of Industrial Policy and Promotion (DIPP) claimed Chinese per annum FDI rose from US$123.99 million in 2014 to US$494.75 million in 2015; Global Times, China's state owned media outlet, said the figure rose from roughly US$145 million in 2014 to US$870 million in 2015.
Official records have not been able to keep up with China's recent increase in investment. Likewise, Chinese firms have not always publicized their investments. However, recent highly publicized investments show China FDI in India is undergoing a sea change.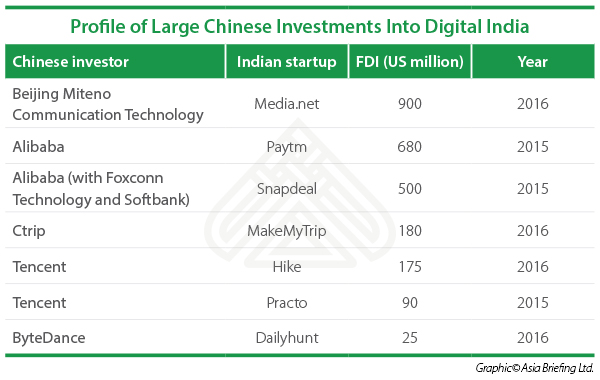 In the last two years, Chinese firms have invested hundreds of millions of dollars into Indian digital startups. These figures – not yet included into official Indian records – significantly increase the volume of Chinese FDI going into India. It also redirects Chinese investment into a new market.
China's Indian investments have traditionally been concentrated in the automobile industry and focused in the state of Gujarat – Prime Minister Modi's home state – among other locations.

But, in the last two years, Chinese firms have diversified their Indian investments into new industries while venturing into other states such as Maharashtra, Haryana, and Andhra Pradesh. Notably, the state governments in each of these states are aligned with the ruling Bharatiya Janata Party (BJP) federal government.
Compare Chinese investments into Indian digital startups with China's investment history in India. A single investment now overshadows an entire sector.

 RELATED: Tax Compliance Advisory
A renovation of China plus one for Digital India?
Chinese investments into India's digital sector represents a new take on the tried and tested China plus one model – shifting or expanding operations out of China to benefit from cheaper labor, new markets, and less domestic vulnerability.
In three major ways, however, Chinese companies are expanding on the China plus one model to enhance their ability to access Indian markets and deepen their presence in the burgeoning Indian digital sector.  
Importing best practices to a similar market
China and India are culturally and politically very different, however, their markets have important similarities. Both countries, for example, have massive populations with many first time cell phone users.
China has already utilized its considerable experience providing smart phones to its own domestic market to win over India's smart phone buyers. Indeed, Chinese brands now account for 51 percent of smart phone sales in India.  
Chinese companies can provide Indian digital startups with best practices for meeting the needs of a large-scale, technologically illiterate population. Using their experience from domestic markets, Chinese companies can solidify their presence in India's digital sector.
Bolstering India's digital sector
India's digital ecosystem is in its early stages; Chinese investors have great opportunities to become big players in this growing market. Small and medium enterprises (SMEs) in China will especially find more growth potential in India than in the Chinese digital sector, already controlled by large companies.
By investing in existing digital startups, Chinese companies can minimize the risk and operational costs of establishing an independent, competing presence.  Furthermore, it is in China's interests to see Indian digital startups flourish.
The rise of American e-giants like Amazon and Uber will reduce Chinese companies' space for international growth and even threaten their strongholds on domestic markets back home. During the war between Didi and Uber in China, for instance, Didi invested an unpublicized amount (estimated at US$10 million) into Ola – an Indian ridesharing startup currently in its own battle with Uber.
Promoting competition in India may save Chinese digital firms long term.
Integrating Chinese knowledge with Indian resources
India has a robust IT industry that operates at cheaper costs than in China. By investing into promising digital startups in India, China is in a unique position to not only help India's digital sector but to shape it. Chinese investors will then be able to utilize developments and innovations from India back into China's own digital ecosystem, and vice versa.
For many of the apps Indian startups are trying to develop, a Chinese equivalent already exists. Not only will such knowledge allow Chinese businesses to shape this industry, Chinese companies can integrate innovations from India into their Chinese operations.

 RELATED: Pre-Investment, Market Entry Strategy Advisory
China to become a big player in India
Despite the optimistic growth, China's FDI into India still pales in comparison to Chinese investments throughout the rest of South Asia. Comparatively, China is Pakistan's biggest foreign investor and has recently pledged a staggering US$55 billion to develop the China-Pakistan Economic Corridor. Bangladesh and Sri Lanka have also recieved significant investment from China.
The increase in Chinese investments into Indian startups, however, marks a change in how Chinese investors perceive opportunities in India. By investing millions of dollars into promising digital startups, Chinese companies are creating a long term presence in India's burgeoning digital sector.
Chinese companies are using their own experiences in markets domestically and across Asia to penetrate India's massive consumer market. Simultaneously, Chinese investors are strengthening India's domestic players at a time they are competing with Western companies.  
Following the success of recent investments, China could soon become one of India's top foreign investors.
About Us 
India Briefing is published by Asia Briefing, a subsidiary of Dezan Shira & Associates. We produce material for foreign investors throughout Eurasia, including ASEAN, China, Indonesia, Russia, the Silk Road, & Vietnam. For editorial matters please contact us here and for a complimentary subscription to our products, please click here.
Dezan Shira & Associates provide business intelligence, due diligence, legal, tax and advisory services throughout India and the Asian region. We maintain offices in Delhi and Mumbai and throughout China, South-East Asia, India, and Russia. For assistance with India investment issues or into Asia overall, please contact us at india@dezshira.com or visit us at www.dezshira.com.

Dezan Shira & Associates Brochure
Dezan Shira & Associates is a pan-Asia, multi-disciplinary professional services firm, providing legal, tax and operational advisory to international corporate investors. Operational throughout China, ASEAN and India, our mission is to guide foreign companies through Asia's complex regulatory environment and assist them with all aspects of establishing, maintaining and growing their business operations in the region. This brochure provides an overview of the services and expertise Dezan Shira & Associates can provide.
---

 An Introduction to Doing Business in India 2017
An Introduction to Doing Business in India 2017 is designed to introduce the fundamentals of investing in India. As such, this comprehensive guide is ideal not only for businesses looking to enter the Indian market, but also for companies who already have a presence here and want to stay up-to-date with the most recent and relevant policy changes.
---

Payroll Processing and Compliance in India
In this issue of India Briefing Magazine, we discuss payroll processing and reporting in India, and the various regulations and tax norms that impact salary and wage computation. Further, we explain India's complex social security system and gratuity law, and how it applies to companies. Finally, we describe the importance of IT infrastructure, compliance, and confidentiality when processing payroll in India.