A Guide to Minimum Wage in India in 2020
Foreign businesses in India can have a challenging time comprehending and calculating the minimum wage as they differ in every state, and are categorized under multiple criteria, such as region, industry, skills level, and nature of work.
Until last year, the minimum wage was regulated under the purview of the Minimum Wages Act, 1948. This changed last year after the parliament passed the Code on Wages Act, 2019 in August.
The Code on Wages Act replaces four labor regulations – Minimum Wages Act, 1948; Payment of Wages Act, 1936; Payment of Bonus Act, 1965; and Equal Remuneration Act, 1976.
The new wage code prohibits employers from paying workers less than the stipulated minimum wage. Further, minimum wages must be revised and reviewed by the central and state government at an interval of not more than five years.
This article will answer some frequently asked questions, including how minimum wages are calculated in India, what is the penalty for non-compliance, and what are some useful resources that hiring departments in foreign companies may refer to when assessing the country's labor costs.
---
WEBINAR on SEPTEMBER 24, 2020
India's economy is showing signs of recovery after witnessing major COVID-19 led business disruptions. What are the emerging opportunities and how should investors react? REGISTER TODAY
---
How is the minimum wage calculated in India?
The calculation of the minimum wage varies on the basis of the skill of the worker and the nature of their work. Broadly, workers in India are categorized as unskilled, semi-skilled, skilled, and highly skilled.
Currently, parameters from the Indian Labor Conference (ILC) of 1957 are used to calculate the minimum wage.
For instance, a normative family consists of husband, wife, and two children below the age of 14 years. The husband is assigned one unit, the wife 0.8 units, and children are assigned 0.6 units each. The minimum wage needs to address three consumption units.
At least 20 percent of the wage should fulfil the following minimum requirements:
Food: 2,700 calories per adult comprising 65 grams of protein and 45-50 grams of fat;
Clothing: 72 yards per year per family; and
Miscellaneous expenditure: such as fuel and lighting.
Also, the rent and housing allowance should be 7.5 percent of the total minimum wage.
Other parameters that must form the 25 percent of the total minimum wage are – education, medical needs, recreation for festivals, provision for old age, and provision for marriage.
Non-compliance penalty
Under the new wage code, the government will appoint inspectors-cum-facilitators to carry out inspections to ensure that the companies are compliant with the code. The penalty would depend on the nature of the offence. The maximum penalty is imprisonment for three months and/or a fine of up to INR 100,000 (US$1,405).
It is important that companies are compliant with the wage norms stipulated by the respective state government and industry body. Inspections are likely to be more stringent on companies with foreign investment, especially in the event of any labor unrest.
If workers are paid less than the government declared minimum wages, then they can file a complaint with the labor inspectorate. The complaint can be filed individually by the worker, or through a lawyer, or through an official of the registered trade union.
Why India has no national minimum wage
Under the Code on Wages Act, 2019, workers from all industries are entitled to receive minimum wages fixed by their respective state governments. Matters concerning labor and its welfare is categorized as both a state and central subject under constitutional law, thereby resulting in multijurisdictional regulation.
Earlier only workers from a particular set of industries (40 percent of the entire workers population) were entitled to receive minimum wages.
However, six months after passing the wage code, there has been no new development on implementing a national minimum wage for Indian workers.
In a media report, a government official was quoted saying that implementing the minimum wage plan was not a "priority right now as there are challenges at hand both at micro and macro levels." The report further elaborated that the government worried that hiking minimum wages at this time would negatively impact industry amid an economic slowdown.
Just in January this year, labor unions across the country observed a nationwide strike to protest the government's stalling on proposals in this regard and its inaction on increasing workers' minimum wages.
However, the report of the expert committee on determining the methodology for fixing the national minimum wage recently introduced a new formula to calculate the minimum wage.
According to the report published January 2019, it is suggested that the number of consumption units for each household should be changed to 3.6.
It is further suggested to increase the national minimum wage of an informal worker from INR 176 (US$2.8) to INR 375 (US$5.3) per month. A housing allowance of INR 1,430 (US$20) per month should be provided to workers in addition to the minimum wage.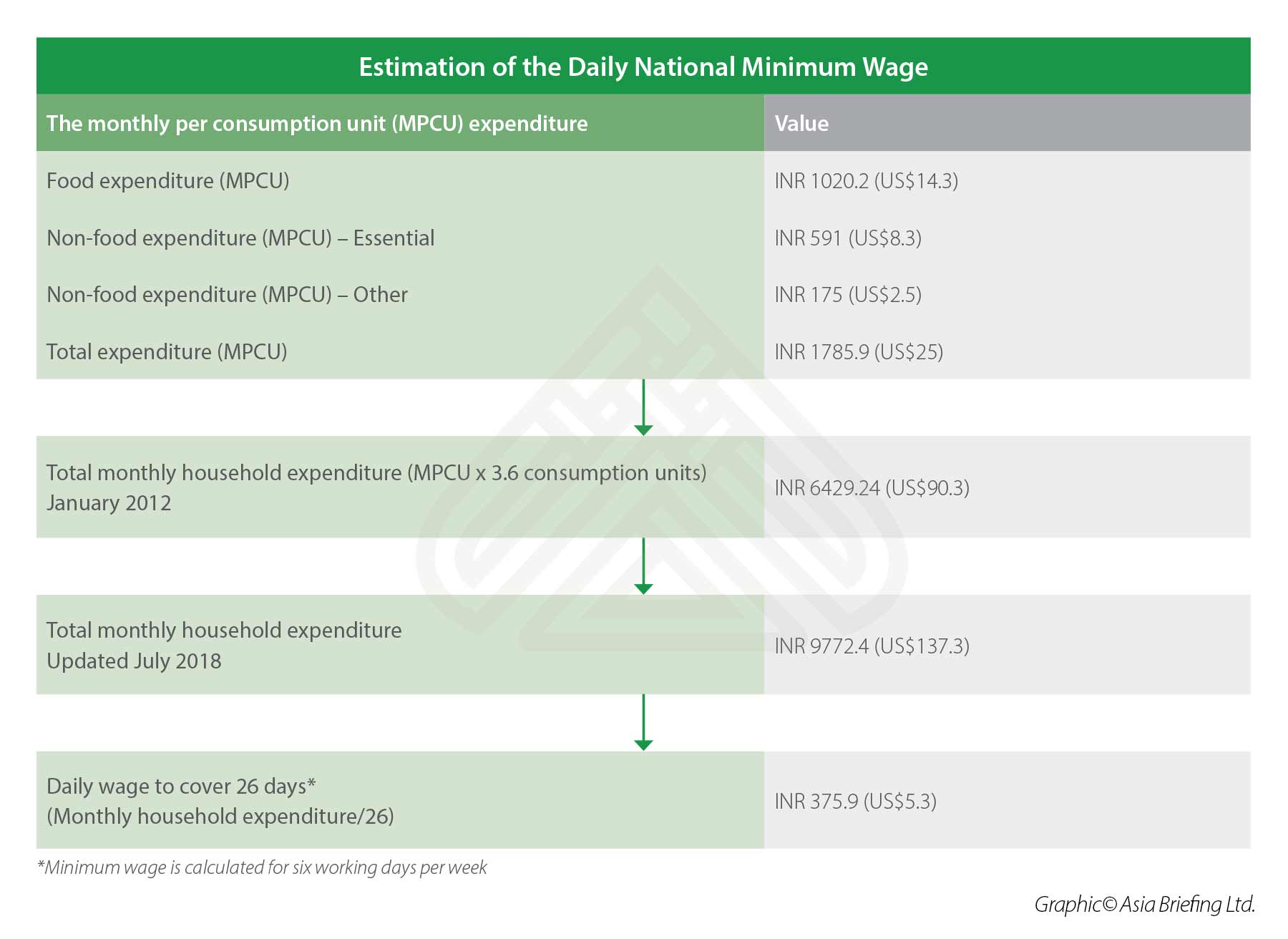 According to the International Labor Organization's report, more than 80 percent of Indian workers are employed in informal jobs, such as street vendors, craftsmen, and domestic workers.
The findings of this report is yet to be considered seriously by the government.
Seeking local expertise is important
Foreign entities doing business in India can learn more about the minimum wages in India through the Ministry of Labor and Employment database, which provides industry-wise wage norms. The new wage code can be accessed here, and the website for the chief labor commissioner can be accessed here.
Since determining wages in India is complex, and labor compliances are carefully monitored, it is recommended to seek advice from a local firm to assess costs and other liabilities. Otherwise the firm may be exposed to additional risks during times of labor unrest and strikes by workers that can lead to reputational and financial damage to the company.