Shipping Industry in India: Prospects for Foreign Investors
India's strategic location by the world's busiest maritime route in the Indian Ocean underscores the importance of its shipping industry, which facilitates 95 percent of India's international trade by volume. The development of its maritime sector is a top priority for the country for which India is seeking investments to the tune of US$81 billion. India allows up to 100 percent FDI under the automatic route for port and harbor construction projects. Additionally, the Ministry of Port, Shipping, and Waterways is in the process of revising the model concession agreement (MCA) to make it more flexible and attractive to private investors.
The Indian subcontinent, with a vast coastline of 7,517 km occupies a particularly strategic location, surrounded by the Indian Ocean Region (IOR), which supports around 80 percent of the world's maritime oil trade. This vast coastline, enclosed by the world's busiest trade route, elevates the economic prominence of India's maritime sector.
India's shipping industry serves as linchpin to the growth of the country's trade and commerce, both by value as well as volume. According to data from the Ministry of Ports, Shipping, and Waterways (MoPSW), around 95 percent of India's international trading volume and 70 percent of total trade value is dependent on the maritime channel. As of April 2020, India's maritime shipping fleet strength stood at 1431.
Ports in India: Existing infrastructure and capacity
India has 12 major, and 205 notified minor and intermediate ports. Among major ports, six of them are on the eastern coast and the rest are on the western coast. They are under the jurisdiction of the federal government. The non-major ports come under the jurisdiction of respective state governments' maritime boards.
Under the National Perspective Plan for Sagarmala, six new mega ports with world-class infrastructure are also being developed in the country, with Vadhavan port (in Palghar district of coastal Konkan), Paradip port (in Jagatsinghpur district of Odisha state), and Kandla port (in Kutch district of Gujarat state) taking the lead.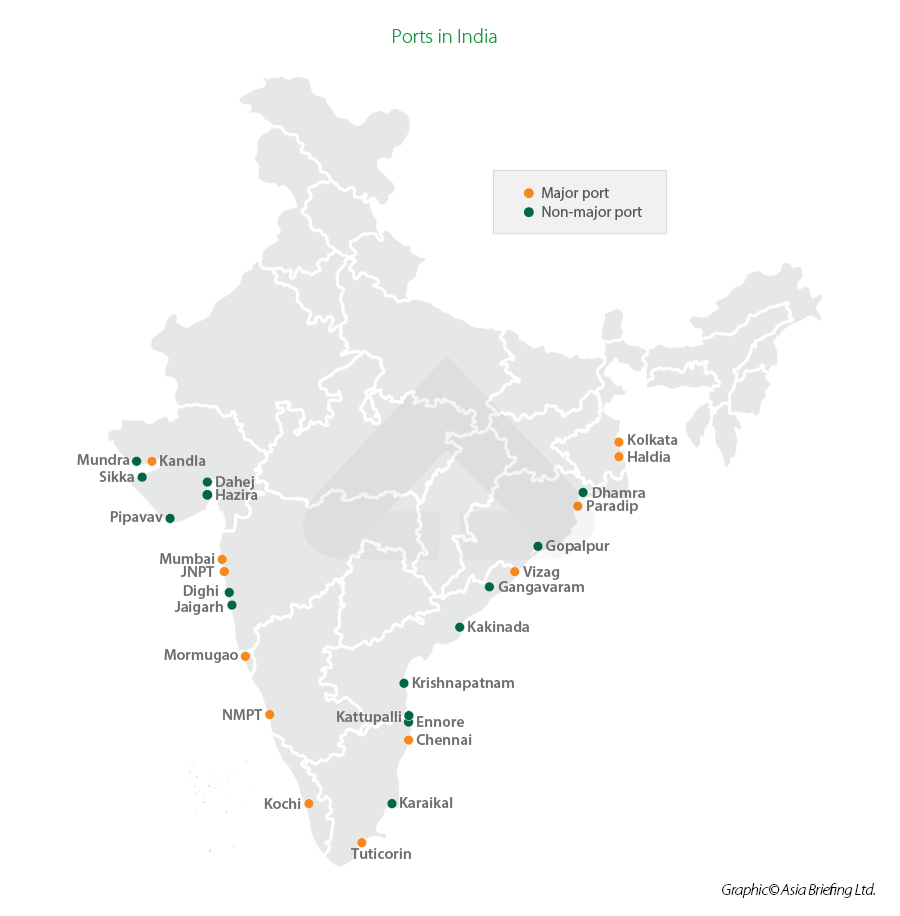 Jawaharlal Nehru Port Trust (JNPT) in the Maharashtra state is the largest major container handling port in India, while Mundra port in Gujarat is the largest private port. Reportedly, the utilization rates of these major ports in India, including JNPT and Kandla, are much higher than the world average. The average turnaround time, that is the time between the arrival and departure of a vessel, at major Indian ports decreased from 87 hours in financial year (FY) 2016 to 59.51 hours in FY 2019. The average turnaround time for FY21 was 62.16 hours.
In FY20, the 12 major ports in India handled 704.93 million tons (MT) of cargo traffic, and held an annual capacity of 1,534.91 MT in FY20. The cargo traffic at major ports stood at 672.61 MT during FY21. It is estimated that by 2025, the cargo traffic at Indian ports will surpass 2500 MT per annum, against the current capacity of approximately 1500 MT. Therefore, accelerated development of the sector for capacity expansion is indispensable. India is working on capacity expansion as well as new port development to reach annual capacity of over 3300 MT.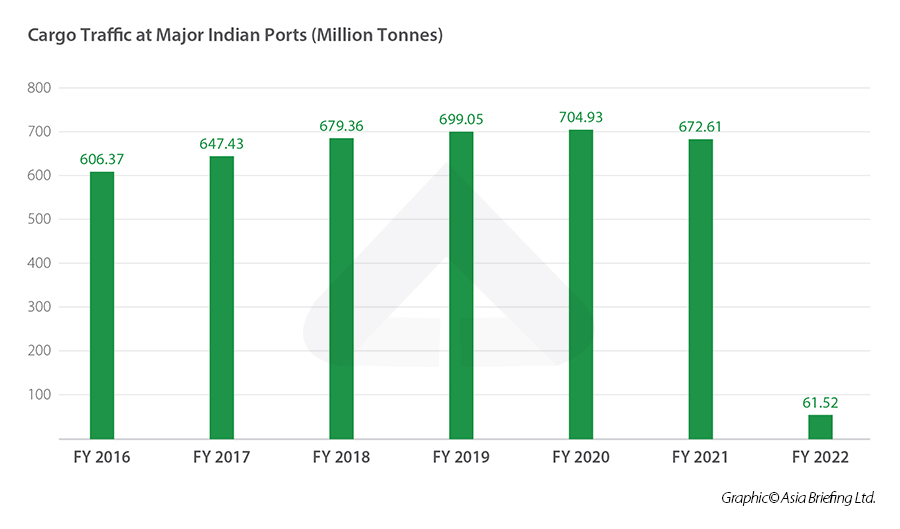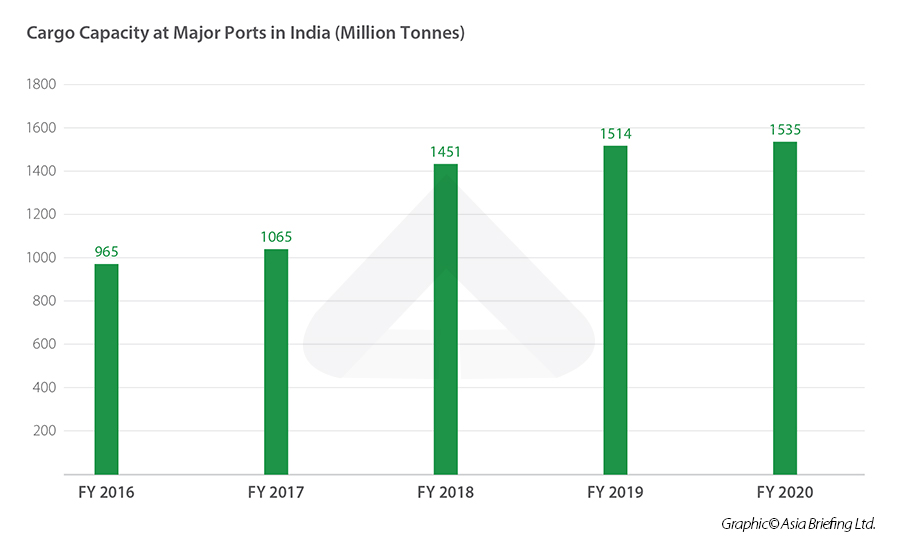 On the contrary, the cumulative capacity of the non-major ports was 613 MT in FY20 and 575 MT in FY21. Thus, in FY21, while the major ports claimed 54 percent of market share, the share of non-major ports charted an upward trajectory, growing from 39 percent in FY12 to 46 percent in FY21. This implies that a major chunk of cargo traffic has shifted from major to non-major ports, registering a compound annual growth rate (CAGR) of 4.3 percent in the last five years.
An analysis of the composition of cargo at major ports reveal that solid cargo (41.7 percent) contributed the largest share to all traffic handled, followed by liquid cargo (37.5 percent) and containers (20.8 percent). Solid, liquid, and container cargo traffic in April 2021 stood at 21.3 MT, 17.9 MT, and 8.8 MT, respectively.
Under solid cargo, coal (23.1 percent) claimed the lion' share in FY20, followed by iron ore (5.8 percent) and fertilizers (2.2 percent). The remaining 10. 6 percent share is comprised of other cargo.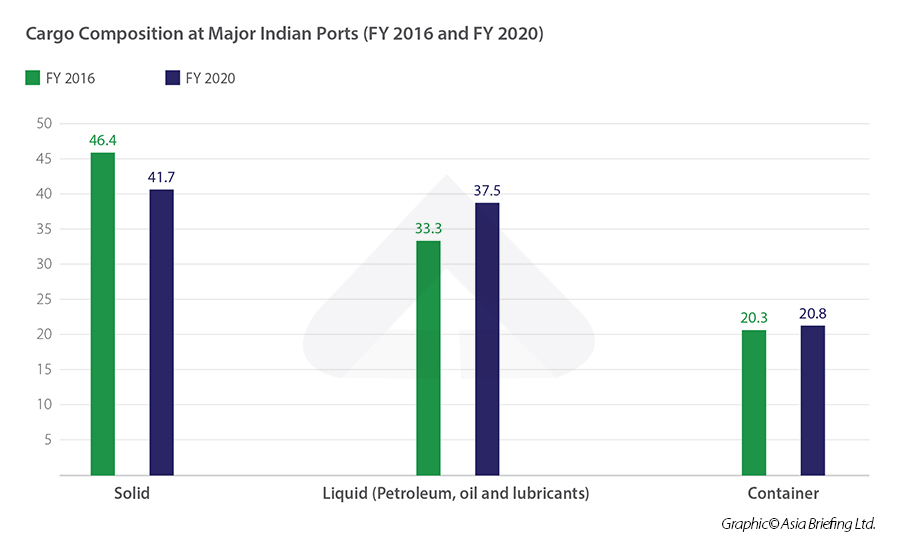 Investment opportunities in the Indian shipping industry
India has streamlined and expanded scope for investments in the maritime sector with a focus on developing, maintaining, and operating ports, inland waterways, and shipbuilding in India.
India allows up to 100 percent foreign direct investment (FDI) under the automatic route for projects related to the construction and maintenance of ports and harbors. In the last two decades, Indian ports have attracted a cumulative FDI amounting to INR 122 billion (US$1.64 billion).
Under the Sagarmala Project (2015-2035), over 574 new projects have been identified for implementation by 2035 and an investment to the tune of INR 6 trillion (US$81 billion) has been invited, including from the private sector, towards areas of areas of port modernization and new port development, port connectivity enhancement, port-linked industrialization, and coastal community development. As of September 30, 2019, a total of 121 projects at a cost of INR 302.28 billion (US$4 billion) have been completed and 201 projects at a cost of INR 3.09 trillion (US$42 billion) are under implementation. 
Sector priorities also include the use of clean / renewable energy sources, along with augmentation of related infrastructure for trade and tourism.
In the recently concluded Maritime India Summit in March 2021, India announced 400 new projects in the sector with an investment potential of INR 2.25 trillion (US$30 billion) for the development of the country's coastline. India has also released a 10-year maritime sector blueprint, "Vision India 2030", which outlines its vision for the development of the sector. This vision includes setting up smart ports, creation of a Maritime Development Fund (MDF) with a corpus of INR 250 billion (US$3.36 billion), and the establishment of a pan-India port regulatory authority.
Along with the development of ports and waterways, India is also actively working on increasing its shipbuilding capacity as well as its ship repair infrastructure.
Policy support to the Indian shipping industry
A 10-year tax holiday will be provided for businesses engaged in developing, maintaining, and operating ports, inland waterways and inland ports.
In the Federal Budget 2021-22, the government announced subsidy worth INR 16.24 billion (US$218.40 million) to Indian shipping companies to encourage merchant ship flagging.
The Major Port Authorities Act, 2021 has been passed to align governance models in these ports with international best practices.
A revised investor friendly Model Concession Agreement (MCA) has been put in place that will help in bringing transparency and uniformity to contractual agreements that major ports enter with investors for projects under the build, operate, and transfer model.
The increasing privatization of the shipping industry is evident with many ports shifting to the landlord model, which is why the MoPSW launched a dispute redressal portal in 2020 called 'SAROD-Ports (Society for Affordable Redressal of Disputes – Ports) to help develop confidence in the sector. The Ministry also launched an indigenous software solution for vessel traffic services (VTS) and vessels traffic monitoring systems (VTMS) in the same year, making strides towards the digitization of the sector.
New clause for private cargo terminals to renew concession period
Recently, the Ministry of Ports, Shipping and Waterways announced its revision to the model concession agreement. According to the revised clause, new private cargo-handling terminals at federal government-owned major ports will have a built-in clause to renew the concession period for a fresh term, as the original period of 30-year-term ends.
Additionally, this policy will also be applicable for existing cargo handling terminals like Nhava Sheva International Container Terminal, PSA-Sical Terminals Ltd etc. – some of whom are nearing the end of their 30-year concession period in the coming decade. Under existing contract terms, the terminal assets revert to the port concessioning authority free of cost at the end of the concession period.
For new cargo handling contracts that abide by the revised model concession agreement, the private terminal operators (concessionaire) have to request the port authority between the 25th and 27th year of concession to renew the concession. While making the request, the concessionaire should express willingness to participate in the international competitive bidding process initiated by the port authority for price discovery for the fresh term. In this international bidding process, the concessionaire will be provided with the right to match the highest bid, if their bid is within 10 percent of the highest bid offered.
It must be noted that the final decision of renewing/extending the concession period will rest with the concessioning authority, subject to multiple factors like performance security of the concessionaire, past defaults etc.
This article was originally published on August 20, 2021. It was last updated November 16, 2021.
---
India Briefing is produced by Dezan Shira & Associates. The firm assists foreign investors throughout Asia from offices across the world, including in Delhi and Mumbai. Readers may write to india@dezshira.com for more support on doing business in in India.
We also maintain offices or have alliance partners assisting foreign investors in Indonesia, Singapore, Vietnam, Philippines, Malaysia, Thailand, Italy, Germany, and the United States, in addition to practices in Bangladesh and Russia.