Netherlands, India Trade and Investment Ties Affirmed on Rutte Visit
Netherlands Prime Minister Mark Rutte arrived in India on May 24 for a two day visit. A 200 member delegation accompanied him, the largest Dutch delegation to any country – including the deputy PM, cabinet ministers in charge of health, trade, and infrastructure, representatives from 130 firms, and CEOs from 15 companies, among others.
Despite having to cut his own trip short due to domestic political matters (findings released on the MH-17 air crash over Ukraine in 2014), the Dutch delegation will continue to attend all programs as planned.
The delegates will be visiting Delhi, Mumbai, and Bengaluru to sign several Memoranda of Understanding (MoU's) to promote cooperation and collaboration between small and medium enterprises and startups in India and the Netherlands.
Trade and investment discussions will focus on the infrastructure, education, healthcare, life sciences research, waste management, water conservation, and agro-processing sectors.
Expanding Indo-Dutch trade ties
Indo-Dutch trade ties date back to 400 years during the colonial era. Since then, relations between the two countries have transformed. At present, the Netherlands is India's 28th largest trading partner globally, and sixth largest in the EU.
Major Indian exports to the Netherlands include: petroleum products and related materials (19.8 percent); apparel and clothing textile yarns, fabrics, and made-up articles (15.3 percent); organic chemicals (7.9 percent); vegetables and fruits (5.3 percent); and electric machinery (3.6 percent). Dutch exports, on the other hand, consist of metalliferrous ores and metal scrap, plastics, and general industrial machinery.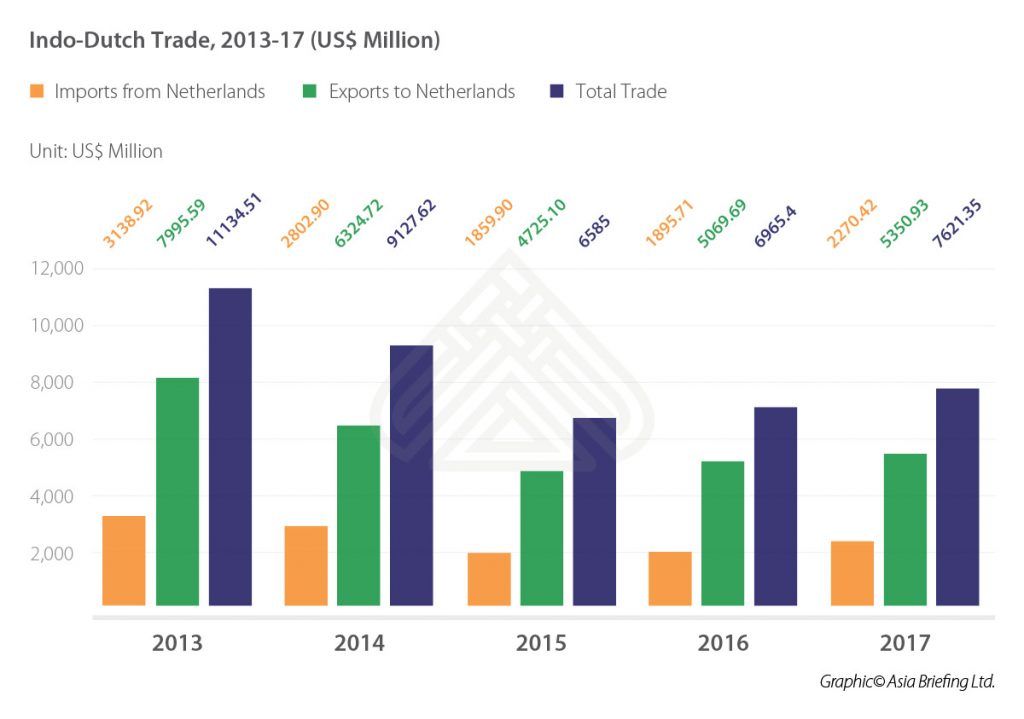 While trade between the two countries slowed down after peaking in 2013, due to the global economic downturn, it has once again picked up in volume. Bilateral trade currently stands at US$7 billion (Rs 479 billion).
In a recent interview, the Dutch PM appreciated the improving business climate in India. However, high import tariffs and complex tendering procedures remained a cause of concern for Dutch businesses.
India and the Netherlands do not have a bilateral trade agreement as Netherlands is bound by EU regulations. No EU member country can pursue a separate free trade agreement (FTA).
Both countries are thus keen to push forward the EU-India Broad-based Trade and Investment Agreement (BTIA) to boost the quantum of bilateral trade.
The BTIA is still in limbo – sticky issues include India's demand for visa relaxations and the EU's demands for stricter intellectual property rights regulation and duty cuts on automobile and wine exports.
Netherlands a key European partner after Brexit
Netherlands is home to an Indian diaspora of about 235,000, the largest in mainland Europe. Referred to as the 'Hindustani' community, they are an important element permeating Indo-Dutch bilateral ties. 
As the UK exits the European Union in 2019 and India stands to lose a strong foothold for business entry into mainland Europe, India is revisiting its relationships with old European partners like the Netherlands, Germany, and Sweden.
Already, the Netherlands serves as the gateway for over 20 percent of all EU-bound Indian exports; the country will play a pivotal role in India's future trade talks with the EU.
IT sector a core area of investment
The Netherlands is India's fifth largest investment partner globally, and has emerged as the third largest source of FDI for the country in the last three years.
Further, 28.8 percent of India's outbound investments go to the Netherlands.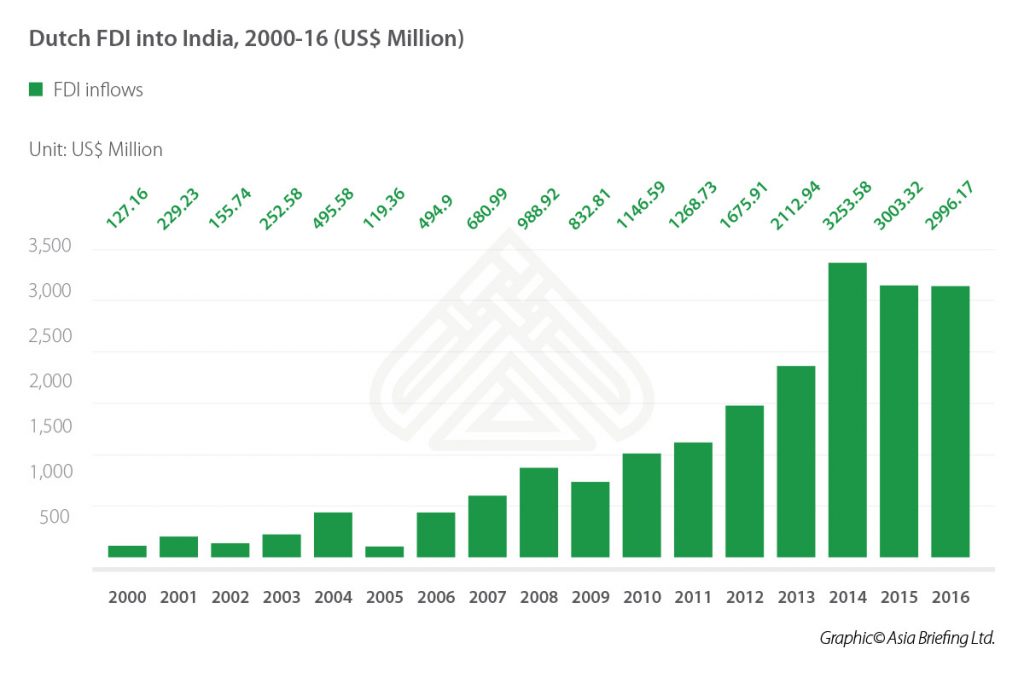 Currently, 180 Indian companies are present in the Netherlands and over 115 Dutch companies have their presence in India.
The inclusion of close to 150 representatives of Dutch companies in the prime ministerial delegation points to the urgency placed by the Netherlands on developing its business ties and investments in India.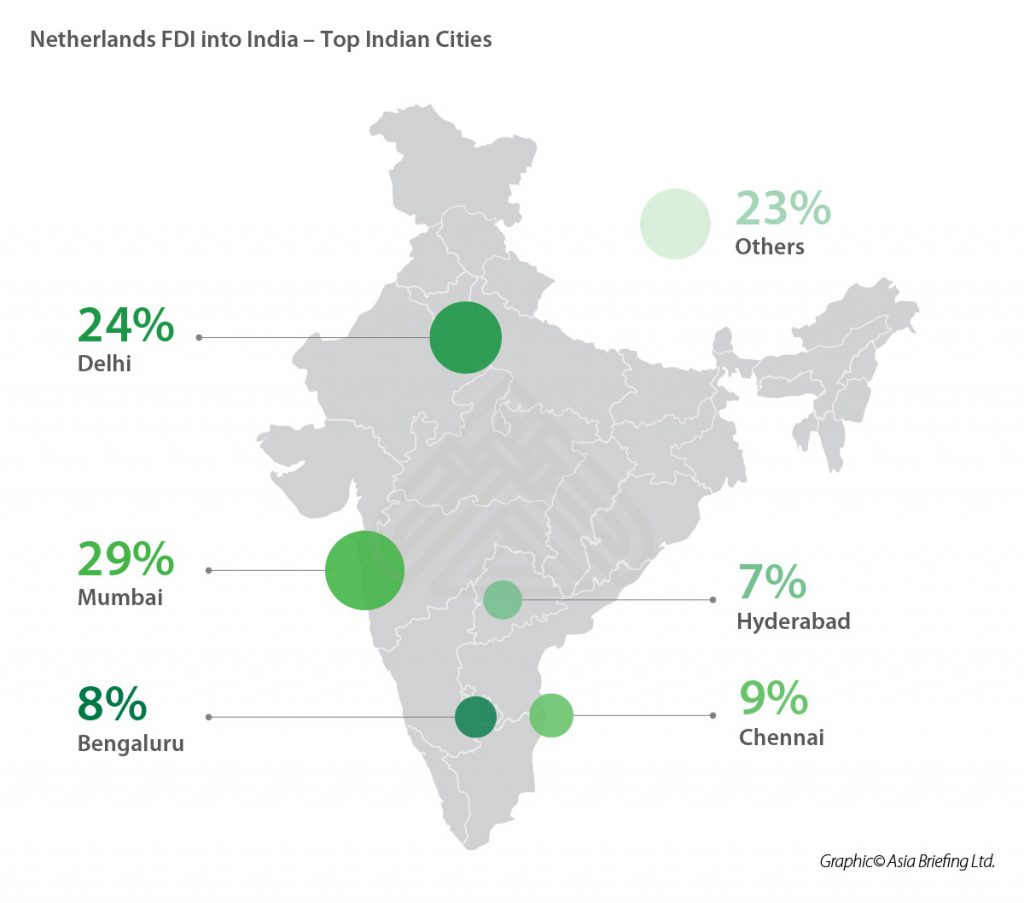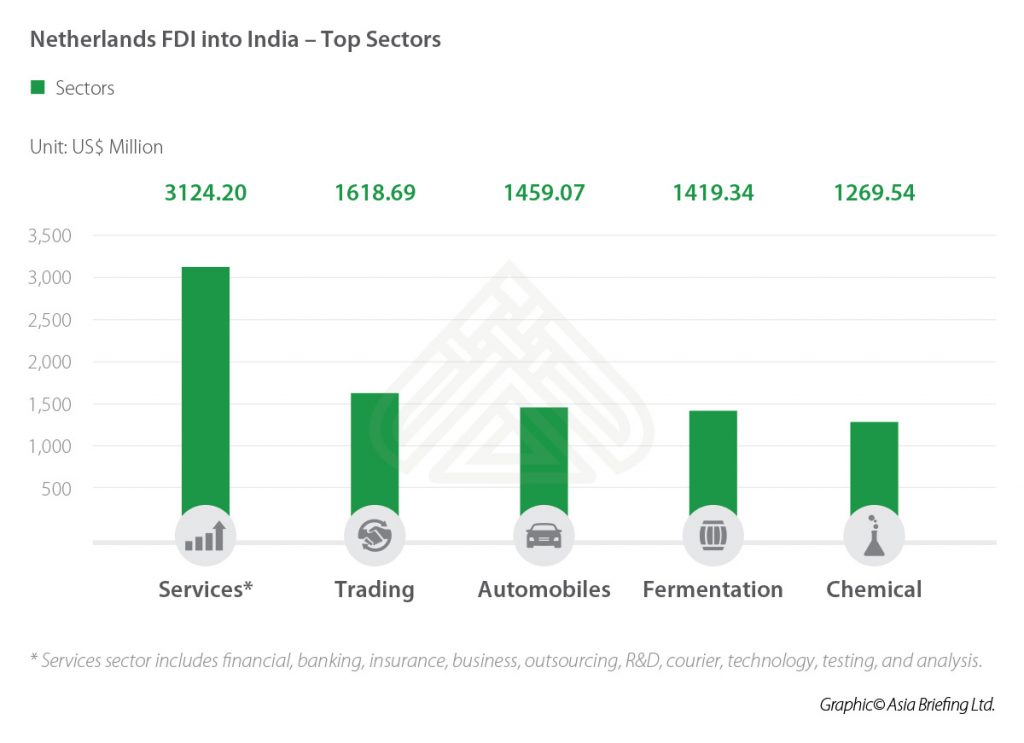 India is a crucial business process outsourcing (BPO) base for the Netherlands and India's IT efficiencies have bridged the skill gap for Dutch companies. The services sector, which includes BPOs, attracts 16 percent of total FDI from Netherlands to India.
On the other hand, Indian companies such as the Tata Consultancy Services, India's largest IT service provider and the steel producer, Tata Steel, are among the biggest employers in the Netherlands.
Other Indian companies with regional operations in the Netherlands include top IT firms Wipro and Infosys, pharmaceuticals supplier Dishman Pharmaceuticals & Chemicals Ltd., mobile app developer 01 Synergy, IT solutions firm Nucleus Software Netherlands B.V., tire manufacturer Apollo Tyres, and telecom giant Bharti Airtel.
Important Dutch business portfolios have also been acquired through mergers and acquisitions with Indian firms, including: Tata Steel and Corus, Apollo Tyres and Vredestein, and Banco Products and Nederlandse Radiateuren Fabriek.
Promoting entrepreneurship, investments in technology, healthcare, renewables
The Dutch Minister for Foreign Trade and Development Cooperation, Sigrid Kaag, is expected to launch the Start-Up Link Digital Hub in Bengaluru on May 25.
The program, in partnership with the Startup India Program, intends to deepen the collaboration and innovation ecosystem in both countries. Key areas of interest include facilitating entrepreneurial ventures in R&D and business activity driven by the Internet of Things, blockchain technology, cyber security, 3D printing, and clean energy.
The move builds on the invitation by the Netherlands Foreign Investment Agency to Indian tech startups to leverage the existing infrastructure in Netherlands in their R&D ventures. As a follow up event, 10 Dutch startups are expected to visit India, later this year, to take part in a series of business-to-business and business-to-government meetings.
The Dutch delegation's Bengaluru visit will also focus on investments in healthcare and life sciences. A proposal to increase cooperation on new vaccines and affordable medical devices is also expected to be announced on this visit.
This is in line with the agreements signed on Prime Minister Modi's visit to the Netherlands last year. Both countries have initiated programs to promote innovative solutions to challenges in healthcare, water, energy, and agriculture.
Modi also announced Netherlands' inclusion as a member of the International Solar Alliance.
India Netherlands Business Association (INBA) 
The INBA helps Dutch companies set up operations in India and Indian businesses looking to expand or set up operations in the Netherlands. Their contact information is provided below.
Royal Netherlands Embassy
6/50-F, Shantipath
Chanakyapuri
New Delhi -110021 (India)
Tel: + 91-11-24197670
Fax: +91-11-24197712
E-mail: info@inbadelhi.com
Website: www.inbadelhi.com
---
About Us
India Briefing is published by Asia Briefing, a subsidiary of Dezan Shira & Associates. We produce material for foreign investors throughout Eurasia, including ASEAN, China, Indonesia, Russia, the Silk Road, & Vietnam. For editorial matters please contact us here and for a complimentary subscription to our products, please click here.
Dezan Shira & Associates provide business intelligence, due diligence, legal, tax and advisory services throughout India and the Asian region. We maintain offices in Delhi and Mumbai and throughout China, South-East Asia, India, and Russia. For assistance with India investment issues or into Asia overall, please contact us at india@dezshira.com or visit us at www.dezshira.com.