2022 witnessed green sectors like electric mobility, green hydrogen, and solar power draw massive investments from across the globe. India has been able to benefit from this thrust to green transition by positioning itself as a large market for renewables, coupled with a strategic and conducive business ecosystem.
India has identified a plethora of investment opportunities across 22 sectors and 79 sub-sectors. These opportunities, for both brownfield and greenfield investors, vary across stages of implementation.
As per data from India Investment Grid, India hosts around 19,000 opportunities worth INR 1.88 trillion (US$22.83 billion) in the following sectors.
Tech-enabled industries have emerged as winners in terms of funding and deal making activity in India. The information technology (IT) industry crossed the US$200 billion revenue mark, reaching US$227 billion revenue in FY 2021-22, witnessing a US$30 billion incremental revenue in the year with an overall growth rate of 15.5 percent. The country's IT and business services market is projected to reach US$19.93 billion by 2025.
In the last seven years, the IT and IT-enabled services (ITeS) sector has attracted highest number of M&A deals, followed by manufacturing, healthcare, and banking and financial services. In terms of deal value too, the technology, entertainment, power, and financial services sectors are front-runners.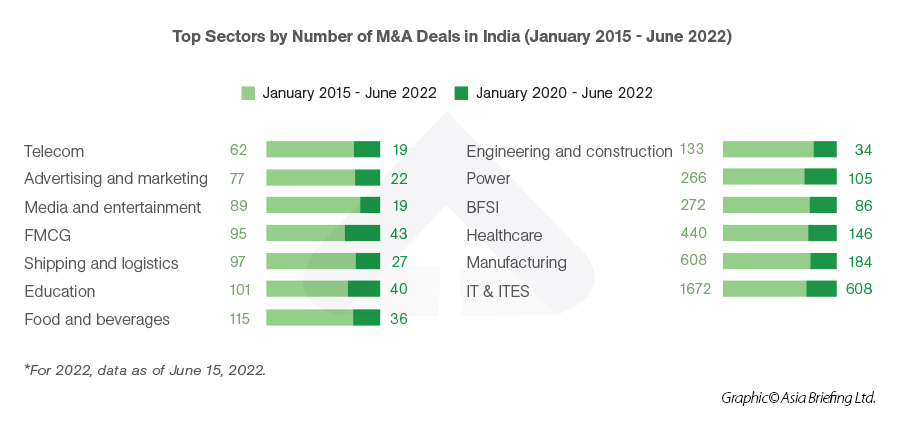 Developing India as a global manufacturing hub
To develop India into a global manufacturing hub and speed up job creation, the government has rolled out PLI schemes in 14 sectors since 2020, with incentives amounting to INR 1.97 trillion (US$23.81 billion).
The government is offering large incentives to foreign players to cover critical gaps in the domestic manufacturing capacity in these identified sectors.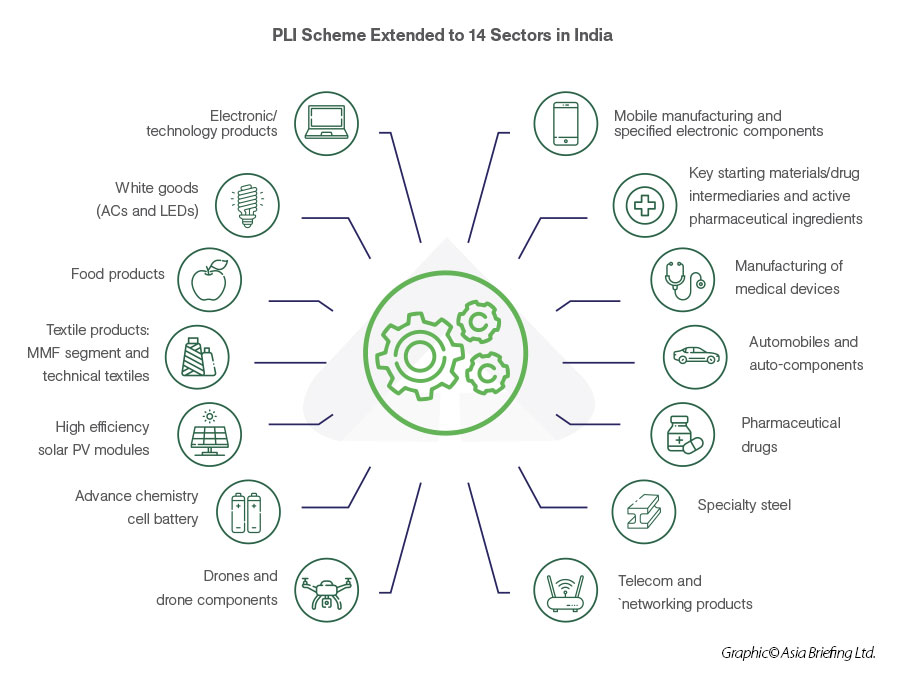 Sector insights guides
FAQ:Logistics Sector in India and Opportunities for Foreign Investors
Can you give a brief overview of India's logistics sector?
Logistics sector in India is a USD 200 billion market, growing at a CAGR of 10.5%. India has the 2nd largest road network in the world and around 60-65% of transport takes place by road. National highways account for 2% of the total road network and carry over 40% of total traffic. India has a well-developed framework for Public-Private-Partnerships (PPP) in the highway sector. The government's initiatives including big thrust on highways build up, Make in India, dedicated freight and industrial corridors, among others have potentially redefined the logistics sector in India.
What are the incentives provided by the government for road and highway sector?
Some of the incentives provided by the government include:
100% FDI through automatic route
Duty free import of modern high capacity construction equipment
Capital grant up to 40% of project cost to enhance viability on a case to case basis
Can you list the key government infrastructure programs?
Industrial Corridors for industrial activity with planned greenfield industrial investment cities
Dedicated Freight Corridors, high speed and high-capacity railway corridors dedicated for freight movement
Bharatmala, a pan-India programme for the highways sector that focuses on optimizing efficiency of freight and passenger movement by bridging critical infrastructure gaps through development of Economic Corridors, Inter Corridors and Feeder Routes, National Corridor Efficiency Improvement, Border and International connectivity roads, Coastal and Port connectivity roads and Green-field expressways.
Sagarmala Programme which focuses on port modernization, port connectivity, port-led industrialization, and coastal community development
Logistics Efficiency Enhancement Program (LEEP), under which Multi-Modal Logistics Parks are being developed to enhance freight transportation and reduce time and cost.
What are the opportunities for foreign investors in the logistics sector?
The roads and highways market is expected to record a CAGR of around 36% during 2016-2025
India has the world's largest railway network in terms of passenger traffic. The government has proposed to redevelop around 123 railway stations with world-class facilities.
Under the Sagarmala Programme, USD 123 billion would be invested for port modernization and connectivity
Policy support and the government's massive push to infrastructure is expected to create more opportunities for investors. The government has allocated around USD 1.4 trillion for infrastructure to be invested until 2025.