India's biotechnology industry has been steadily expanding in the last five decades with several segments. The COVID-19 pandemic and changes due to R&D investment has allowed the biotech industry to build upon its traditional strengths in vaccine manufacturing, agriculture science, and clinical research as well create urgent capacity for industrial applications and bio-services. The industry is also home to over 4000 start-up enterprises.

From a mere US$1.1 billion industry in 2003, the size of India's biotechnology industry is now more than US$70 billion. India is among the top 12 destinations for biotechnology worldwide and the industry is forecast to reach US$150 billion by 2025, at a compound annual growth rate (CAGR) of 16.4 percent. This would mean increasing contribution to the global biotechnology market from three percent (2017) to 19 percent. 
Investors should note that India allows 100 percent foreign direct investment (FDI) under the automatic route for greenfield pharmaceuticals projects. Up to 100 percent FDI is allowed for brownfield pharmaceuticals – up to 74 percent FDI is allowed under the automatic route and beyond 74 percent is subject to the government approval route. Relatedly, up to 100 percent FDI is allowed under the automatic route for manufacturing medical devices.
Where India stands globally
The Indian biotechnology industry plays an important role in the global vaccine market. India leads the global supply of vaccines for DPT (diphtheria, pertussis, and tetanus), BCG (Bacillus Calmette–Guérin, primarily used against tuberculosis), and measles. India contributes to 70 percent of WHO's approved vaccines (essential Immunization Schedule).
Outside of vaccines, the bio-agriculture segment of India's biotech industry is also significant, ranking second worldwide in the production of BT cotton, which is a genetically modified pest resistant plant cotton.
Segments under India's biotech industry
India's biotech industry comprises of over 5,000 companies (760 core companies and 4,240 start-ups), divided into five major segments: biopharma, bio-agriculture, bio-industrial, and the combined segment of bio-services comprising of bioIT (bio-information technology), contract research organizations (CROs), and research services.
As of 2020, biopharmaceuticals is the industry's largest segment, contributing 62 percent to the Indian bioeconomy followed by bio-agriculture, which accounted for 16 percent, and bio-services and bio-industrial that account for 15 percent and seven percent, respectively.
The bio-services and bio-industrial segments, which accounted for a combined 22 percent of the industry in 2020, are expected to grow at rapid rates. The former segment has witnessed India becoming a leading destination for clinical trials, contract research, and manufacturing activities and the latter is flagged as 'the next big opportunity'.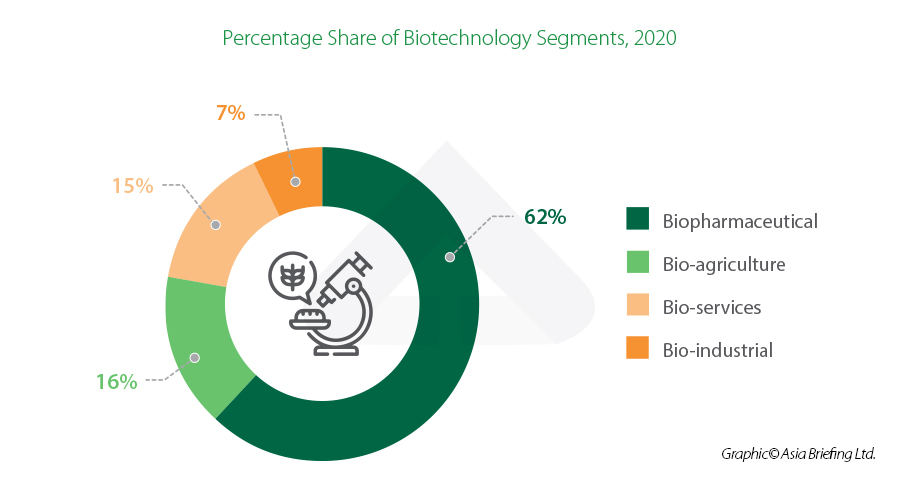 Key players and industry clusters
High performing states
As state governments push their respective biotechnology sectors to significantly contribute to the Gross State Domestic Product (GSDP), they have set up specialised state departments for biotechnology and rolled out specific biotech policies. The Indian states leading in this regard have seen the allotment of projects by the federal Department of Biotechnology (DBT) based on the available facilities and capacity.
The following chart presents the state-wise distribution of projects assigned by DBT in the financial year 2015-16. States, such as Delhi, Tamil Nadu, and Karnataka, were some of the strongest performers in the sector.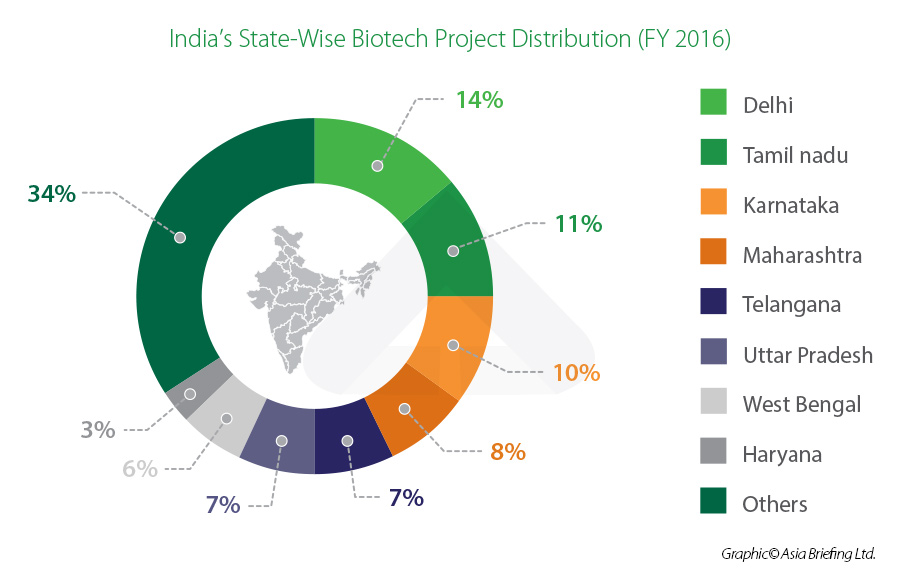 The Department of Biotechnology (DBT) under the Ministry of Science and Technology has also established biotechnology parks and incubators to support research and production by providing necessary infrastructure facilities.
Top industry players
Domestic
Serum Institute of India (SII)
Established in 1966, Serum Institute of India is the country's leading biotechnology and biopharma company, with its corporate office located in Pune, Maharashtra. SII is now the world's largest vaccine manufacturer by number of doses produced and sold globally (more than 1.5 billion doses), which includes the Polio vaccine as well as Diphtheria, Tetanus, Pertussis, Hib, BCG, r-Hepatitis B, Measles, Mumps, and Rubella vaccines. It manufactures highly specialized life-saving biologicals like vaccines using cutting edge genetic and cell-based technologies, antisera, and other medical specialties. In 2012, SII acquired the Dutch bioengineering and pharmaceutical company, Bilthoven Biologicals. In 2020, Serum Institute of India and AstraZeneca, a British-Swedish pharmaceutical company, reached a licensing agreement to supply one billion doses of the Oxford University COVID-19 vaccine.
Panacea Biotech Ltd.
Established in 1984, Panacea Biotech Ltd is a global generic and specialty pharmaceutical and vaccine maker with principal offices in New Delhi, Mumbai (Maharashtra), and Lalru (Punjab). It is a private entity. The company is known for manufacturing, distribution, and marketing of pharmaceuticals, vaccines, and biosimilars.
Biocon Ltd.
A private entity established in the year 1978, with its corporate office in Bengaluru, Karnataka. The company is a leading research and development player creating medicines for various prevailing diseases with a focus on affordability.
Other prominent players include SIRO Clinpharm, Shantha Biotech, Indian Immunologiocals Wockhardt Ltd, etc.
Foreign investors
AstraZeneca plc a British-Swedish multinational pharmaceutical and biotechnology company has a listed company, AstraZeneca Pharma Limited (AZPIL), which is headquartered in Bengaluru. In 2018, AstraZeneca had a workforce of over 4,000 employees in India, and operations spanned across manufacturing, sales and marketing, clinical operations, and IT services along with a manufacturing facility in Bengaluru. The firm will invest US$90 million in the coming years to strengthen and diversify its footprint in the Indian bioeconomy.
Bayer AG is a German multinational pharmaceutical and life sciences company and one of the largest pharmaceutical companies in the world. In India, Bayer has three business divisions – crop science, pharmaceuticals, and consumer health. The company has over 13,000 employees working at six locations across the country, including six manufacturing sites and three research and development units. Bayer also has a flagship company called Bayer CropScience Limited listed on the Bombay Stock Exchange.
GlaxoSmithKline plc or GSK is a British American multinational pharmaceutical company headquartered in London, England. GSK started its journey in India in 1969 with a listing on the National Stock Exchange (NSE). The company is headquartered in Mumbai with eight regional sales hubs across the country. With its focus on manufacturing, the company inaugurated its Nashik factory in the state of Maharashtra in 1983 and produced tablets, ointments, and creams. Today, the company is a market leader in dermatology, with a workforce of over 5,000 employees and a turnover of over US$400 million (as of March 2020).
Novozymes A/S is a global biotechnology company headquartered in Denmark. Starting operations in 1983, Novozymes India is now one of the largest suppliers of industrial enzymes and microorganisms in the Indian subcontinent region covering India, Sri Lanka, Bangladesh, Nepal, and Bhutan. The company employs more than 500 employees across three sites in Bengaluru. Key business areas for Novozymes India are household care, textiles, food and beverages, oils & fats, baking and beverage alcohol. To cater to the growing South-East Asian markets, Novozymes decided in 2016 to build a new production and supply chain facility near Mumbai, Maharashtra.
Growth trends
2015-2020 was a period of immense growth for India's biotechnology industry, with the total industry value doubling from US$35.2 billion to US$70.2 billion in just five years.
The industry witnessed the rise of the bio-pharma segment as a global giant with a CAGR of 13 percent, while remaining the biggest contributor to the industry overall.
The highest growth was seen by the bio-industrial segment with a CAGR of 15 percent, the segment is expected to retain this top spot in the upcoming years.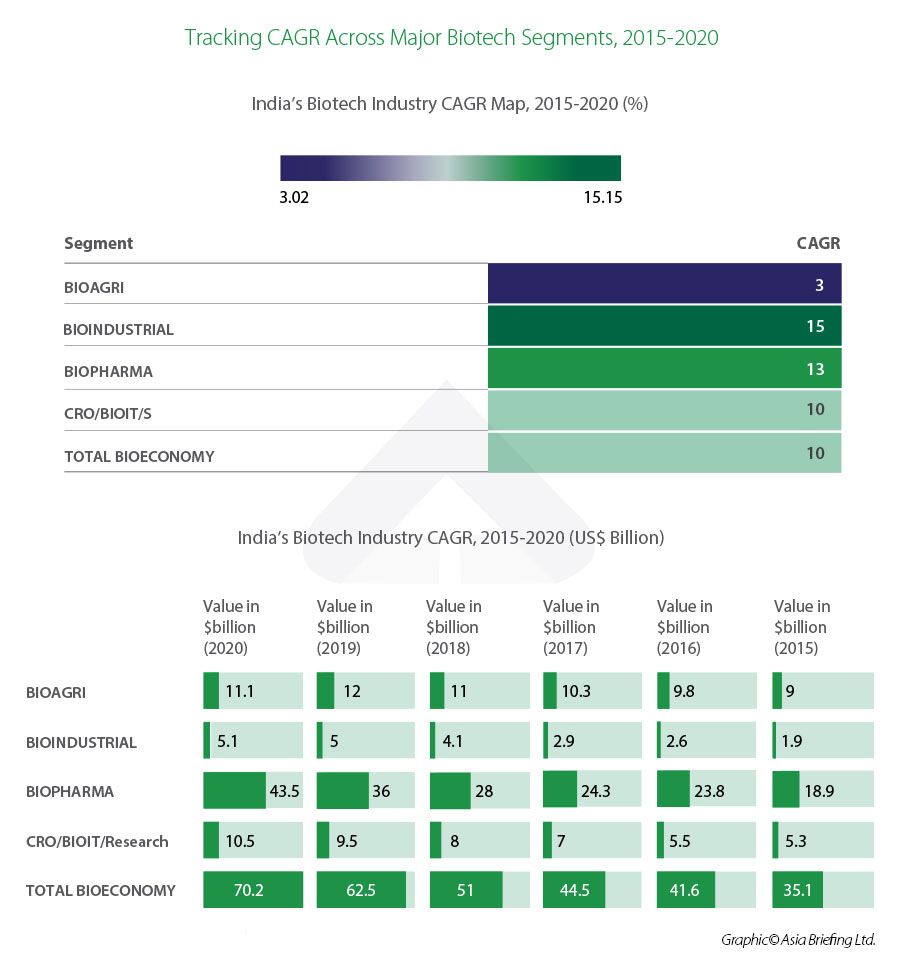 The road ahead
COVID-19 has changed the dynamics of the role of biotechnology and modern medicine globally. While many sectors struggled due to lockdowns and restrictions, biotechnology recorded a 12.3 percent growth in India. Given its current growth trajectory, India is poised to become a top-five global producer by 2025.
The government has charted out an ambitious target for India's biotechnology industry between 2021-25 to ensure it contributes to the development of a knowledge and innovation-driven bioeconomy. As per its projections, India's overall bioeconomy will bounce back in FY 2022, growing at a rate of 14-16 percent between FY 2022 and FY25. However, to reach the ambitious US$150 billion threshold by FY 2025, an additional push and stimulus might be required.
The four areas of focus for India's biotechnology industry in the 2021-25 period are:
Building and strengthening of a strong education, research, and translation ecosystem across the country.
Development and deployment of new and emerging technologies.
Building and nurturing a vibrant start-up, entrepreneurial, and industrial base in the country, connecting academia and industry.
Positioning India as a strong bio-manufacturing hub for innovative, affordable, and accessible products for domestic as well as global markets.
Projects and opportunities
Genetic Enhancement of Pulses: In the bio-agriculture segment, a mission program improvement of legumes is one of the priority areas of the Department of Biotechnology. The mission targets a complex biological system of pulses that has been neglected, aiming to provide farmers with improved and productive varieties that have disease and climate resilience traits. Under the program, Department has funded a first network project entitled "Genetic Enhancement of minor Pulses: Characterization, Evaluation, Genetic Enhancement and Generation of Genomic Resources for Accelerated Utilization and Improvement of minor Pulses" with ILS, Bhubaneswar as coordinating center.
Promoting biotechnology in the northeast region: The northeast region of India has been identified as one of the country's biodiversity hotspots, with bioresources, diverse ecosystems, and indigenous communities. To give focused attention to the northeastern region, the Department of Biotechnology has earmarked 10 percent of its annual budget every year for promoting and strengthening biotechnology activities in the region.
Mission Program "Ind-CEPI": Another mission program, Ind-CEPI, aims to strengthen the development of vaccines for epidemic diseases in India. Implementing support for vaccine development and building public health preparedness system for infectious diseases will help in strategic engagement with the global Coalition for Epidemic Preparedness Innovations (CEPI).
Emerging hub for Biosimilar: With over 98 approved biosimilars in the domestic market, more than any other country, India's biotechnology industry is emerging as a hub for biosimilars, with a robust approach with more than 40 biosimilars in the clinical development stage.
Bio-industrial is the next big opportunity: Case studies have seen a strong push in biofuels, bioplastics, biomass, and bioenergy in 2020. Since March 2020, Indian distilleries started producing alcohol-based sanitizers to handle the COVID-19 pandemic, eventually ramping up its production capacity to nearly 3.2 million liters per day. India's bioplastics market is projected to grow at a CAGR of 23.91 percent to reach US$754.648 million by 2025 from US$208.475 million in 2019. The government has announced that single-use plastics will be phased out by 2022, expecting to open new opportunities for the Indian bioplastics market and stimulate further growth.
Government support, policies, and initiatives
The Government of India is keen to promote the development of biotechnology under the 'Make in India' campaign. Multiple policies and initiatives have been introduced by the Department of Biotechnology towards this end, focusing on attracting investments, promotion of industry-institute partnerships, creating entrepreneurship cells to promote biotech start-ups, and skill development.
Biotechnology Industry Research Assistance Council (BIRAC)
Biotechnology Industry Research Assistance Council (BIRAC) is a not-for-profit set up by the Department of Biotechnology in 2012 as an interface agency aimed at strengthening and empowering the emerging biotechnology sector by undertaking strategic research and innovation.
BIRAC has been instrumental in the growth of the industry since its establishment. It hosts an industry-specific Make in India cell for the biotechnology sector. It has created a provision for investment in new ideas by supporting start-ups with funding from INR 5 million (US$70,000) up to INR 70 million (US$1 million per start-up. A fund of funds called Biotechnology Innovation Fund – Accelerating Entrepreneurs (AcE) has mobilized more than INR 3 billion (US$40.72 million) for specific investments in the biotech innovation start-up ecosystem to scale-up R&D and innovation.
Other announcements, initiatives
National Biopharma Mission's program, "Innovate in India" (2017): A DBT program with US$250 million in funding, which aims to bring together industry and academia in order to promote entrepreneurship and indigenous manufacturing in bio-pharma.
Under the Union Budget 2021-22, the government outlay for biotechnology research and development was INR 16.6 billion (US$227.94 million), announcing plans to set up nine biosafety level-3 (BSL-3) laboratories through the Pradhan Mantri Aatmanirbhar Swasth Bharat Yojana.
In November 2020, the Government of India allocated the third stimulus package of INR 9 billion (US$123.26 million) for the 'Mission COVID Suraksha - The Indian COVID-19 Vaccine Development Mission' to the Department of Biotechnology for R&D of Indian COVID-19 vaccines.
Atal Jai Anusandhan Biotech Mission, implemented by the Department of Biotechnology, aims to address the challenges of maternal and child health, antimicrobial resistance, vaccines for infectious disease, food and nutrition, and clean technologies.
The Department of Biotechnology in partnership with VINNOVA, Sweden, announced a joint call for proposals on "Artificial Intelligence for Advancing Healthcare across India and Sweden". The project aims to ensure sustainable and equitable spread of technology in advancing healthcare access and affordability.
The Department of Biotechnology in collaboration with the Natural Environment Research Council (NERC), UK, jointly launched research called "Tackling AMR in the Environment from Antimicrobial Manufacturing Waste". A total of 39 joint proposals were received spanning various geographies and research areas, including meta-genomics, sensors, microbial ecology, remediation, geo-spatial, mappings, and mathematical modelling.
The DBT has approved a mission-mode, multi-institution consortium project "GenomeIndia: Cataloguing the Genetic Variation in Indians", focusing on whole genome sequencing of representative populations across India and development of a genome wide association chip for the Indian population to facilitate cost-effective large-scale genetic studies.
Skill development: Setting up of Life Sciences Sector Skill Development Council (LSSSDC) under the National Skill Development Corporation (NSDC) to promote skill development in the biotechnology sector.
State-specific biotech policies
Andhra Pradesh launched its Biotechnology Policy 2015-2020, with an aim to attract new investments worth INR 60 billion by 2020 as well as create 5000 additional employment opportunities for skilled personnel by 2020.
Gujarat launched its draft Biotechnology Policy for 2016-2021, with special emphasis on the biotech sector.
Rajasthan launched its Biotechnology Policy 2015, with an aim to establish world-class research institutes and biomanufacturing infrastructure.
Telangana launched its Life Sciences Policy (2015-2020), with an aim to make the state the most preferred destination for life science activities- as well as attract new investments worth INR 200 billion by 2020.
Uttarakhand launched its 2018-2023 Biotechnology Policy, aimed at attracting new investments worth INR 50 billion as well as generate employment opportunities for 5000 people by 2023.
Conclusion
Following several supply chain concerns during the pandemic, diplomatic objectives, and confronting rising geopolitical risks in recent years, the government has essentially reworded its ambition from Make in India to building a 'Self-Reliant India' (Atmanirbhar Bharat). The development and deployment of technologies and higher value solutions in the field of biotechnology will be key achievements in this regard. Support and reforms targeting the biotechnology industry aim to establish an advanced ecosystem that will meet the entire supply chain requirements from raw materials and inputs to R&D, manufacturing, and innovating local solutions. This thrust, reflected in ease of doing business reforms, production-linked incentives, setting up industrial parks, financial incentives, etc. will benefit existing players, boost capacity of start-ups and their platform and tech solutions, and open the industry to more investment and foreign partnerships.