Delhi is India's long time capital city and is a union territory. The current National Capital Territory (NCT) of Delhi formally came into existence in 1991 and Delhi was granted union territory status in 1956.
Delhi is one of India's fastest growing regions and home to around 18 million people (as per Aadhaar, India's biometric ID system) – although these estimates vary considerably due to regional migration flows. It is the second most populous city in India, after Mumbai, as per the 2011 census. (The decadal census has been repeatedly postponed due to the COVID-19 pandemic, and is now scheduled for 2023.)
Delhi is situated in India's north and is the largest city in the National Capital Region (NCR) – a planned region centered around the NCT. Delhi straddles the Yamuna River, and is bordered on its northern, western, and southern sides by the state of Haryana and to the east by the vastly populous state of Uttar Pradesh. The city's urban sprawl incorporates the satellite cities of Ghaziabad, Faridabad, Gurgaon (Gurugram), and Noida, creating a massive metropolitan area – the NCR – one of the most populated in the world.
The presence of India's vast bureaucracy and political system in New Delhi has been conducive to the creation of a cosmopolitan city, drawing people from multiple ethnicities and cultures.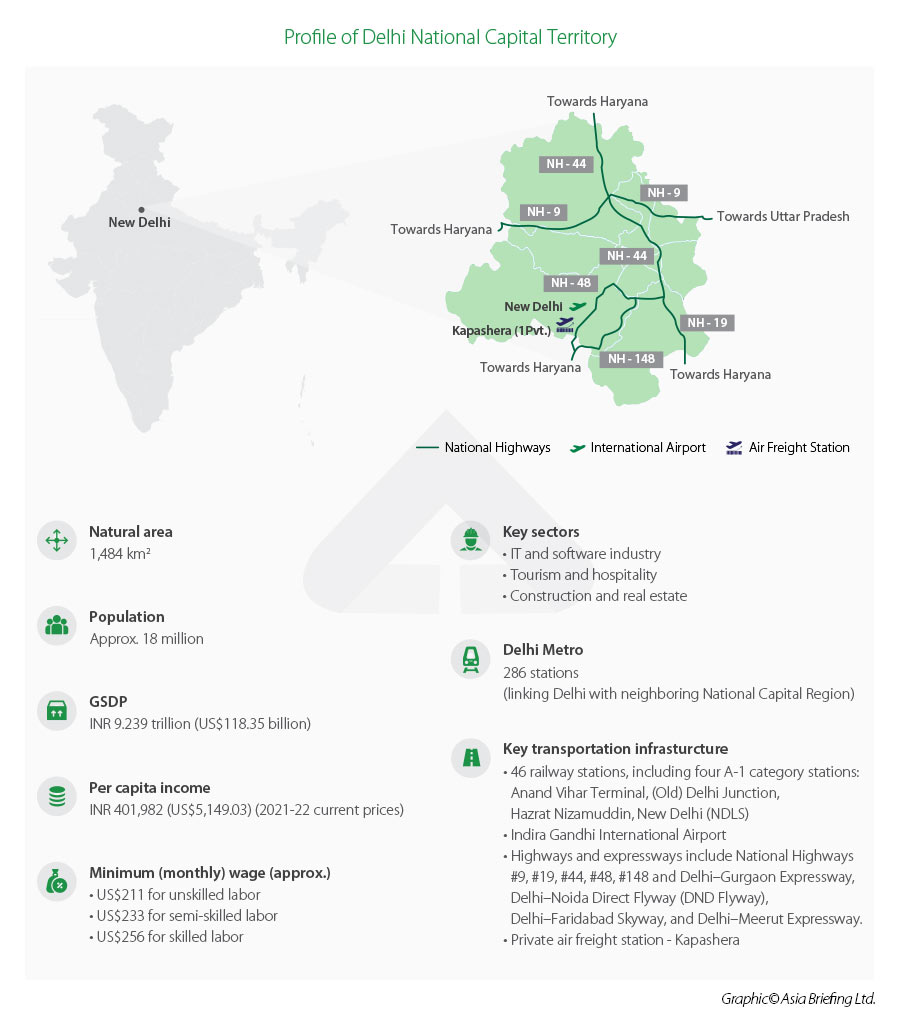 Economic profile
Delhi is northern India's largest commerce center. Major industries in the region include banking, insurance, and financial services, agri and processed food, construction and real estate, tourism, logistics, and IT/ITeS. The city is also a well-established education hub with premier schools and higher institutes of research and learning.
The Gross State Domestic Product (GSDP) of Delhi is INR 9.23 trillion (US$118 billion), according to reporting based on the Delhi Economic Survey 2021. According to previously released advanced estimates, Delhi's GSDP grew at an average rate of 7.70 percent between 2015-16 and 2020-21, although the pandemic engendered a contraction of economic activity. The economic survey of Delhi (2020/2021) suggests that its economy has doubled in size over the past decade. The tertiary sector represents around 84.6 percent of the union territory's GSDP, while the secondary and primary sectors account for 13.5 percent and 1.8 percent, respectively.
Delhi's service sector is thus its largest income generator and source of employment. The NCR has a booming real-estate market and is a popular destination for tourists given its rich cultural heritage, street shopping centers, cuisine, and mature connectivity infrastructure. Delhi's Indira Gandhi Airport welcomes the most foreign tourist arrivals in India. Over the next three years, the city will operationalize multiple transit-oriented projects targeting sustainable and integrated development.
Meanwhile, Delhi and the wider NCR is a hub for the information technology (IT) and software industry. Software exports from Delhi-based Software Technology Parks of India (STPIs) were worth INR 236.34 billion (US$338.17 million) in 2018-19, according to the India Brand Equity Foundation. Delhi's service sector has grown partially on the back of a sizeable skilled and English-speaking population, owing, in part, to the city's role as the seat of governance and diplomatic capital.
The manufacturing sector boomed in the 1980s and remains a considerable employer. Key manufacturing sectors include electronics, home consumable, and the garments industry. Agriculture once contributed significantly to the economy of the national capital territory, but now has largely receded. However, Delhi NCR is also known for its dairy and livestock industry; the region represents India's 11th largest dairy market, according to research from Invest India.
The public sector is also a major employer in the NCT. New Delhi, is the seat of all three branches of government, hosting the Rashtrapati Bhavan (official residence of the President of India), Parliament House, and the Supreme Court of India. Government and quasi-government sectors are the primary employer in New Delhi.
According to the Reserve Bank of India (RBI) data, Delhi has the second highest GDP per capita in the country. In 2021/2022, the per capita income of Delhi was INR 354,000 (US$4,530). Based on Delhi Economic Survey 2021, its per capita income is ranked third in the country, behind the states of Goa and Sikkim, at INR 401,982 (US$5149) at current prices.
In May 2022, Delhi increased its monthly minimum wage to INR 16,506 (US$211) for unskilled workers, INR 18,187 (US$233) for semi-skilled ones, and INR 20,019 (US$256) for skilled labor.
Education and workforce
The presence of premier educational institutions such as the Indian Institute of Technology (IIT), Delhi; Jawaharlal Nehru University (JNU), Delhi Technological University (DTU), and University of Delhi (DU), among others, has ensured a steady supply of skilled workforce. A recent survey by WorkMotion indicated that Delhi had among the world's most competitive workforce for top level remotes jobs and the available supporting infrastructure.
There are six central universities, five autonomous universities and 10 state universities located in Delhi. Meanwhile, the Delhi government has focused its attention on the development of its public education sector in the last eight years.
Infrastructure and connectivity
Delhi is one of the best-connected cities in India. It is also India's most urbanized city with a urbanization rate of 98 percent. Delhi's Indira Gandhi International Airport is currently the ninth busiest airport in the world, according to OAG data, which uses a metric based on scheduled airline capacity for the month. The airport connects Delhi with the rest of the world and helps maintain the city's status as the number one tourist base. The NCT is also home to an air freight terminal, at Kapashera, which sits near the border with Haryana.
Delhi has the seventh busiest metro rail network in the world. The wider metro system consists of 286 stations linking Delhi with neighboring settlements in the NCR. There are 12 lines and 391km of network, making it comparable with London's famous Underground, prior to its recent expansion. The metro network is complemented by more than 23,160km of roads within the NCT. By comparison, London only has 13,600km of roads. Delhi is also connected with neighboring states, Haryana and Uttar Pradesh, by a network of national highways, including the NH 9 and the NH 44.
Delhi's connectivity to Ghaziabad and Meerut (Uttar Pradesh) will be strengthened by the Regional Rapid Transit System (RRTS), which is currently under construction. When finished, the semi-high speed rail corridor will stretch for 82.15 km, and travel along the route will take just 55 minutes. As reported in the Indian Express, it will be "the first in the country to have a business or 'premium' coach on a regional corridor." The first train set of the RRTS was handed over to the National Capital Region Transport Corporation (NCRTC) on May 7 and arrived at the Duhai depot in Ghaziabad on June 13 from Savli in Gujarat. The Print reports that it will service the Sarai Kale Khan-Ghaziabad-Meerut RRTS corridor.
In 2019, Delhi's average broadband download speeds were 32.3mbps, below the national average of 34mbps. The capital was ranked below top-performing cities, Chennai, Tamil Nadu state (51mbps) and Bengaluru, Karnataka state (42.5mbps). Although, the speeds vary depending on internet providers.
FDI and trade
Delhi has been home to a large number of multinational companies (MNCs) for several decades, including DuPont, Godfrey Phillips, Oracle, PepsiCo, Samsung, Schneider Electric, and Walmart. It's also attracting considerable FDI (foreign direct investment). According to the Department for Promotion of Industry and Internal Trade (DPIIT), Delhi ranked third among Indian states and union territories by FDI inflows. Delhi attracted US$6.3 billion in FDI between April 2021 and December 2021. By comparison, Karnataka and Maharashtra saw inflows of US$17.2 billion and US$9.7 billion, respectively. According to FDI India, FDI inflows into Delhi NCR, stood at US$89.68 billion for the period from April 2000 to June 2019.
The industries attracting the most investment into Delhi were services, IT, and real estate. Delhi is also becoming an increasingly attractive destination for investments in start-ups, jumping 11 places to ranking 26th in the global start-up ecosystem index. Delhi is considered the most attractive retail market of northern India.
According to the India Brand Equity Foundation, total merchandise exports from Delhi stood at US$7.59 billion in FY 2020-21 and US$ 6.53 billion in FY 2021-22 (until January 2022). As per Invest India, Delhi ranked 12th in the national Export Preparedness Index (EPI) 2021. The EPI ranks India's states and union territories on four main criteria – policy; business ecosystem; export ecosystem; and export performance and 11 sub-criteria – export promotion policy; institutional framework; business environment; infrastructure; transport connectivity; access to finance; export infrastructure; trade support; R&D infrastructure; export diversification; and growth orientation.
In 2021, seven Industrial Entrepreneur Memoranda (IEMs) with proposed investments worth INR 9.01 billion (US$120.66 million) were filed in Delhi. All industrial undertakings exempted from the requirements of industrial licensing under The Industries (Development and Regulation) Act I (D&R),1951 and having an investment in plant and machinery of INR 500 million and above and turnover of INR 2.5 billion and above, including existing units, new undertaking (NU) and new article (NA), may file an IEM online with the DPIIT.
Policies and initiatives to enhance business growth and attract investment
Delhi is looking to build on its position as India's service capital, by aiding the development of start-ups. Chief Minister Arvind Kejriwal announced in May this year that the government has passed its Delhi Start-up Policy which, it is hoped, would turn the capital into an international start-up hub. Delhi will help start-ups get collateral-free loans that will be interest-free for a year. It will also enroll lawyers and other professionals to aid start-ups for free, with their costs covered by the government. The city wants to become a global innovation hub and is working on ways to create the right ecosystem and foster entrepreneurship. The Delhi Start-up Policy aims to generate 900,000 jobs over the next five years.
According to the Ministry of Commerce and Industry, as of October 31, 2021, Delhi had approved two Special Economic Zones (SEZs), but none were operational. SEZs are geographical regions that has economic laws developed to attract foreign investment and enhance business operations. The policy was introduced across India in 2000, building upon an existing framework. There are 268 operational SEZs in India as of October 31, 2021. However, the national capital region has industry focused SEZ units that are in operation, mostly in the IT/ITeS area.
Delhi also hosts STPIs under the Ministry of Electronics and Information Technology (MeitY). STPIs, of which there are 62 in India, provide infrastructure, skilling, mentoring, market connection and support to start-ups. Delhi is home to the first Center of Excellence (CoE) in Electronic System Design and Manufacturing (ESDM. It was opened in 2016; a second ESDM center of excellence was opened in Bhubaneshwar, the state of Odisha, in 2019. The CoE in Delhi has nurtured 51 start-ups as of April 2022, enabling them to file 52 patents, launch 43 products, and build 33 prototypes.
In a similar vein, the government is keen to enhance the development of hi-tech, sophisticated, knowledge-based IT and ITeS industries in the city. To this end, Delhi is funding new initiatives in the education sector. The Indraprastha Institute of Information Technology Delhi (IIITD) – an autonomous State University – established a new Centre of Excellence in Human-Centered Computing, in January. The facility focusses on teaching relevant courses on Human-Centered Computing and will also facilitate research collaborations. In February, the Delhi government also announced the creation of a "Science Innovation Hub" at a school in the Kautilya Enclave. It will aim to promote a scientific culture and inculcate a scientific temper for nurturing talent in science and technology.
The Delhi government also announced in its 2022-23 budget that it will build an Electronic City at Baprola, west Delhi, to create 80,000 new jobs in electronics manufacturing. A 90-acre plug-and-play manufacturing center will be set up and the redevelopment of non-conforming industrial areas will in turn create 600,000 new jobs.
(With added inputs from Melissa Cyrill.)